| | |
| --- | --- |
| What breed is this? | |
March 15th, 2007, 03:07
Junior Member

Join Date: Feb 2007

Posts: 5
What breed is this?
---
My wife came home yesterday with a new pet chicken, to accompany our other one. But this one is a peculiar-looking chicken. It's feathers are fluffy and pure white, but its skin is a bluey-black. Apparently, its meat and bones are black, too (but there are no plans for me to find this out for real).
I live in China, where this breed is called 乌鸡, wuji, or 'black chicken'. Does anyone have an idea what the English name is?
Here's a picture...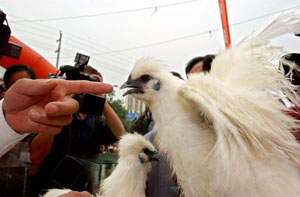 March 16th, 2007, 02:47
Junior Member

Join Date: Feb 2007

Posts: 5
---
No takers?
I did some more searching around on the web myself and finally found the answer. It's a Silkie, one of the oddest breeds of chicken around.
There's more information and pictures at this site, for anyone who's interested...
http://www.americansilkiebantamclub.org/index.htm
March 16th, 2007, 03:13
Senior Member

Join Date: Aug 2006

Location: Alberta, Canada

Posts: 2,546
---
Yes! I must have missed your post! That is indeed a white silkie (sometimes called a Chinese silkie, other times a Japanese silkie). The black skin, extra toe, blue cheeks and black comb are all unique traits of this breed. Generally, they are extremely quiet and loveable, and they are very broody little hens. They love to hatch out chicks and make very very good moms! Silkies come in a small standard and bantam size and in a variety of colours. I have several of my own...

Good choice for a backyard pet chicken- take good care of her!

Laura
| | |
| --- | --- |
| Posting Rules | |
All times are GMT. The time now is
15:42
.