A Sustainable Future for British Chicken 2009
Recent extreme volatility in UK agricultural inputs has highlighted the exposure of the British broiler industry structure. The NFU Poultry Board and NFU Chief Poultry Adviser, Robert Newbery, along with many British growers have come together to obtain an independent report from Savills on the broiler industry, analysing the grower's position with regard to risk and investment.
Executive Summary
Recent extreme volatility in UK agricultural inputs has highlighted the exposure of the British broiler industry structure. The NFU Poultry Board, under the leadership of Charles Bourns, and NFU Chief Poultry Advisor Robert Newbery, along with many British growers have come together to obtain an independent report on the broiler industry, analysing the grower's position with regard to risk and investment.

Savills has analysed actual data from growers covering in excess of 800,000 square metres of growing space, which represents approximately 15 per cent of total UK production. These figures were collated from results during the period of summer 2008. Historic data has also been provided from a smaller sample of growers going back to 1990. The report's authors have drawn the following main conclusions from the report:
Returns on investment in the broiler grower sector give growers little or no incentive to reinvest
The cost of investing in new poultry sites has more than doubled in the past ten years.
The acceptable IRR should be 15 per cent, however, based on our financial breakdown the survey says this is not achievable across the sector today.
UK grower margins initially declined, then remained static for a long period and have only recently shown signs of improvement, whilst over the same period all other costs have risen.
Energy and water unit costs have doubled in the last five years and according to NFU data, this has translated into a 35 per cent increase on a pence per kilo basis.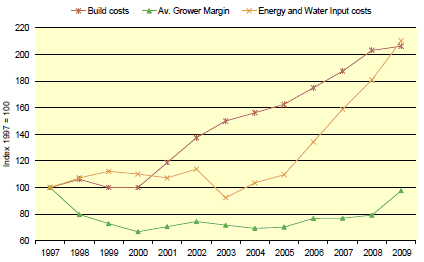 Figure 1. Build costs, average grower margin and energy and water unit costs
Graph: Broiler Growers Group Data
After decades of expansion, UK broiler production has fallen in response to poor grower returns, with investment in new housing significantly reduced. Broiler grower productivity growth has been hindered, with an ageing production base. US integrators are offering longer contracts to induce efficient growers to invest in new technology.
Table 1. Broiler grower financial breakdown
p/m2/wk
Gross margin
85.00
Total operating costs
55.35
Cost of shed
38.85
Interest on av cap @ 6%
0.22
Net margin/(deficit)
(9.43)
Source: Broiler Growers Data
Investment in broiler sheds is relatively high risk. Based on this model, there is currently no return for risk or for entrepreneurial investment. Therefore, a commercially minded producer is unlikely to invest, and this situation reflects the decline in UK production.
Significant improvements in the grower margin are required to induce investment in new and energy efficient refurbishment of existing sheds.
Growers have relied on efficiency gains to support margins
Producers have had to rely on efficiency gains (EPEF) to support their margins as the price they receive has declined in real terms.
Further efficiency gains will be increasingly difficult to achieve (most gains have been achieved through better genetics).
Irrespective of the gains in efficiency, the actual live weight buying price (i.e. the price paid by the integrator to the grower) has fallen well behind the inflation (RPI) adjusted price since 1997.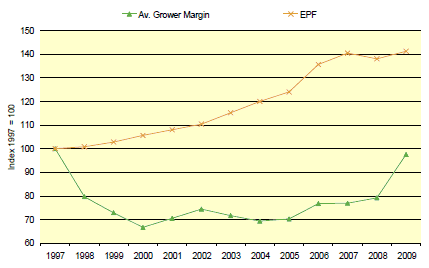 Figure 2. Average grower margin and European Performance & Efficiency Factor
Graph: Broiler Growers Group Data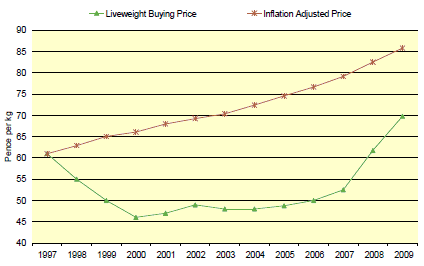 Figure 3. Liveweight buying price
Graph: Broiler Growers Group Data
There is little available margin to share between the integrator and grower
A fundamental problem faced by the sector is the high margin expectation of retailers.
A disproportionate margin expectation in the chain leaves significantly less margin to share between the integrator and the grower.
Figure 4. Estimated average poultry prices
Graph: Defra & Savills Research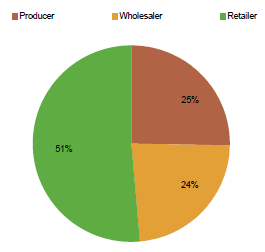 Figure 5. Estimated share of average total retail price in 2008
Graph: Defra & Savills Research
The broiler chicken market has seen value growth of five per cent in 2008 compared with 2007, but sales by volume have fallen two per cent indicating rising prices at the retail level.
Pricing mechanisms need to reflect volatility in cost of production
Current pricing mechanisms allow live weight price rises to be obtained for feed and chick price rises, but this is not generally the case for the increase in cost of other farm inputs like energy or new costs born out of new legislative measures for production.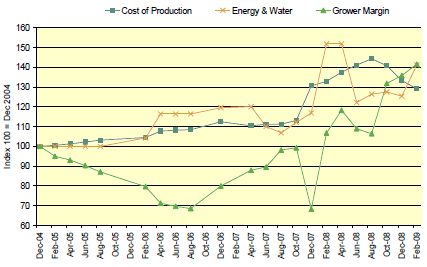 Figure 6. Average grower margin and costs
Graph: NFU
There are examples of good practice in integrator/grower arrangements including feed and energy price ratchets.
NFU data suggests that the 'average producer' endured a period of sustained losses from 2004 to October 2008. Margins have improved post October 2008 but producers have clearly suffered a long period of losses.
Reducing the price paid to growers now would put the industry under real strain, possibly leading to a producer exodus as has been the case in the UK pig and dairy sectors.
The dairy and pig sectors provide some important lessons for the broiler sector. Both have contracted as a result of sustained periods when costs have exceeded income, with serious import competition, creating little or no confidence for farmers to reinvest.
Growers, processors and retailers need to work more closely together to achieve benefits for all parts of the chain
In order to reduce costs within the supply chain, all parties need to operate at as close to full capacity as possible.
An appropriate price mechanism is needed to reward (or penalise) the party with control over a given resource.
Reinvestment in broiler sheds (which benefits the whole supply chain) requires confidence in long term relationships with retailers. Contract periods are very short (as little as two crops) to justify capital investment requiring a payback period of at least ten years.
The weak level of sterling makes imports relatively more expensive. A vibrant UK broiler sector is desirable if for no other reason than price risk management and security of supply for retailers in the short and long term.
Key recommendations to the industry
Benchmark grower production costs using standard margin calculations to further drive efficiencies in the industry and relay the need to retailers to allow improvement and expansion of the grower base to facilitate meeting future British demand
Introduce an independent costing service overseen by a trusted third party to improve grower efficiency and enable informed decision-making.
Develop new contracts appropriate to the current situation of lower genetic progress and the need for greater quality control at all stages of the supply chain.
Processors, retailers and growers should work together to build confidence in supply chains which provide a positive effect on maintaining the UK supply base.
All parts of the supply chain to work together to reduce waste and cut out inefficiencies. The benefits of such initiatives to be shared equitably by all parts of the chain.
Further Reading
February 2010