Autonomous robotics for the poultry shed
Two American entrepreneurs want to change the way poultry producers interact with their flocks. Poultry Patrol is an autonomous robot designed for use in poultry barns to improve animal welfare and cut down on a producer's need to constantly walk the barns doing surveillance.
"It can be a constant helper in the barns," says Jack Kilian, who designed the robot. "I don't think it would ever replace a person because a farmer can do things a robot never could, but it will definitely be able to help them keep an extra eye on their flock."
Kilian is an electrical engineer who recently completed his graduate studies at the University of Minnesota. His business partner, Jack Buendorf, is a maths and economics student still at university at St Olaf College, also in Minnesota. He handles the business end of things – both are in their twenties.
While still in its developmental phase, the sturdy four-wheeled robot that stands a little more than 60cm tall will be able to turn bedding, detect poultry disease and mortality through video and audio devices and alert the farmer to any problems it comes across – remotely and automatically. Eventually, they plan to add a mechanism for moving mortalities to an area selected by the farmer for disposal. Currently, operators can remotely log into the robot and drive it from anywhere that internet is available. The system can determine where it is in the barn and has video capabilities, and the tiller is being tested, says Buendorf.
How it all started
In January, Kilian competed against more than 50 other entries to win $12,500 (£10,267) in the Ag Tech Challenge put on by Red Wing Ignite. The non-profit organisation "fuels economic development by working with key sectors of the community to spur innovation by supporting entrepreneurs, businesses and students," according to the organisation's website. This provided seed money for the prototype.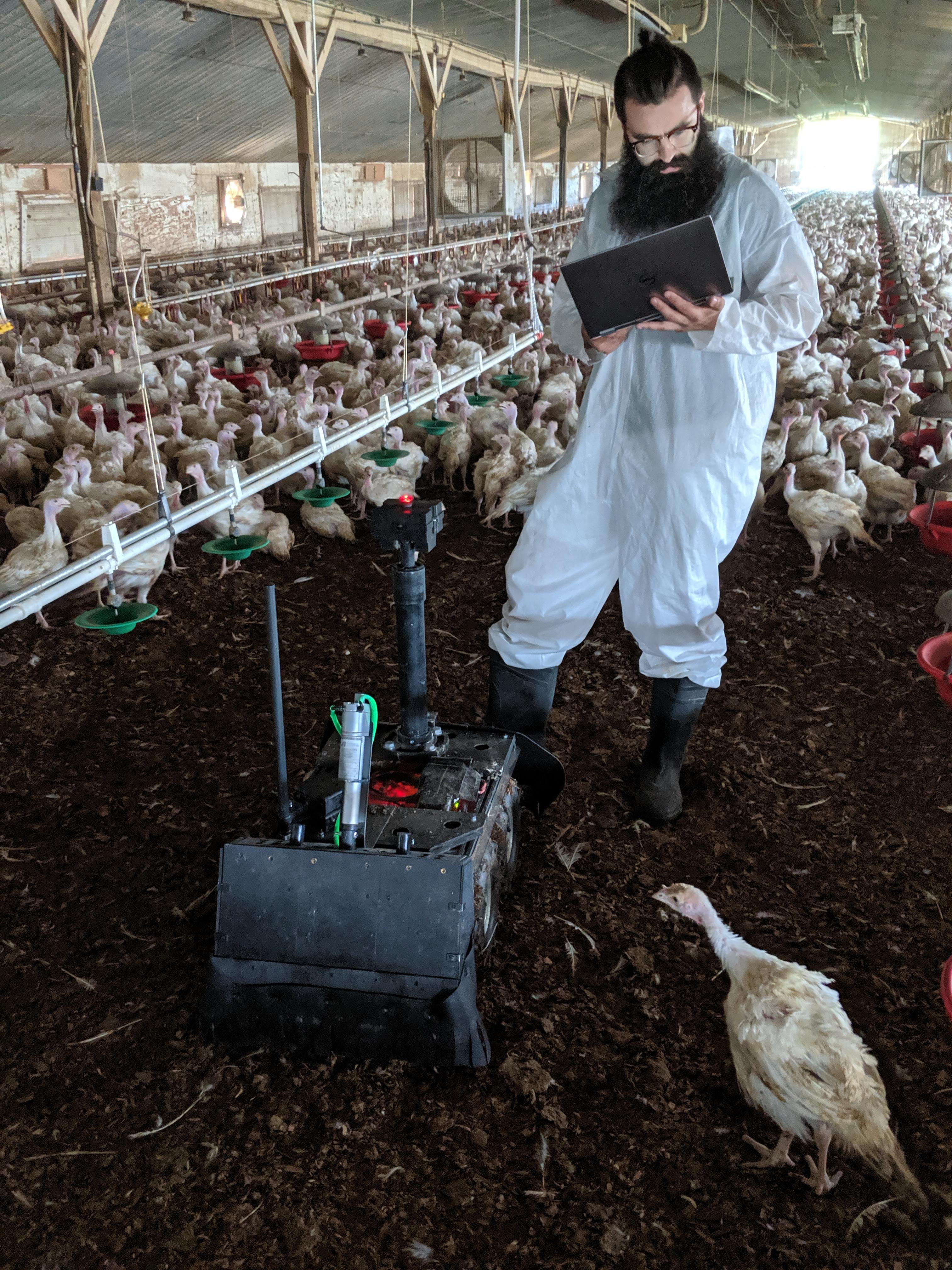 Kilian was joined by Buendorf in the spring. The pair were brought together by Adam Gettings, a serial entrepreneur who co-founded Rover Robotics, the company that designs the robotic platform on which the Poultry Patrol robot is built. Kilian used the Rover's chassis and built a new computer hardware system on to it. The project spun off from a robot called The Wild Goose Chaser that did exactly that: chased geese off lawns. It was a project from Digi Labs, a tech incubator, where Kilian works.

Now, Poultry Patrol is among 21 finalists in a worldwide competition by the Foundation for Food and Agriculture Research and the McDonald's Corporation to automate farms and improve animal welfare. Kilian and Buendorf will find out in November if Poultry Patrol is one of the four projects selected to receive a $500,000 (£410,680) grant. The competition is aimed at the broiler chicken industry and is focused on gait scores.
"We're going to be using computer-vision techniques to track the gait of the bird," says Kilian. "With the robotic platform we'll have more opportunities to look at the birds compared to something like a stationary camera, and since the robot could do all these other things it seems like it would be an easy sell."
It can also be used to detect disease and mortalities through thermal imaging, says Kilian. If a broiler chicken's legs are hot, it could indicate a bacterial infection. If the bird's temperature is particularly low, it's a mortality. And this could all be done while the rover is going about its business tilling the bedding, or doing other activities, he says.
The fact that the robot gets the birds moving is also a plus since "the only way to evaluate a bird's health is to get it to move," says Buendorf, and their robot "can autonomously measure that movement and tell you if it's a healthy bird". The robot is a good size for poultry barns because it can easily manoeuvre along the feed lines without issues, but is large enough to get the birds moving.
The robot could also detect disease through other methods like feather discoloration, missing feathers, burns on their breasts and even respiratory issues via audio recording. "If a bird is coughing due to a respiratory issue all of a sudden you have a robot that can immediately say there's a biohazard in the barn," says Buendorf.

While there are a few other companies working in the robotics space that are focused on the poultry industry – Octopus Robots, Metabolic Robots and Tibot Technologies – Kilian and Buendorf believe Poultry Patrol will differentiate itself because of it ruggedness, maximised utility and affordability. Multitasking is a key. "We plan to have our robot conduct multiple tasks all at once," says Buendorf. "Octopus is focused on sanitation and tilling, TIBOT is focused on movement and Metabolic is focused on FCR improvement. We hope our robot can do all these tasks and more, such as mortality removal and computer vision welfare reporting."
Additionally, by building onto the "extremely rugged" Rover Robotics chassis they were able to skip years of mechanical and electrical engineering development, which will translate to a lower price point, according to Buendorf. "We have no idea what our pricing model will be, but we can be sure it will be lower than our competition," he says.
Real-world testing
Their prototype is currently being tested at the turkey farm of John Zimmerman, outside of Northfield, Minnesota. "I like to be open to trying out different things," says Zimmerman on a phone call. "I like to experiment. I like technology. I offered my barns and assistance if they wanted to test things out, so we ended up with a robot in the barn."
There were concerns early on about how the turkeys would react to having a robot driving around the barn, but the birds seemed unphased. "The turkeys aren't bothered by it at all," says Zimmerman. "We thought it would take some getting used to but they're not scared of it in any way shape or form. They move out of its way and don't scatter or pile."
Zimmerman sees the robot first and foremost as a management tool. "As we move towards antibiotic-free production our management has to be stepped up," he says. "Having another set of eyes and ears through sensors in the barn at all times would be incredibly valuable in detecting diseases or other issues earlier than before because you don't have the luxury of time any more. We have to catch things incredibly quickly if we're going to treat [the birds] with something other than antibiotics."
Zimmerman is also interested in the potential for physical actions tilling, moving mortalities – believing that's where there would be a measurable return on investment. "I think they're going to get there," he says. "It's just a matter of how and when and what the price point is going to be. I'm very interested in it."
The future of poultry production
Buendorf and Kilian get that they're "newbies" to the poultry industry, which has given them a sense of responsibility to produce their technology "correctly", which means relying on the expert guidance of seasoned industry professionals to "develop a product that is going to maximise their utility and efficiency," according to Buendorf.
"That is where our team feels responsibility: to deliver reliable technology that has the ability to make production more efficient, safe and enjoyable for all parties involved, especially the birds," says Buendorf.
He believes Poultry Patrol can expand across the entire poultry industry – from measuring angular limb deformities for breeders to automatically collecting eggs for the egg industry. "We want to solve as many problems as we can," he says. Kilian sees the potential across agriculture.
"Being from the Midwest and being from the technical side I think there are a lot of opportunities [for things] that could be improved through robotics," says Kilian. "We really like the idea of robotics in ag in general. We just want to keep finding other applications."