AVEC Annual Report 2012: Food and Feed Safety
Progress on the implementation of the Salmonella standards, campylobacteriosis, Mechanically Separated Meat (MSM), Processed Animal Proteins (PAPs) and Genetically Modified Organisms (GMOs) is described Annual Report 2012 of AVEC, the Association of Poultry Processors and Poultry Trade in the EU Countries.
For the European poultry processors, food safety is of paramount importance. It is their core responsibility to demonstrate every day to consumers that they are delivering safe food. a.v.e.c. supports their efforts and commitment by an active attitude in relation to the European Commission as regards producing safe food to the highest European standards. The successful reduction of Salmonella prevalence in poultry meat is a good example of our sector's commitment.
Implementation of the Salmonella Criterion
The Reg. 1086/2011 amending Annex II to Reg. 2160/2003 and Reg. 2073/2005 as regards Salmonella in fresh poultry meat has applied since 1 December 2011. From this date, Salmonella enteritidis and Salmonella typhimurium have to be absent in a 25g sample of fresh meat neck skin. a.v.e.c. is monitoring closely the implementation in the Member States and is following the experiences of its members.

The European Food Safety Authority (EFSA) and the European Centre for Disease Prevention and Control (ECDC) have published their annual report on zoonoses and food-borne outbreaks in the EU for 2010. Salmonella cases in humans in the EU fell by almost nine per cent in 2010, marking a decrease for the sixth consecutive year. It is confirmed that positive progress in the reduction of Salmonella cases in humans and poultry is continuing and the majority of Member States meet the EU targets set. a.v.e.c. is wholly supportive of the initiatives set by the EFSA and ECDC and their commitment to continue to strengthen their links with all important partners and foster collaboration in order to decrease the occurrence of these diseases in the EU.
Campylobacteriosis
Consumers have a preference for fresh poultry meat. In its April 2012 Opinion, EFSA suggested certain interventions that would reduce substantially the presence of Campylobacter, such as irradiation with 100 per cent reduction, freezing the meat for two to three weeks giving a reduction up to 90 per cent or using hot water or chemical decontamination resulting into a reduction of 50 to 90 per cent. However, these measures are not really a feasible option since these measures will affect the freshness and appearance of the product as perceived by consumers or consumers are totally against the use of some of the treatments.

In addition to good biosecurity on farms and good hygiene in processing plants, it would be beneficial if we could succeed to decrease the number of Campylobacter organisms present to a level that substantially reduces the risk for human health.

At the retail level, the possibilities of novel packaging material and modified atmosphere packaging should be studied further. Safe consumer handling of meat can avoid later contamination.

a.v.e.c. members are actively involved in projects in their countries and we remain committed to continue to work on the reduction of the Campylobacter prevalence in the poultry chain. However, interventions cannot deny consumers' preferences and demand.

EFSA has adopted an opinion on microbiological risk assessment of Campylobacter in broiler meat in April 2011. As a follow-up, the Commission launched a cost-benefit analysis of the control measures for Campylobacter on different stages of the food chain. This will be available in the second half of 2012 and will complement the EFSA opinion with economic figures/data on the most important control options. The outcome of this cost-benefit analysis and EFSA's opinion will be food for reflection and discussion on the most appropriate risk management measures.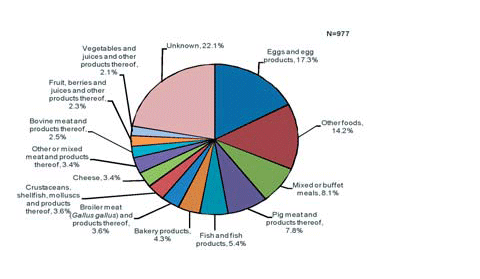 Food-borne outbreaks in EU, 2009
(Source: EFSA)
Review of Hygiene Package (Reg.852/2004; Reg.853/2004; Reg.854/2004)
After the publication of the Commission Report COM (2009)403, the analysis of the Impact Assessment conducted in 2011 has been finalised.

As regards Meat Inspection, there is a strong need for a tool to adapt meat inspection to the local or national situation on zoonosis and animal diseases.

The EFSA Report suggests a modernisation of poultry meat inspection and an improved use of shared information between farms and abattoirs (food chain information), which would also help to identify animal health and welfare issues.

a.v.e.c. welcomes the findings on modernisation of meat inspection and looks forward to bring its contribution to the sensitive findings of the report.

For meat products and meat preparations, a harmonised interpretation at EU level is essential to avoid unfair competition and trade problems linked to Reg. 1234/2007 and Reg. 853/2004. In our opinion it has never been disputed that a meat that has been pickled or heated on the outside only (e.g. flash-fried, steamed) but internally still has the characteristics of fresh meat is a poultry meat preparation since it does not comply with the last part of the definition of a meat product saying 'so that the cut surface shows that the product no longer has the characteristics of fresh meat'.
Mechanically Separated Meat (MSM)
Across the EU, a different interpretation of MSM among Member States can cause unfair competition and trade barriers. Today, for a product to be qualified as MSM it must meet the three conditions:
It must be obtained by removing meat from flesh-bearing bones after boning
It must be obtained by the use of mechanical means
Those mechanical means must result in the loss or modification of the muscle fibre structure.
The new definition of MSM that is likely to be proposed by the Commission will have to consider the technological progress in the field of separating meat from bones. Nowadays, some mechanised processes of separating meat and bones deliver a product with the microscopic characteristics that are not different from products that qualify as meat. a.v.e.c. looks forward to seeing the classification of this product under the new definition which will include the soft separated meat in the meat content and avoid additional labelling issues.
Processed Animal Proteins (PAPs)
a.v.e.c. welcomes the reintroduction of PAPs into fish feed but would have liked the necessary methods to be available so valuable poultry and pig protein could be included in monogastric feeds while respecting the intra-species recycling ban.

Discussions on this sensitive dossier are on-going, fuelled by the high animal feed prices that have a strong impact on competitiveness of the EU poultry industry, further driven by the current appreciation of the currencies of countries exporting soy to the EU.

The Dutch Ministry of Economic Affairs, Agriculture and Innovation requested a cost-benefit analysis of reintroduction of PAPs in diets for poultry and pigs in a completely separately-channelled production system. The researcher extrapolated from the Dutch situation that in Europe 3,353 tons of soybean meal could be substituted by 2,739 tons of PAPs based on feeding value and common inclusion levels in compound feed for poultry and pigs. Due to the species-to-species ban, 1,252 tons of processed animal protein originating from pigs would be available for poultry feed and 1,487 tons of processed animal protein originating from poultry could be used in pig feed. But a tolerance level with regard to the species-to-species ban should be accepted since a zero tolerance policy is difficult for the small and medium feed compounders because of costs and logistics.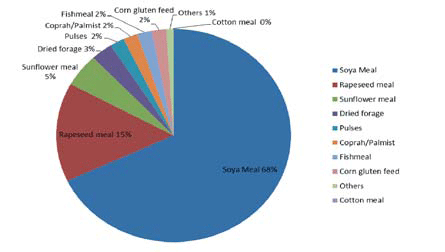 Protein sources used in the compound feed in EU-27(in % of all protein used)
Source: T.Veldkamp, March 2012 (total protein from EU and imported FEFAC, 2009))
Cloning for Food Production Consultation
The Commission has started a consultation on animal cloning for food production. It does not cover other purposes like research, production of pharmaceuticals or the conservation of endangered species or breeds. The collected information will be used as part of an impact assessment in order to propose in 2013 legislation for adoption. Cloning is not applied in poultry production but for potential research purposes the option should be retained.
Genetically Modified Organisms (GMOs)
The Council discussed, on the basis of a compromise text from the Presidency, the Proposal for a regulation amending Directive 2001/18/EC as regards the possibility for Member States to restrict or prohibit in all or part of their territory the cultivation of GMOs that have been authorised at EU level.

The aim was to provide a legal basis in the related EU legal framework to grant competence to Member States to restrict or prohibit on grounds other than health and environment considerations since these aspects have already been addressed during the EU authorisation process for GMOs.

The compromise Proposal was rejected in the March 2012 Council by 10 Member States that have invoked the safeguard clause, as an argument against the introduction of GMOs.
References
www.efsa.europa.eu/en/press/news/120308.htm
EFSA Journal 2011;9(4):2105 (www.efsa.europa.eu/en/efsajournal/pub/2105.htm).
consilium.europa.eu/uedocs/cms_data/docs/pressdata/en/envir/128883.pdf
Further Reading

Go to the previous article on this report by clicking here.
November 2012