Aviagen Focus: Strong Links in the Supply Chain
By Aviagen. As the world's leading poultry breeding company, operating in more than 85 countries, we understand the word "global."
Our main responsibility is to supply our customers with the best quality chicks and this involves transportation across many geographically dispersed locations. From the time the chicks are in the hatchery to the time they arrive at our customers' farms, our goal is to make sure the process of delivery is efficient, safe and dependable.

Our efficiencies in the supply chain begin in the hatcheries. Aviagen is committed to investing in the renovation and modernization of all of our facilities and recent investments at the Elkmont, Alabama hatchery transformed the facility from a multi stage to a single stage facility. Eight new Jamesway single stage Platinum series incubators were installed along with twelve new single stage Platinum series hatchers. These additions resulted in an increase of 36 percent in incubation and 50 percent in hatching capacity. The Elkmont Hatchery now has a weekly egg capacity of more than 350,000 incubation and hatchery capacity of more than 480,000 eggs.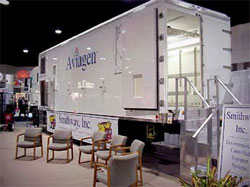 A new Aviagen truck is featured at the 2006 International Poultry Exposition.
In addition, two new trucks were added to the Aviagen fleet in North America. These trucks were specially modified to contain a second generator for backup control and dual floors that can accommodate mass or palletized chick orders. This is significant because the ease of loading and unloading means the chicks can stay in the temperature controlled truck until the last possible moment in order to minimize the time they are exposed to unfavorable elements.

Another improvement involves the standardization of all chick boxes and labeling. The cardboard boxes are specially ventilated and configured to allow for the construction of partitions. These partitions create space between the boxes for maximum air flow during the long flights. The improved labeling system ensures that regardless of origin, we are able to more efficiently deliver our product and reduce transportation costs. Those savings are then passed on to our customers who are ultimately responsible for freight costs.

Our customer service teams are always looking for ways to improve both the efficiency of the transport and the welfare of our chicks. One recent example of how we were able to achieve both of those objectives involves improvements at Omni Air Service in Miami, Florida. Carlos Alberty, owner of Omni, worked closely with the Aviagen North America team to upgrade his facilities to better meet the unique requirements involved with the shipping of a live product. He built a specially-designed, air conditioned room at his warehouse to store the chicks after the Aviagen truck has delivered them and as they await departure to their final destination with our customer. Mr. Alberty also works with both the airline and Aviagen customers to design and build pallets to match any specifications they may have. This sort of flexibility allows us to more closely meet our customers' needs, and that is the very heart of customer service.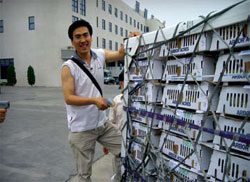 Aviagen technical service manager, Zhang Xi Bei, checks chick temperature upon arrival in China.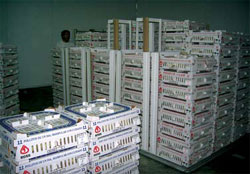 A new air-conditioned warehouse at Omni Air Service holds the chicks.
The team also looks for improvements in actual transportation routes. Recently, airlines have faced challenges that forced them to reduce the number of routes available. This has resulted in increased competition for cargo space which is especially critical in the transportation of perishable products. With thousands of airports all over the world and constant changes in routes between those airports, there are always opportunities for more efficient transport.

The Aviagen customer service teams work tirelessly to ensure that all orders are processed, planned and executed with precision and efficiency. We have teams on both sides of the Atlantic Ocean and sometimes members of those teams will go along on chick deliveries to personally see that things run smoothly. Not only does this allow them to create relationships with those who transport our chicks, but also to help deal with unforeseen challenges as only those familiar with the transport of live product can.

Supplying our customers with the best quality chicks and making sure those chicks arrive safely and efficiently is the top priority for the Aviagen customer service teams. We understand our responsibility as the world's leading supplier of breeding stock and remain committed to the goal of customer satisfaction.

July 2007