Avian Influenza Decontamination Procedures for the Cleaning and Disinfection of Farm Premises
By Dupont Animal Health Solutions. Following the recent outbreaks of Avian Influenza across the globe, the UN Food and Agriculture Organisation (FAO) issued a number of biosecurity recommendations. This article overviews the procedures for using Virkon S, the most proven veterinary disinfectant in the world.
Decontamination Procedures for the Cleaning and Disinfection of Farm Premises
In response to the South East Asia Avian Influenza Crisis, the UN Food and Agriculture Organisation (FAO) has prepared a number of biosecurity recommendations which have been published in the latest Animal Health Special Report. The report addresses the question of effective decontamination procedures and stresses that, the Avian Influenza virus survives well in water with the result that, simple washing may assist transmission of the highly pathogenic virus to previously uninfected areas where it can then infect other birds. As bird droppings are the most important vector of Avian Influenza transmission, it is essential to thoroughly disinfect all items that have been in contact with faeces: for example cages, shoes, etc. When asked, "Which disinfectant should I use against Avian Influenza?" the only named disinfectant on the FAO list of Items and Procedures to address the crisis is Virkon® S the most proven veterinary disinfectant in the world, from Dupont Animal Health Solutions.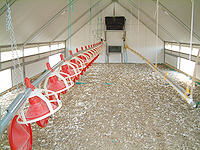 Dupont Animal Health Solutions (DAHS), world leaders in farm biosecurity, have over 25 years unique international experience in controlling highly contagious Emergency Disease Outbreaks. DAHS's biosecurity experts advise that detergents alone will not decontaminate against Highly Pathogenic Avian Influenza. Effective decontamination depends on independently tested and proven products such as Biosolve® to clean, followed by Virkon® S to thoroughly disinfect. Importantly, Virkon® S was the only disinfectant purchased by the Dutch veterinary authorities (the RVV) during the latest 2003 Avian Influenza outbreak in the Netherlands.
DAHS's Avian Influenza Decontamination Procedure:
Personal Protective Equipment

Prior to commencing the Avian Influenza decontamination programme all personnel must be provided with and wear personal protective equipment comprising of:
respirator face mask
eye protection
coveralls
heavy duty rubber gloves
rubber or polyurethane boots
First Disinfection



Thoroughly disinfect all carcasses with

Virkon

® S and remove for burning or burying. Spray

Virkon

® S on all areas where birds have had direct or indirect contact such as buildings, cages, runs, etc.
Thoroughly soak all nesting, litter and faecal material with

Virkon

® S.
Spray all interior walls and roof spaces with

Virkon

® S. External walls need only be disinfected when they face an area onto which infected birds have been kept or passed through.
Leave disinfectant to soak and penetrate into all surfaces, bedding, etc. for 24 hours.
Disinfect farm roads and footpaths thoroughly, ensuring that drains are sealed to protect watercourses from contamination.
Put effective rodent control in place, following DAHS's guidelines, www.antecint.com.



Secondary Disinfection

At least 24 hours must elapse between First and Secondary Disinfection



Remove all organic matter (litter and dirt) from the buildings to a manure heap, spraying the outside of the heap thoroughly with

Virkon

® S. Leave the manure heap for at least 42 days before spreading or burn it off in small quantities.
Dry clean ventilation and extractor systems then disinfect using a cloth soaked in

Virkon

® S. If the systems cannot be cleaned in situ, remove them to clean and disinfect before replacing.
Using DAHS's Biosolve® heavy duty cleaner in conjunction with a pressure washer (on a low pressure setting), thoroughly soak the floors, walls, ceilings, roof spaces, nest boxes, feeders, etc in all the buildings that have been in direct contact with birds. Remove cobwebs and dust by either spraying or using an industrial vacuum cleaner.
Degrease all equipment using Biosolve® (apply using a foaming lance). Allow at least 10 minutes for the detergent to penetrate and loosen the dirt from all surfaces before rinsing at high pressure with clean water. Ensure that all equipment is then thoroughly disinfected.
Treat all areas (farm buildings, loading bays, paths, etc.) with disinfectant and leave to soak for at least 30 minutes before rinsing with clean water.
After 7 days have passed, repeat the complete decontamination procedure.
Please Note:-
Farm buildings with floors of earth, clay or chalk, must be first scraped clean then the surface broken up and thoroughly soaked with

Virkon

® S. Cobble or hardcore floors should be soaked with disinfectant, then rinsed. Any material scraped from the floors should either be burnt or removed to the manure heap.
Wooden floors must be taken up, cleaned and disinfected if they are to be re-used and the underlying soil, broken up and soaked with disinfectant.
Burn timber and scrap wood such as pallets, old fence posts and sleepers.
Ensure that roadways, paths, gates, gateways and runs are thoroughly disinfected and avoid run off into surface water drains or courses.
Ensure that all hired equipment is thoroughly cleaned and disinfected.
Straw, baled hay, wood chippings and paper should be sprayed with disinfectant and any loose material sprayed then removed to manure heap or burnt.
Effective cleansers and disinfectants are essential to the success of decontamination procedures. Use a heavy duty cleaner such as Biosolve® (DAHS) to clean buildings and equipment. Choose a broad-spectrum disinfectant that is independently tested and approved and effective in high and low temperatures, such as Virkon® S, for proven biocidal activity against spores, bacterial, fungal and viral organisms. The AUSVETPLAN, probably the most comprehensive and best regarded reference source for Emergency Disease preparedness, selects Virkon® S as a disinfectant for all World Organisation for Animal Health (OIE) "List A" diseases.

Related Links (on DAHS's Website)
Source:
DAHS
- February 2004