Bacterial enteritis is challenging more than three-quarters of flocks worldwide
Elanco's 2020 Bacterial Enteritis Global Impact Assessment shows how BE is evolving across the world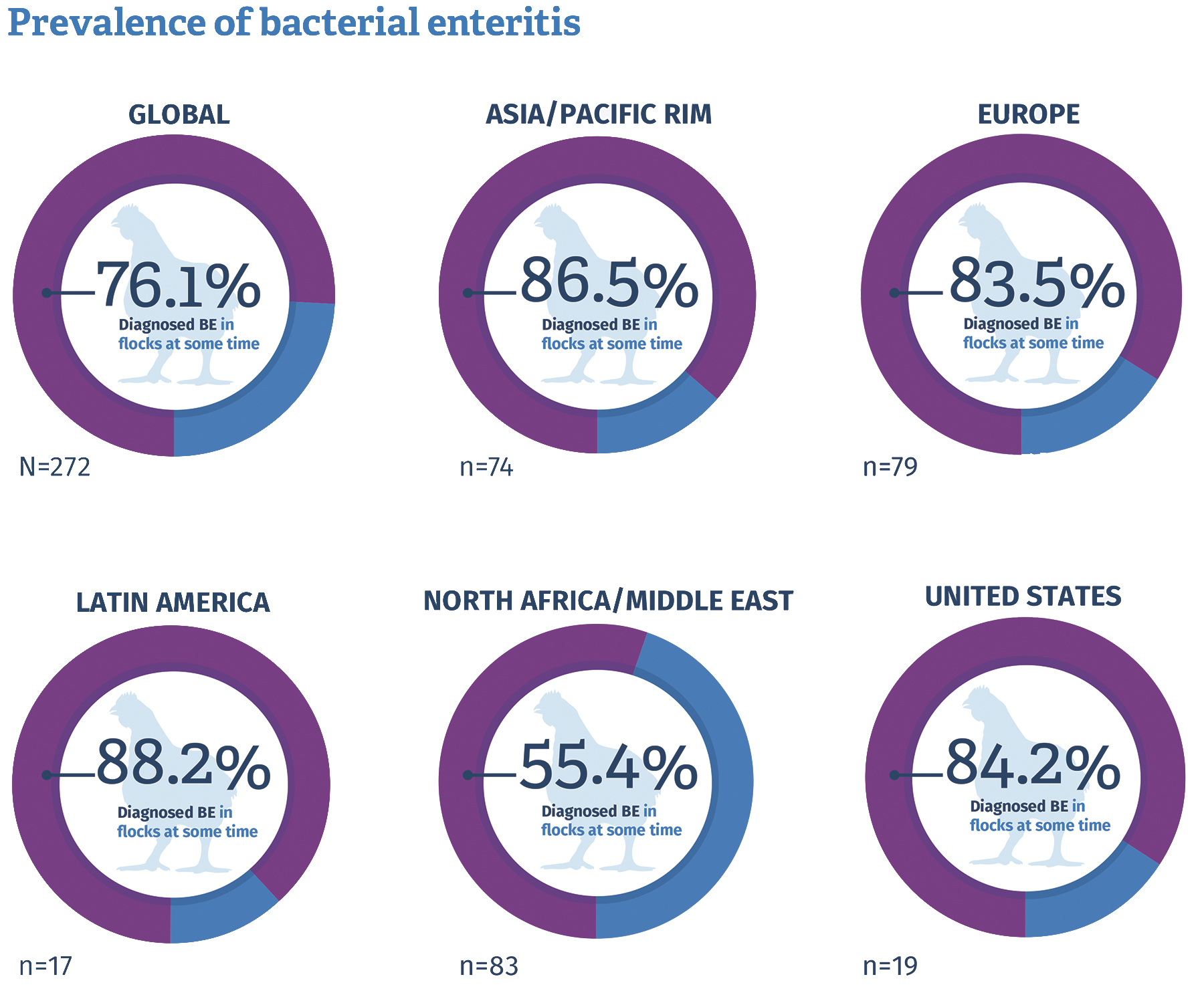 The newly released 2020 Bacterial Enteritis Global Impact Assessment continues to identify what's shifting and evolving as well as what's consistent in the ongoing battle against BE on poultry operations. With more than 1,500 poultry professionals interviewed since its inception, the survey builds on the four previous studies to offer a current snapshot of BE and its economic impact in all the major global poultry markets.
Major findings
The survey indicates that more than 76% of those interviewed said bacterial enteritis has been diagnosed in their flocks at some time, and 70.4% said that BE is becoming more important than it was 5 years ago, indicating that it could be an even bigger threat to poultry production in 2025. Also, the increased mortality rate caused by BE historically has been associated with the disease's significant economic impact. However, 2020 findings reveal that losses due to poor weight gain and feed conversion are also linked to economic impact
"Bacterial enteritis isn't going anywhere, therefore it is incumbent on the industry to innovate and explore ways to meet those challenges head on," said George Gould, Principal Technical Advisor to Poultry Global Marketing at Elanco Animal Health.
Disease prevalence
Bacterial enteritis presents in one of three forms:
Clostridial/necrotic enteritis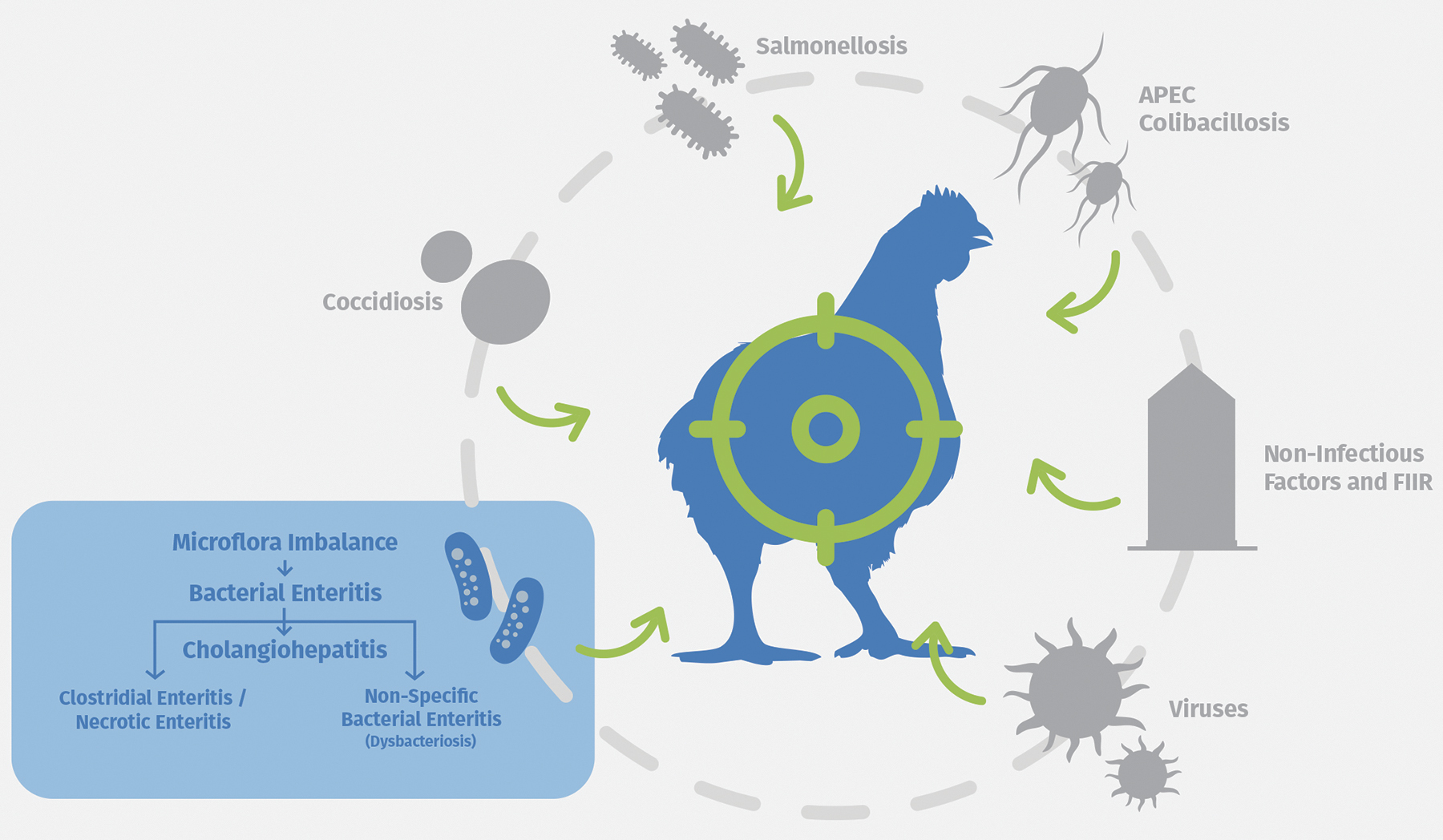 Key findings related to BE prevalence:
• All three forms of BE continue to be seen in flocks around the world
• Coccidiosis ranks highest (45.2%) among conditions that predispose flocks to BE
• About two-thirds (67.9%) of industry experts see seasonal increases in BE
• More than 90% of respondents observe BE development between week 2 and week 5 of bird development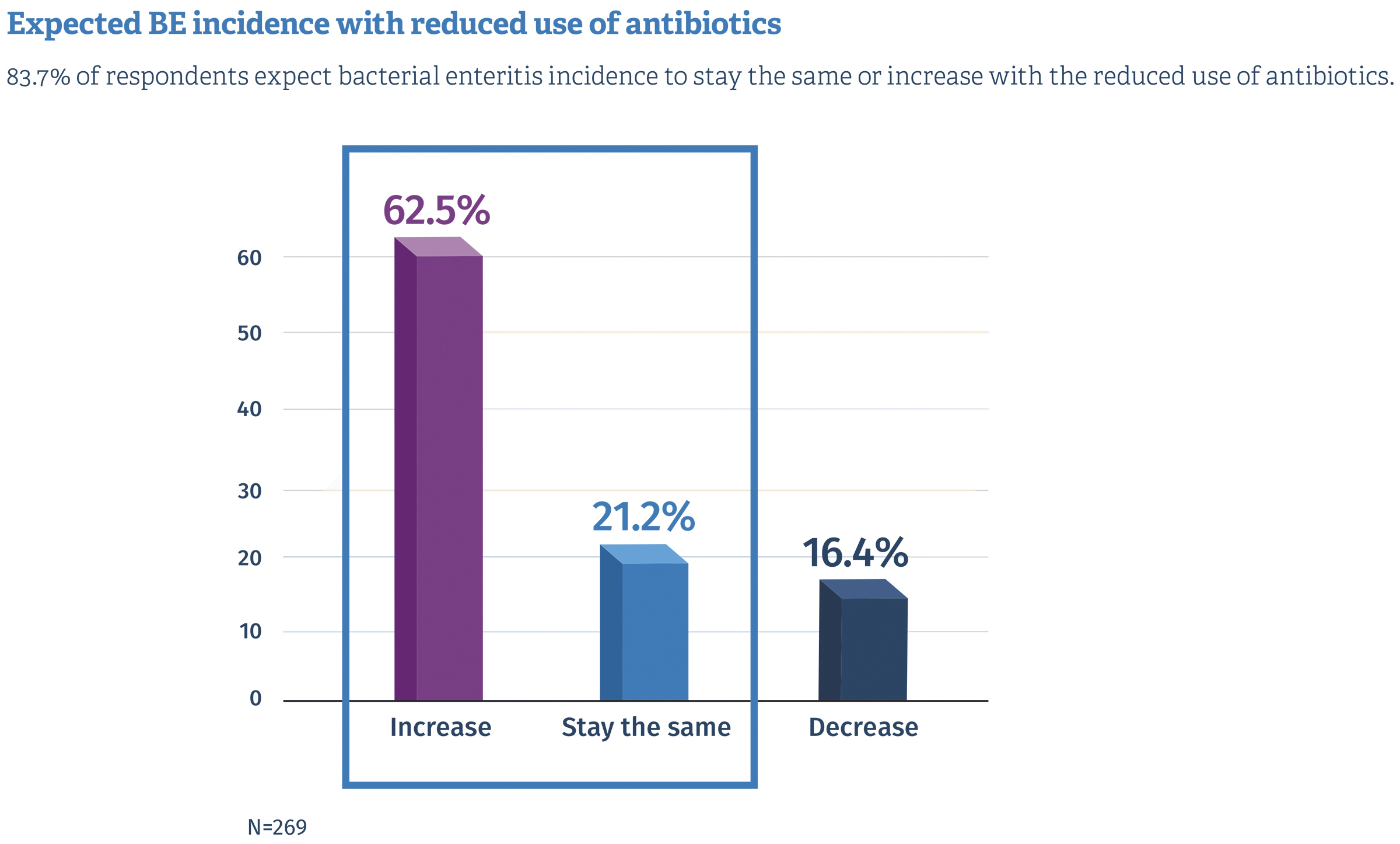 Reduction of antibiotics' impact on BE
The reduction or elimination of antibiotics in parts of the world is expected to have an impact on BE. The data confirms this with 83.7% of respondents saying they expect BE incidence to stay the same or increase with the reduced use of antibiotics. It is worthy of note that areas of the world where the regulatory framework and treatment options are less restricted are where the data reflects fewer BE issues and less concern.
With any shift in a production system, there will be consequences which require an adjustment or innovation to help operations manage differently. The industry must recognize the sustainable way to produce poultry without compromising from an economic, environmental or ethical standpoint.
"We know that BE doesn't just happen, it must be triggered by something – a microbiome disturbance, coccidiosis, bacterial or viral infections, clostridial disease, environmental stress, etc.," said Gould. "We must learn more about these specific triggers for BE, knowing they will be different in each operation or even in each barn or shed."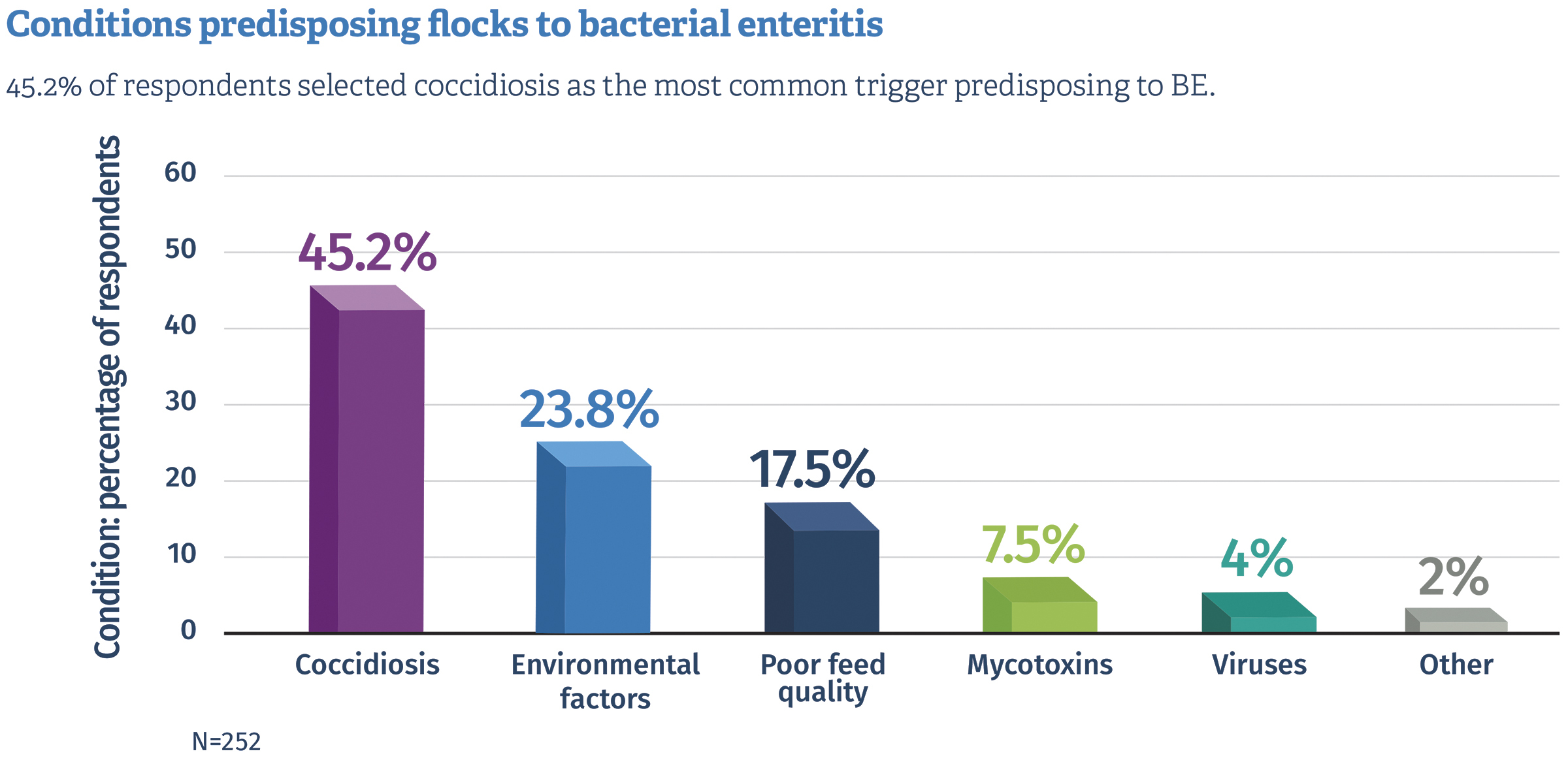 What's the cost of BE?
"Research indicates the cost of BE is US$0.05 per bird, and it's been at that level for a while," Gould said. "It strikes me that with inflation that amount should be higher, but regardless, US$0.05 per bird is not a number to be ignored. It's a huge amount in losses and given the slim margins in the industry, small differences can have a big impact economically."
The costs of bacterial enteritis are often related to subclinical disease which goes undetected, he noted. This undetected disease also has additional undetected costs. Thus, the cost is likely to be significantly higher than operations believe it to be.


How can the industry tackle BE?
"Producers can try to manage bacterial enteritis, but the onus to solve the problem lies with the industry as a whole," said Gould. "Producers have a role to play, but as an industry we need to recognize and deeply understand the challenges that BE presents and determine a root cause analysis to learn what's driving it and how we how can better manage it."
It's equally important to recognize and understand the impact of any changes that are to be made – whether they are regulatory, production or management changes at the farm level. Change without due diligence always has consequences, he said.
Gould said the robustness of poultry data and the speed at which the industry can generate new data is a real strength of the poultry industry and can help guide decision-making and innovation. Producers can often find solutions on their own to mitigate on-farm problems. Thus, it's important that they consider and use the data resources they have at their disposal as they are solving issues.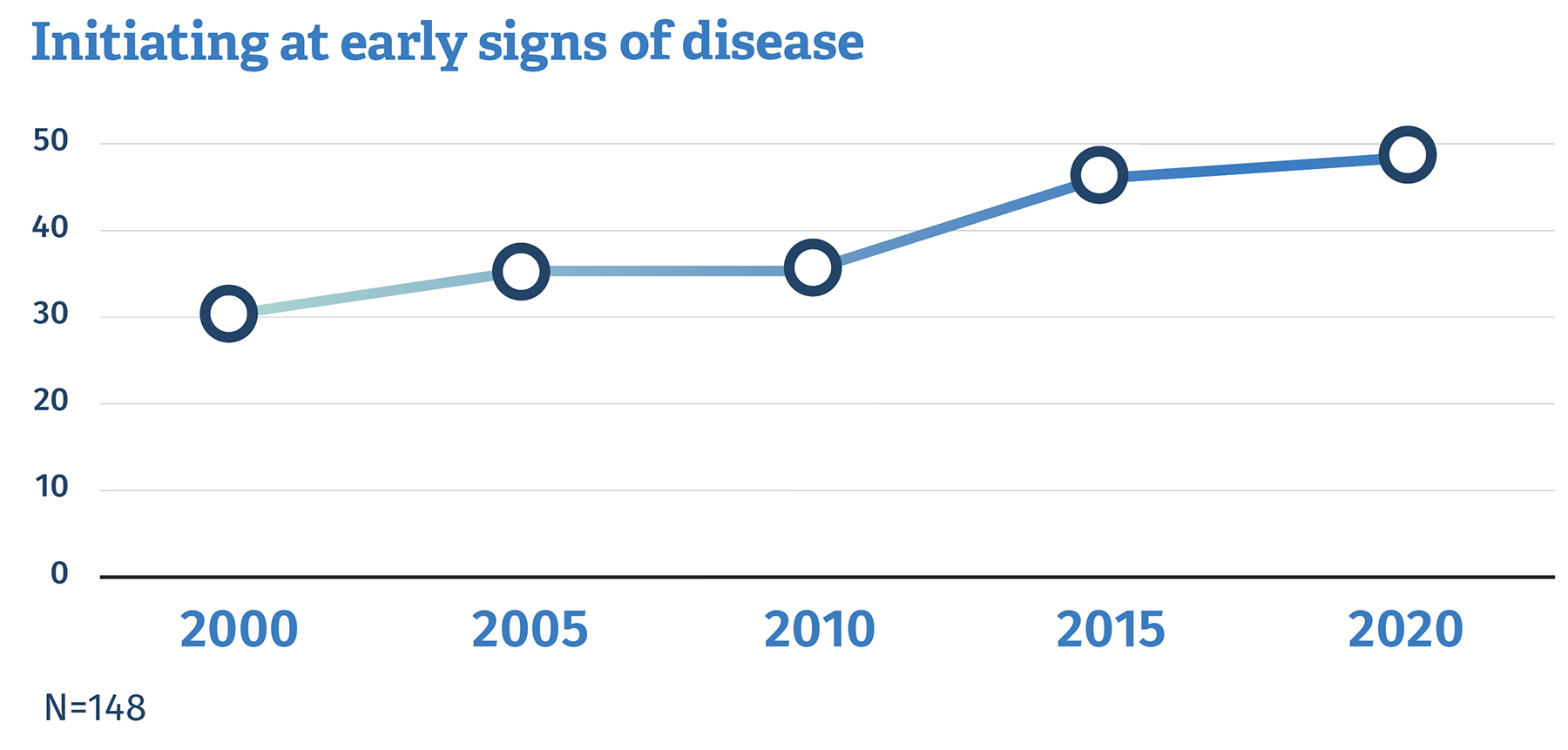 One area that producers and veterinarians manage is the timing of treatment. According to the study, nearly half of veterinarians said they would begin treatment at stage 1 of BE lesions, and 9 in 10 would begin treatment in stage 1 or stage 2. More than 54% believe the first stage is where economic loss begins. 47.3% of respondents agree with starting treatment at the earliest signs of disease. This is the largest percentage since the survey began and is an increase of nearly 20% since the first survey in 2000.
When it comes to controlling BE, 33.9% of respondents use non-medically important antibiotics or animal-only antibiotics. 15.5% use medically important antibiotics, and another 11.7% use organic acids.
Reducing the risk of BE can also play an important role in managing the disease. According to respondents, anticoccidials (33.8%) and vaccines (15.2%) are the preferred methods to reduce the risk of BE. Most respondents would begin treatment if 5% to 20% of a flock was infected.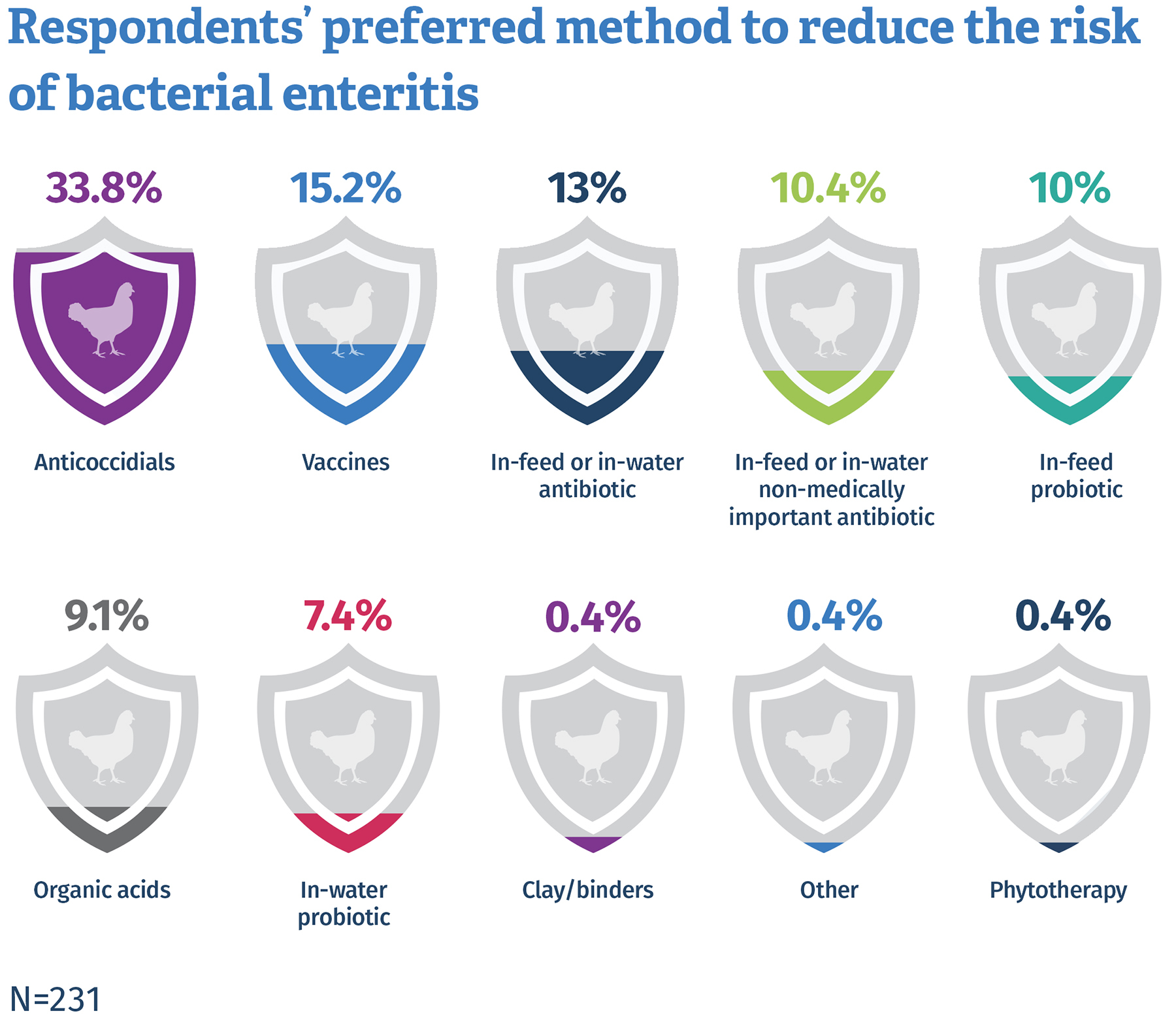 As a global poultry industry, Gould says solving BE will be led by two factors:
Collaboration – There's a huge opportunity for the industry to work more closely together. With more transparency and data sharing, there is a stronger chance to evolve, to improve and to meet the challenges that we're facing.
Attention to detail on-farm – Strive to have a detailed understanding of your birds and that happens best by spending time in the poultry sheds. We have some great industry technology, and it's easy to lose sight of the value of sitting and watching the birds and letting the birds tell you the story rather than always relying on a machine or computer screen on do it.
"It's always a balance - pairing the art of animal husbandry and data to find the very best solutions," he said.
To read the full 2020 Bacterial Enteritis Global Impact Assessment report, click here.