Benefits of probiotics in poultry production
Four tips for selecting the best probiotics for poultry
Probiotics are microorganisms that, when administered in adequate amounts, help support a healthy gut and immune system in humans and animals. This activity creates less room for pathogens like E. coli, Salmonella, Campylobacter spp. and Clostridium to proliferate.
Poultry producers have found success with probiotics as a viable and safe alternative to in-feed medications, especially producers who have modified their conventional production practices or moved toward Raised Without Antibiotics (RWA), No Antibiotics Ever (NAE), or No Human Antibiotics (NHA) production systems.
Different Types of Probiotics
There are two types of live microorganisms fed in poultry – yeast and bacteria. Although most probiotics are bacteria, one specific and highly researched yeast — Saccharomyces cerevisiae boulardii — has been shown to be an effective probiotic in the mitigation of pathological disorders in humans and animals, including broiler chickens.
Live yeast and live bacteria are similar in that they both provide health benefits to broilers. The difference lies in how each organism achieves those health benefits. In this article, we will be discussing the benefits of live yeast. But first it's important to understand that yeast products come in different types and forms.
Live Yeast: A pure collection of live yeast cells of a particular strain identity. Saccharomyces cerevisiae boulardii is the most documented and used yeast probiotic in humans and animals.
Dead or Inactive Yeast: A pasteurized inactive pure yeast product. It can be used as flavor enhancers or as a natural source of nutrients such as B vitamins, high-quality protein and minerals. In poultry and other livestock, the end use is for the functional components of the yeast cell wall and yeast cell nucleotides.
Yeast Culture: A medium of cells and the culture in which the yeast is grown in a dried form. This makes the product a nutritional source of vitamins, minerals and other co-factor metabolites.
Benefits of Live Yeast Probiotics for Broilers
A live yeast probiotic benefits nutritionists, veterinarians and food safety teams because it provides the best of both worlds – a probiotic with both active metabolites and prebiotic properties. The live yeast component promotes a favorable microbiota balance and healthy gut and enzymatically inhibits microbial toxin activity (i.e., Clostridia and E. coli toxins).
The yeast cell wall components — B-glucans and Mannan oligosaccharides (MOS) — support immune system modulation and pathogen binding. As a result, birds are healthier and perform better in the areas of weight gain, livability and feed conversion.
Levucell® SB, a live yeast probiotic for poultry, has shown to have positive impacts on broiler performance. In 12 commercial field trials that were conducted under a variety of diets and grow-out conditions, birds receiving Levucell SB in their feed demonstrated a 2% average increase in weight at harvest, an average of four points improvement in feed conversion and a consistent reduction in mortality.[1]
Reducing Salmonella with Probiotics
In a series of field research studies, 480 Hubbard females, 420 Cobb males and 300 Ross 308 males were orally challenged with either Salmonella Typhimurium or Salmonella Enteritidis. A total of 152 neck or breast skin samples were taken to determine Salmonella contamination. The research showed that birds fed Levucell SB at 1 x 106 CFU per gram of feed of Levucell SB had significantly fewer Salmonella positive tests, as indicated by the neck and breast of the broiler carcasses.[2]
Levucell is the first probiotic recognized by the European Food Safety Authority (EFSA) for the reduction of Salmonella spp. contamination on carcasses of broilers.[3]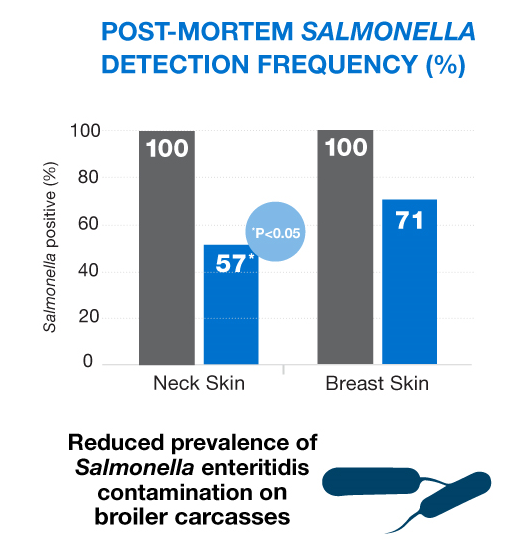 Probiotics in Poultry Feed
There are a number of considerations when selecting a probiotic feed additive. It's important to make sure all of the key decision-makers are included in the selection process. This includes the nutritionist, veterinarian, and live production and food safety teams. The following are a few key things to consider when selecting a probiotic:
A live yeast probiotic will provide benefits from both the living yeast cells and the yeast cell wall components.
For broiler producers that use pelleted feed, it's important to select a live yeast capable of withstanding the heat, moisture and pressure of feed manufacturing. Levucell SB Titan® utilizes a unique and patented microencapsulation technology that protects the live yeast throughout processing and storage, without inhibiting the organism's benefit to the broilers.
Purchase a probiotic from a trusted manufacturer and ensure production and handling preserves the probiotic activity throughout the entire production and distribution process.
Look at the research. Proven results should be provided by the manufacturer to back up the proposed mode of action and performance or health benefits the probiotic will have on broilers.
For more information about using a specific, live yeast probiotic to support gut health and the immune system, contact your Elanco Animal Health representative or visit here.
References
References
[1]Elanco Animal Health. Data on file.
[2]Mountzouris et al. Poultry Science, Vol 94, Issue 10, p2245-2455, 2015.
[3]European Food Safety Authority Journal 2017; 15(1):4674