Brazil: at the forefront of cultured meat development
Production of lab-grown animal tissue is a global trend
Embrapa Swine and Poultry has led a pioneering study in Brazil to develop chicken meat that is grown under controlled laboratory conditions. The new product, which resembles sasami, in the form of prototypes of boneless chicken breast fillets, should be ready for nutritional and sensory analyses by the end of 2023. Characterized as an alternative protein, the technology recreates animal tissue in laboratory from animal cells, providing meats that are analogous to natural ones. It is an innovation that meets current consumer and value-adding trends.
The project was approved and given an international research grant from The Good Food Institute (GFI), a non-governmental organization that works to raise funds for global projects. Among the 22 projects selected in 2021, five are Brazilian, including Embrapa Swine and Poultry's.
The increase in protein consumption, new eating habits and concern with sustainability in recent years have driven the scientific community to expand the technology required to produce food and meet the growing demand for food around the world. With regard to new production technologies, cultured protein is one of the alternatives in sight. To produce it, cells are extracted from an animal and cultivated (grown) first in a laboratory-scale nutrient medium, then in large bioreactors. The result is an expanded capacity to produce protein, diversifying production sources. The final product can be used to produce unstructured foods like hamburgers, cold cuts and meatballs, or structured foods such as steaks and fillets.
"It has been a matter of discussion for some time. But the gain in scale is only happening now because the technology has just become more viable, and thus investments in the development of such alternative proteins have started to follow this movement and are increasingly higher", explains Vivian Feddern, lead researcher of the project. In her opinion, the advantage of investing in such fast-growing market is evident. "In addition to being at the technological forefront, we will be able to offer technology and/or alternative proteins to companies in Brazil and in countries that import animal products.
Embrapa's study choice for chicken considered the fact that it is one of the most versatile proteins consumed throughout the entire national territory, in addition to one of the most nutritionally complete foods, which is important for healthy diets. Another advantage of the study consists of their access to Embrapa Swine and Poultry's poultry gene bank.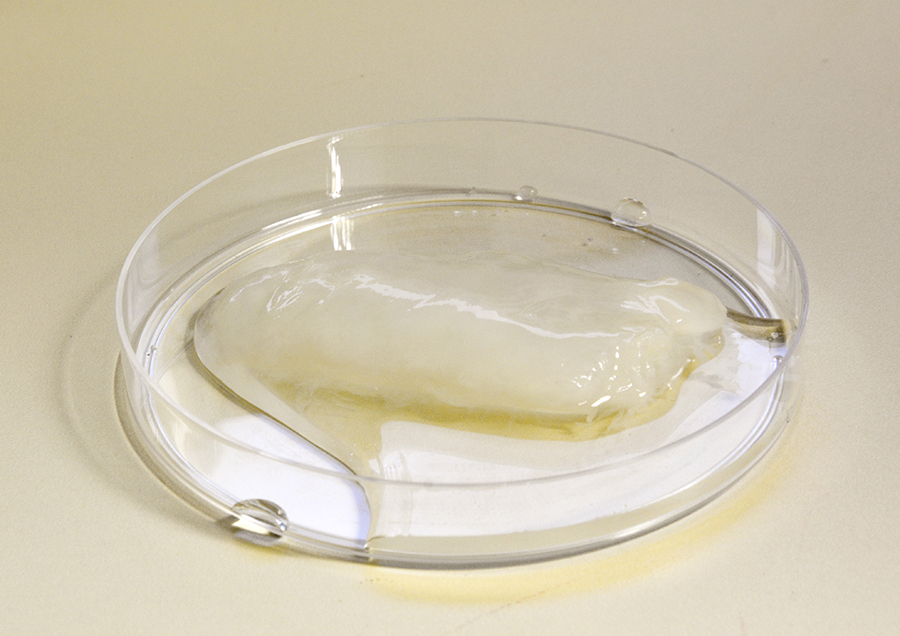 Technique and development
According to Feddern, they will use three-dimensional bacterial nanocellulose structures initially developed at the Federal University of Santa Catarina (UFSC). Such structures have characteristics that are similar to decellularized chicken breast cuts such as size and appearance, and hence they will be used to support cell culture. The cells will be placed in the cellulose through the perfusion technique, resembling the procedure used for organ recellularization.The current stage of research is optimizing cell adhesion and proliferation within cellulose. "There are different possibilities to enable the transportation of cells into the tissue, for fixation and development. We are going to test some with and without microcarriers, for instance", the researcher adds. To obtain the final product, which is analogous to boneless chicken tenders, there is still a research path that the team hopes to follow within the year 2023.
Legislation and consumption
The global poultry meat market has been growing and according to bodies such as OECD or FAO, the estimated consumption for 2026 is of approximately 131 million tons. For researchers, this data shows a promising scenario to have entrepreneurs and industries seek alternative production technologies, such as cultured meat. "Although studies with this chain are more recent than bovine cell culture products, many efforts have been made in recent years and multiple companies have established themselves in several locations around the world", Feddern states. Countries that are already studying cultured chicken meat include Canada, the Czech Republic, the United States, Japan, Israel, France, South Africa and Switzerland.
In 2020, Singapore approved legislation for the trade of chicken nuggets, produced by Eat Just. In 2022, in the United States, the Food and Drug Administration (FDA) granted approval to California's Upside Foods for cultured chicken. In the Netherlands, also in 2022, the parliament legalized the tasting of meat grown under controlled conditions, noting that it was the first country to offer a burger cultured by pharmacologist Mark Post in 2013 in the presence of 200 journalists and academics. Post is also a co-founder of the Netherlands-based cultured meat company Mosa Meat.
While they are not being traded yet, the cultured products can be enjoyed in a few restaurants in those countries, such as in Israel, which has waiting list for tastings and reservation queues for customers.
In Brazil, there is still no legislation on the subject, but the National Plan for Alternative Proteins (PNPA) is in the process of being created by the Ministry of Agriculture and Livestock. This plan includes foods and their protein-based ingredients from plants, insects, fungi, algae and other alternative sources obtained by established production methods, fermentation processes, cell culture and innovative processes.
The legislation needs to take a step forward, according to the researcher. "Some companies such as BRF, JBS and Cellva Ingredients have already started investing in research to produce cultured meat and ingredients such as cultured pork fat. Most are focused on unstructured products like hamburgers, unlike a chicken breast, which needs structure. As the process is more complex, we still have a long way ahead", she adds.
Sustainability as production appeal
One of the challenges that researchers find in producing food for a growing global population is sustainability. "The effects of conventional animal production on the environment, which include land and water use, interference with biodiversity and greenhouse gas (GHG) emissions, is a recurring discussion not only in science but also in several sectors. Thus cultured meat is set to become an ally to face such challenges", Feddern states."
Based on the concept of one health, which encompasses the combination of human, animal and environmental care, it is possible to mitigate the general environmental impacts of traditional meat production. This is because we grow animal cells in vitro, in an inert environment, which is physically, chemically and microbiologically controlled", the researcher points out. The technique also provides the advantage of reducing or eliminating the use of antimicrobials, a theme that is widely debated in meat production.
Cultured meat poses an alternative to conventional meat production, insofar as it does not aim to replace the already well-established conventional production in the world; there is potential for the coexistence of both forms of production. Producing meat products under in vitro conditions contributes to the supply of protein, on demand by the population growth, and has the potential to completely change the meat protein business, with far-reaching repercussions for the environment, human health and animal welfare. In addition, cultured meat has the potential to alleviate ethical, environmental, and public health concerns associated with conventional meat production, including GHG emissions, land and water use, resistance to antibiotics, foodborne and zoonotic diseases, and animal slaughter.
Biobank to streamline research results
The project stipulates two innovation solutions. One of them is aimed at the development of a "Methodology to obtain optimized conditions to cultivate bacterial nanocellulose-producing bacteria aiming at a viable and reliable commercial lineage", which is the responsibility of researcher Ana Paula Bastos. The other innovation will be the development of the product itself, which is the chicken breast analog, under the responsibility of the lead researcher of the project.
In this project, the researchers work with adult and embryonic stem cells, myocytes, fibroblasts and chicken adipocytes. Throughout the development, they noted the need to create a biobank of chicken cell lines to meet the cultured meat market demand. According to Bastos, the biobank can dramatically reduce the need for the repeated generation of primary cell cultures and will allow the cell-based industry to work with stable, reproducible and consistent cell lines during the development of cultured meat products.
The creation of the biobank is one of the results of the 1st Cultured Meat Day promoted by Embrapa Pork and Poultry in August 2022. The event brought together professionals from food companies, startups, government, supplement and equipment industries, as well as entrepreneurs and students from several areas of knowledge to broaden discussions about the subject and seek partnerships. More information is available here.
She also points out that there will be no obstacles to licensing and authorizing the use of cell lines because the cell sources are the animals in Embrapa's breeding and genetic improvement program. "The creation of an institutional biobank at Embrapa with cell lines that are characterized and dedicated to cultured meat products could be licensed, which will significantly reduce the barrier of entry for researchers, startups and industries interested in cultured meat," she observes.
How do consumers feel about cultured meat?
In a survey by Embrapa Swine and Poultry's team about consumer perception in the current post-pandemic context, they observed that participants were willing to try cultured meat and saw it as a positive trend. However, there are doubts regarding the new product's safety, nutritional value, flavor, texture and how it is produced. "Raising awareness of the benefits of this innovation is paramount to have future consumers adopt cultured meat as another food option in their diets," Feddern adds.
The survey was conducted between February and March 2022, through an exploratory approach with data collected through an electronic questionnaire composed by multiple-choice questions. It also contained an eight-minute-long explanatory video about the pros and cons of cultured meat and an optional essay question about the reasons why participants would or would not consume the product. The research addressed aspects concerning consumer profile, habits and intention to consume cultured meat among residents of towns located in the South of Brazil whose population is smaller than 150,000 inhabitants.
The issue is still controversial for society, even in research circles. Researchers analyse this situation especially due to the fact that the product is not available for trade in the Brazilian market yet. "This causes opinions and positions to be divided and sometimes clash. However, the country, as one of the world's largest suppliers of animal protein, has to be attentive and at the forefront of any subject that concerns the production chains", stresses the lead researcher of the project. "With such innovative food proposal, Brazil can contribute to the production of meat mass and ingredients, and in turn Embrapa can offer a biobank that can support existing and new companies or startups that are about to launch into the market," Feddern concludes.