Breeding For Meat Quality And High Yield Products
By Dr Danny Lubritz, Cobb geneticist - The advent of further processed and portion controlled broiler meat products has brought to the forefront the importance of white meat yield, fillet shape and meat quality.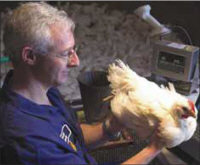 At Cobb we understand how the quality of these traits impacts on our customers' profits and for the last two decades we have invested millions of dollars in developing a higher yielding broiler, with breast meat yield increasing 6% of live weight. Our research and development team will continue progressing to keep pace with demands for increased yield and meat quality.well as various aspects of fillet shape - all in an effort to increase white meat yield and sizing yields for our customers.well as various aspects of fillet shape - all in an effort to increase white meat yield and sizing yields for our customers.

Cobb's proprietary ultrasound technology is also used to estimate breast meat yield. This has the advantage of being non-invasive, so we can obtain estimates of breast meat yield on all of the top birds kept at pedigree selection. Yield data are all entered into a sophisticated animal breeding program used by our geneticists to make final selection decisions. Through this method, Cobb makes at least a 0.3% increase in breast meat yield each year in each of its high yielding products.While 0.3% a year may sound small, over a ten-year period this can translate to an additional $35 million in profits/million birds slaughtered/week.

Interest has increased within the broiler industry in fillet dimensions, fillet weight, and the relationship between the two. Increased breast meat yield in broilers is largely due to increased thickness of the pectoralis major muscle.

Economic implications of white meat trim are a serious concern for integrators who must produce fillets of specific length, width and weight for their fast food customers. Fillets for this market must meet rigid specifications with a minimum amount of trim.

With this in mind, Cobb has undertaken the largest most comprehensive effort of its kind to characterize male and female pure lines and commercial crosses. Deboned fillets of males and females from all lines and crosses are evaluated at various live weights.

We now have a very large, proprietary, interactive fillet profile database with more than 3,500 observations. Our focus is primarily on the commercial crosses, but twice a year we compare fillet measures on our pedigree lines as well.

We test pure lines so that in the event of a line substitution, we know in advance the effect that substitution will have on the resulting fillet profile. Of course, Cobb also intensively tests commercial crosses so that when our customers provide us with the cross, sex and liveweight, we can provide them with reasonable expectations of fillet dimensions and percent of breast fat trim.

We refer to this as Cobb's interactive fillet profile database' because customers are encouraged to use this resource to address their sizing concerns. Table 1 shows breast dimensions generated from this impressive database for Cobb 500 straight run (as hatched) broilers at different weights.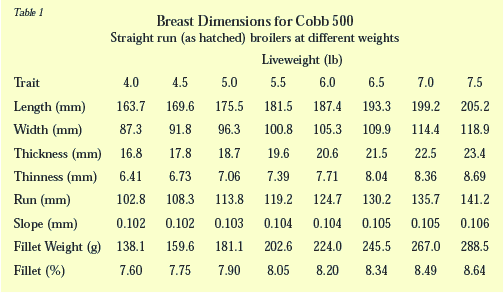 With regard to meat quality, the poultry industry has seen an increase in the occurrence of Pale Soft and Exudative broiler meat (PSE) over the past several years. PSE meat is the result of accelerated postmortem glycolysis, which results in a rapid pH decline while carcass temperatures are still high. Processors are concerned with the appearance of PSE meat in fresh tray packs as the pale color can affect color uniformity within the package. Although pale meat is still healthy, it is less pleasing to the customer.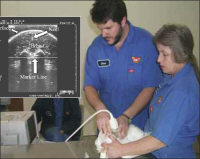 Furthermore, all meat loses moisture, but pale meat loses slightly more. Pale meat is estimated to produce an estimated economic loss to the processor of about $200 million a year for the US broiler industry.
Cobb selects against PSE meat in our pedigree program based on data obtained during dissection. Any individuals with the PSE condition are noted and their families, if the incidence is high, are removed from further consideration as pedigree breeders.
We also study meat quality as part of our product testing. Lines and crosses are measured to see if genetic differences in meat color manifest as line differences. Identifying lines more resistant to heat stress and less susceptible to developing the PSE condition is an approach that will help us correct challenging meat quality issues.
Cobb is also pioneering in DNA gene marker technologies which will enable its R&D group to select even more effectively against poor meet quality in its products. Another meat quality concern is Green Muscle Disease or Deep Pectoral Myopathy, which is the necrosis of the Pectoralis Minor (tender) muscle of poultry. Necrotic tenders appear yellowish-green in color. Green Muscle Disease results from vigorous activity of both major and minor pectoralis muscles, but only the tenders are afflicted.
During contraction, muscles normally swell with increased blood flow to supply needed oxygen and nutrients. The tenders compared to other muscles have a more rigid muscle cover and are confined to a tight space within the body such that they can't expand to accommodate this increased blood flow. The net result of the muscle being confined and compressed is self strangulation, suffocation and eventually necrosis.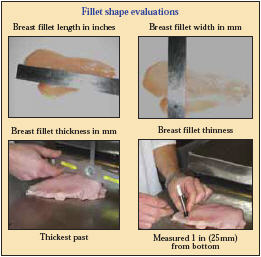 The incidence of Green Muscle Disease increases with market weight in broilers, and more cases are reported in higher yielding crosses and in males. Increased bird activity induced by factors such as feed or water outages, lighting programs, catching and live haul and even excessive noise may result in increased incidence of Green Muscle Disease in broilers.

Our geneticists select against Green Muscle Disease in the same way they select against PSE by careful identification during routine dissections and selection against families with a high incidence of this disorder and by research deigned to identify gene markers for selection against this characteristic.

We believe our research and development team is unequalled in achieving genetic progress in the areas of meat yield and meat quality to keep pace with the global demands. We are dedicated to having the best selection and gene marker technologies for developing optimal meat quality and meat yield performance. Our proven record of steadily increasing meat yield, with excellent meat uniformity and quality combined with a reputation for outstanding broiler performance will help to ensure the continued success of our customers.
March 2007