Broiler Welfare Can Be Improved Through Nutrition
Based on a paper presented at the European Poultry Conference (EPC) 2010, changes in the diet can reduce the severity of pododermatitis in broilers, writes Jackie Linden, senior editor of ThePoultrySite.
At the EPC last year in Tours, France, Drs Marcus Kenny, Carolyne Kemp and Colin Fisher from Aviagen Ltd's Nutrition group in Scotland, presented the results of series of experiments investigating the effects of feeding on the incidence of pododermatitis (foot pad dermatitis) in broilers. They found that, by combining all the dietary variables believed to prevent pododermatitis, they could reduce the incidence of lesions to very low levels.

Contact dermatitis of the foot pads of broilers (pododermatitis) is an important commercial condition in the rearing of broilers, they explained. The welfare implications of the condition have been proposed for EU legislation, while economic costs are incurred as the result of carcass downgrading, especially in markets where the foot is valued. Contact dermatitis affects the surface of skin that is in prolonged contact with the litter and when the feet are involved, the skin turns black, erodes and fibrosis develops. In severe cases, lameness and secondary infections may result.
Identification of the Dietary Factors Impacting Foot Health
Dr Kenny and colleagues explained that the severity of the condition has been linked to litter moisture, nitrogen content and pH and so they investigated the effects of some nutritional variables – balanced protein level, energy levels, cereal sources and the effects of feed processing – on the severity of foot pad dermatitis in a series of trials.

In each case, the diets were fed to day-old Ross 308 broilers housed in pens with wood shavings as litter. A three-phase feed programme was used and the birds were kept to 40 days of age. A complete range of production and processing traits were measured.

The results showed that increasing balanced protein levels or reducing dietary energy levels increased the incidence of pododermatitis lesions. On the other hand, lesions were reduced by using lower mineral levels, by feeding maize rather than wheat and by coarse grinding of the feed ingredients.
Effects of a Preventative Diet on Pododermatis Incidence
The Aviagen group then examined the total effect of the nutritional response under trial conditions. Again, using a three-phase feeding programme, they combined all the factors shown or believed to reduce the incidence of pododermatitis in a diet they called the 'preventative' treatment. Compared to the control diet ('normal'), it had:
a reduced level of balanced protein in the grower (95 per cent of the control)
maize (at 25 and 15 per cent, respectively in the starter and grower) in place of wheat
reduced mineral levels (see Table 1)
betaine supplement (1g per kg)
some chelated trace minerals (10, 40 and 40 mg per kg copper, zinc and manganese, respectively)
protected butyric acid (1.5 and 1.1g/kg) in addition to the usual organic acid supplement.
the diets were prepared by 'coarse' grinding, achieved by regrinding standard pellets.
Table 1. Mineral levels used in the dietary treatments
Mineral levels 1
Feed
Ca
mg/kg
Av. P
mg/kg
Na
mg/kg
Normal
Starter
10.5
5.0
2.0
Grower
9.0
4.5
1.8
Finisher
8.5
4.2
1.8
Reduced
Starter
9.5
4.5
1.5
Grower
8.0
4.0
1.4
Finisher
7.5
3.7
1.4
1 All feeds contained phytase and Ca, P and Na levels include components from phytase addition
The results of the experiment are shown in Table 2 and Figure 1. The 'preventative' treatment resulted in poorer performance, which Kenny and colleagues attributed to the reduced protein content. Mortality, however, was improved and they suggested this was for the same reason. Litter condition and the incidence of pododermatitis lesion were greatly improved.
Table 2. Effects of a diet designed to prevent pododermatitis in male broilers on performance and litter condition
Diet
Liveweight at 32 days
(g)
FCR1
at 2kg
Mortality
at 32 days
(%)
Litter
capping2
Litter moisture
(g/100g)
Normal
2938
1.46
5.6
40.0
52.8
Preventative
2866
1.52
3.8
28.8
40.7
1 Feed conversion ratio corrected for mortality
2 Litter capping scored visually at 39 days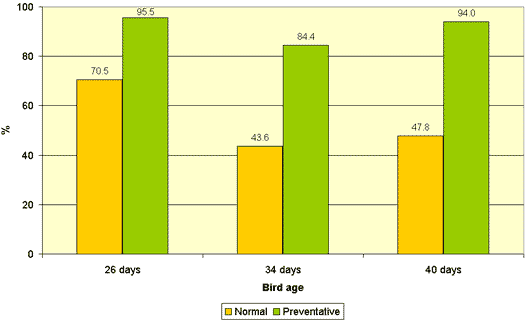 Figure 1. Proportion of male broilers fed two different feeds with zero pododermatitis scores
(based on three-point score where 0 = no lesions)
Conclusions
The results show that manipulation of the feed and nutrient levels can play a significant part in a strategy to avoid reduced welfare and economic loss as a result of pododermatitis lesions, said Kenny and colleagues, and they suggested that other contact lesions, such as hock burn and breast damage, would be controlled to some extent in the same way.
Reference
Kenny M., C. Kemp and C. Fisher 2010. Nutrition and pododermatitis in broilers. Proceedings of the XIII European Poultry Conference in Tours, France, August 2010.
This article can also be read in ThePoultrySite Digital, our twice monthly Poultry Industry eBulletin.

Simply click the "Expand" button on the eBulletin below to read.
February 2011