Compartmentalisation is Gaining Support
The concept of compartmentalization and the need to build consensus to maintain global trade during a disease crisis were introduced by Cobb a year ago. In this article, the company looks at progress and the views from different countries affected by the issue. "Next stage will be a comprehensive plan for trade among all partners," Cobb says.
With problems such as avian influenza posing a serious threat to global trade, this concept was developed by the World Organization for Animal Health (commonly known as the OIE from its French origins) as a credible way forward for industry to continue trading from 'free' compartments of a country or zone during periods of disease outbreak.

Interest has grown, as shown by Dr Gary Colgrove, from USDA's APHIS group in a recent article in December 2008 in Watt Poultry USA, when he commented, "Even though it has been in the OIE code for a while, countries are just beginning to grapple with it."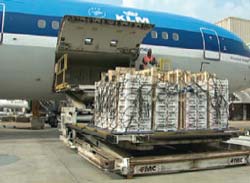 This appears to be the case, as we have seen in reports from a number of countries and regions around the world.

In the UK, the British Poultry Council (BPC) has established a Primary Breeders Group where meetings over the past 12 months have highlighted the need for establishment of avian influenza (AI) free compartments for poultry primary breeders to maintain trade with countries outside the European Union (EU).

These discussions have led to informal trade agreements with South Africa, Zimbabwe, Israel and Iran accepting product from the breeding companies in the face of a national AI outbreak as long as the poultry premises are not within the three-kilometre protection zone from a known break.

As with many governments, the UK's Department for Environment, Food and Rural Affairs (DEFRA) has had to overcome personnel cuts and budget constraints to support this scheme. However, they added poultry to the Export Certification Users Group, a DEFRA group established during the foot and mouth disease outbreak a few years ago to ensure that trade continued with all trading partners during times of national movement restrictions.

Compartmentalization is based on data on biosecurity and health status - not geography. It allows the importing country to select which compartments it will accept, restricting imports to those poultry 'products' which are recognized as safe and which directly benefit its own poultry industry, such as the continued supply of breeding stock.

Peter Bradnock
"It is even more crucial that compartments are recognized by trading partners," says Peter Bradnock, BPC chief executive. "The importing country has to be satisfied that its own animal health status is going to be protected and it will be looking to the competent authority in the exporting country for confirmation in their ability to properly establish and monitor compartments.

"Good bilateral relations, shared confidence and trust between the two competent authorities – not just adherence to EU or international rules and guidelines – will be essential to facilitate continued trade."

The BPC Primary Breeders Group has assisted setting guidelines for rules and regulations with the EU for establishing AI-free compartments. Most member countries are waiting for a decision at EU level to support establishment of AI free compartments before taking the first step in establishing their own compartments; some are reported to be more focused on intra-community trade between EU countries rather than with outside countries.

Early progress in a different direction in Thailand was first reported in May with the approval by the Department of Livestock and Development (DLD) of two Charoen Pokphand broiler compartments following the completion of a government audit. DLD's director general Sakchai Sriboonsue stated, "The two compartments have been certified free of bird flu disease." Certificates issued are in compliance with guidelines set down by the OIE who selected Thailand as a pilot country for the compartment system.

This is part of Thailand's new effort to re-enter the fresh chicken meat export market especially the EU and Japan. Later in September, 11 poultry compartments, covering 80 farms or around 35 million broilers per cycle, had gained DLD approval presumably from several leading producers.

Pilot plans are reportedly in various stages of being set up in Brazil, France, Germany and the US. In the latter country, the progress has recently been documented in a published article highlighting USDA APHIS support for the concept as the agency begins drafting a proposed rule for compartmentalization based on OIE guidelines.

This rule would give APHIS the authority to recognize compartments both internationally and within the US. Publication of the rule by sometime mid-year would follow the establishment of a pilot project with a primary breeding company. The breeding company has already been selected and compiled a sizeable package of documents that were sent to APHIS before the end of 2008. A full review of the data package together with the addition of an APHIS portion to the documents early in 2009, is planned for completion before presentation is made to an initial country for their analysis and response to the compartmentalization proposal. Interest within the US-based breeding industry and among their trading partners is high, given that around 70 per cent of the world's poultry industry is supplied by genetic companies from the US.

Added support for compartmentalization came from a letter in May 2008 from the International Poultry Council (IPC):

'The IPC fully endorses the principles of compartmentalization and sees them as key instruments in the process of securing co-existence between commercial and backyard poultry production and wildlife, thus minimizing the risk of entry and spreading of specific diseases in the commercial production.

'Especially the recent outbreaks of avian influenza have underlined the need for the application of guidelines to limit and control the spreading of disease. On the part of the IPC, we fully support the application of the concept of compartmentalization.'

During the Madrid meeting, IPC members suggested that the principles could initially be implemented in primary breeder production for the distribution of breeding stock. This production sector seems ready for this and agrees with the need for applying OIE guidelines, and probably already has at its disposal all the necessary tools and programs to ensure the establishment of reliable compartments.

From a trading perspective, compartmentalization gives importing countries greater potential to fine-tune imports from a country with an AI or notifiable disease outbreak. Acceptance of zoning by the importing country is potential acceptance of exports from all companies outside the restricted zone.

Clearly compartmentalization has long-term benefits and deserves the support of all in the industry to turn a concept into a comprehensive plan for continued trade between partners.
'Big Job' to do in Marketing the Concept

Louis Perrault
"Compartmentalization for France is crucial," says Louis Perrault, executive director of Sasso. "France has had great risk with both high and low pathogenic avian influenza disease with the country's large production of ducks and geese.

"The French breeding companies (ISA, Hubbard and Sasso) have built with the French authority a HACCP concept of compartmentalization that we at Sasso were the first to use in 2007 to test how it could work in practice. Already two audits from the authority have proved it is successful.

With the desire for a European and ultimately global concept, it is frustrating that it is taking so long to make this a reality."

Mr Perrault also believes that the more this concept is developed and put into practice, the more there will be companies supporting this project and it 'should' be easier to explain and convince customers and the official authorities in different exporting countries to participate.

"We have a big job to do now in 'marketing' the concept and lobbying for the global support we need," he adds.
"We Can't Afford any Mistakes at the Outset"

Dr Peter Fernández
The importance of 'success' at the outset is stressed by Dr Peter J. Fernández, USDA, Animal and Plant Health Inspection Service, Minister-Counselor for Europe, Russia, the Middle East and Africa and US Mission to the European Union.

Countries where industries have an active interest in compartmentalization have been encouraging their state veterinary services to start addressing the issue, says Dr Fernández.

"Clearly we need 'successes' at the outset. We can't afford mistakes that may set back our efforts as this issue is under intense international scrutiny. At the same time, many developing countries see compartmentalization as an opportunity to access markets."

The OIE's Performance of Veterinary Services Tool has a critical competency dedicated to compartmentalization, he says. No country wants to cast aside this possibility too easily, but to make such initiatives work, a very close relationship is needed between the veterinary services and the livestock industry in particular countries.

"This domestic partnership, along with a valid and reliable auditing mechanism, can provide the international assurances necessary to make compartmentalization proposals successful," says Dr Fernández.

"The US and the EU have already engaged in intense discussions of how we will establish compartmentalization parameters and regulations acceptable to each other. The aim is to develop these initiatives jointly so that legal acceptance will be facilitated."

February 2009