COVID-19 Pandemic and Slow Recovery Disrupts World Shipping
COVID- 19 changed everything, including shipping - timing and costs are volatile. Will it all settle down in 2021?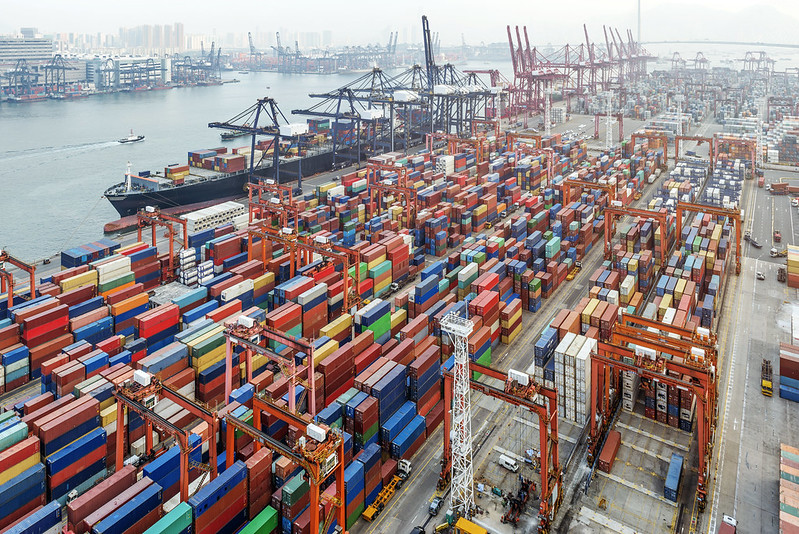 How many of us have seen a containership up close, except when landing at Hong Kong airport? And when we order a parcel from Amazon or Alibaba, how much attention do we pay to how it will arrive?
All this changed this past year, with shipping costs more turbulent than at any other time since World War 2.
The Global Container Index, which measures container shipping costs, rose from $1,442 in February 2020 (when the pandemic began) to $4,089 by mid-February 2021, while the Global Schedule Reliability shipping index is the worst in living memory.
What caused these dramatic changes and what is the prognosis?
In the second quarter of 2020, as the Covid-19 pandemic spread around the world two things happened that largely cancelled themselves out. There were sudden uncoordinated lockdowns in ports around the world, which caused numerous delays at ports, but did not yet lead to the vicious cycle seen later in the year. This was because the other main effect – a dramatic reduction in world trade – appeared initially on the supply side as China was closed down and emerged later on the demand side as people bought less.
By the third and fourth quarters of 2020, world trade had recovered and was well above normal levels. Shanghai had a record November for goods shipped. This increase, together with ongoing restrictions, led to the disruption in the market that is now threatening to make imported goods more expensive.
In April or May 2020, if a ship were delayed at a port because the port suddenly introduced new quarantine measures or crew members were sent into isolation, the shipping company was able to send an alternative ship. Now, as shipping is reaching near or full capacity, any delay to the turnaround of a ship delays the whole supply chain.
Delays and lack of containers
The problems of shipping in the COVID-19 era include:
Delays at ports because of lockdowns – There is more bureaucracy and loading and unloading may take much longer. Sometimes a ship may be forbidden access to a port because crew members are ill, with the result that the goods are not unloaded.
Crew – Most crewmen sign up for around a year. Many come from countries that cannot now be reached due to airport closures. Thus, some crews have already been at sea for two years. Many have stopped working and are in ports seeking repatriation.
Finding new crew members has become difficult for the same reason. Also, there is a perception amongst crew that there is a real danger of being stranded ill at sea, so the desirability of the job has decreased. Crew in strange ports are unlikely to be prioritized for vaccination unless an international agreement is reached recognizing them as crucial workers.
Container availability in the East – There has been a dramatic shortage of empty containers in China. The index of container availability is between 1 and 0. Anything less than 0.5 is regarded as a shortage. In February 2020, the index was around 0.78, which is a normal rate. By November, it had fallen to 0.18 – a very major shortage. Fortunately, it has started to improve and the hope is that it will be largely resolved during the Chinese (Lunar) New Year.
The shortage has been caused by a variety of factors on both the supply and demand sides. Chinese container manufacturers drilled down production during early 2020 as they mistakenly expected that demand would be low. However, the increase in demand coupled with the change in shipping patterns left most containers stranded in destination ports. The issue seems to be resolving itself as the market reacts to the imbalance and we can expect the situation to return to normal by March-April 2021.
Impact on the poultry industry
Clearly, these stresses have affected and are still affecting the poultry industry in many ways. There has been disruption in the shipping of raw materials for maintaining poultry, particularly grain. As most producers hold reasonable stocks, the main effect has been cost-related.
Local shortages or gluts of chicken and eggs occurred during the year. One result has been that many countries are now looking to be more self-sufficient in poultry meat and eggs to improve food security.
Building poultry projects are often timed very precisely to be ready for a certain date when chicks or pullets will already be in the pipeline. The delays of supply of equipment and building materials might cause disruption and the added costs affect the budget for capital expenditure (CapEx).
The market is expected to stabilize and recover during 2021, but no one is sure how long it will take. In the meantime, this will affect the price and availability of shipping and therefore of the product.
The writer is the Business Development Manager at Agrotop, a leading international supplier of integrated livestock projects.