Disease Prevention Crucial for Embryos and Young Chicks
Chick quality is the grounding for a successful poultry industry, reports Lucy Towers, ThePoultrySite newsdesk assistant. With chick quality varying greatly, investing in research to prevent diseases in young chicks and chick embryos is crucial for the broiler and layer industries.
Speaking at the Nuffield Scholarship presentations in October, Merial veterinarian and Nuffield Scholar, Helen Houghton, discusses disease prevention in the chick embryo and young chick from her global research studies.
What Affects Chick Quality?
Ms Houghton stated that chick quality varies greatly in the UK. Chick quality is often affected by the health and management of parent flocks, the number of hatching eggs available, which in turn is affected by consumer demand, the incubation of embryos and the management of young chicks.

Ms Houghton's research was conducted in order to determine how to improve chick quality and uniformity in line with better disease prevention in chicks and young embryos.

Chick uniformity is important to the industry as having chicks which are the same size, breed and quality makes their management much easier. It also leads to increased feed conversion efficiency rates and uniform slaughter weights, which can therefore be beneficial economically.

With a similar economic climate to the UK, Ms Houghton visited the US and the Netherlands in order examine poultry industries where labour is expensive and automation essential. In contrast, she also visited China and India where labour is cheap and poultry protein is important for improving human diets. Here, she also experienced how good biosecurity and chick vaccination are essential to help prevent disease outbreaks.

At present, the most popular vaccination techniques for chicks involve oral administration, such as delivering vaccines through shared drinking water systems. Vaccines can also be administered individually through the eye or through spray systems, which allow the vaccine to be absorbed through the eyes and mouth. Although these technique are reliable, they do require time and skilled labour, adding extra costs and time to the production line.
Incubation
Whilst conducting her research, Ms Houghton identified that controlled incubation management can produce healthier chicks, for which vaccination is less important as they hatch with stronger immune systems.

In many cases, incubation temperatures can become too hot. Temperatures above 37.8°C in the second half of incubation can be harmful for chick development. Investigations suggest that this leads to chicks hatching earlier and therefore they are smaller and weaker due to no retraction of the yolk sac. Ms Houghton stated that this, in turn, leads to lower organ weights leading to illness and causes the body to produce insufficient antibodies, resulting in a weakened immune system.
In-Ovo Delivery Systems
From her research into American vaccination systems, Ms Houghton examined the development of the in-ovo delivery system, whereby vaccines are injected into the fluid inside the egg on the 18th day of incubation. The vaccine can then be taken up by the chick three days before hatching, eliminating the need for vaccination after hatching.

The University of Georgia in the US is using this technique to administer probiotics. The effect of this is that it supplies the developing gut with 'good' bacteria, therefore fighting off 'bad' bacteria, such as Salmonella.

Creating a healthy gut before the chick hatches is not only valuable to the health of the chick but also to the health of humans. By effectively reducing the build-up of Salmonella, there will be less chance of Salmonella transfer on equipment and egg produce leading to a reduced risk of Salmonella to human health. The probiotic development is also important as it reduces the use of antibiotics in vaccination, said Ms Houghton.
Early Feeding Systems
On her visit to the Netherlands, Ms Houghton came across early feeding systems. Early feeding systems are based upon moving chicks to feeding systems four days after hatching, instead of immediately. Ms Houghton said her research showed that this improves chick health as the young birds are allowed to grow and build up weight and strength before they are transported.
'Patio' System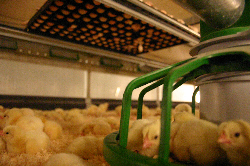 Newly-hatched chicks in the Patio are able to find feed and water, while the last chicks are still hatching on the setter tray
Also demonstrated in the Netherlands is the 'Patio' system (Vencomatic), which provides chicks with immediate access to water and feed straight after hatching.

A tiered structure allows newly hatched chicks to drop 45cm down into an area containing water and feed.

This immediate access is important for chick health as, according to Ms Houghton, a chick can lose up to eight per cent of its body weight in its first 24 hours between hatching and ingestion of feed and water.

This process also cuts out the transportation of chicks to farms or brooding houses as the birds can be kept in this tier system for their entire life.

Keeping the chicks in a constant temperature-controlled environment reduces health risk posed by transportation such as, injury, heat loss and withdrawal from food.

The 'Patio' system can also cut labour costs as the eggs are moved via a conveyor belt system throughout the tiers, requiring less human involvement.

Ms Houghton added that both early feeding and the 'Patio' systems have been proven to cut the time between hatching and slaughter by one day. This is not only beneficial to chick health but also cuts costs in the process and opens the possibility of more broiler crops per year.
Conclusions
Drawing a conclusion on her research, Ms Houghton said that vaccination in the young chick and embryos has proven crucial to giving chicks the healthiest start to life and subsequently, to easier management and improved chick uniformity.

In-ovo vaccination, early feeding and the 'Patio' systems have proved successful in creating healthy chicks through their vaccination methods and early stage chick management.

November 2011