Drying Digestates from Biogas Plants
By Dipl.-Ing. agr. Janett Peschel, Big Dutchman International GmbH. Generating power from renewable energies is becoming increasingly important in Germany as well as on the international level.
Manure drying tunnel doing a good job
Thus, it is not surprising that the number of biogas plants is steadily increasing as are wind power plants and solar plants. On the agricultural sector, biogas plants are an additional source of income on many farms besides crop production and livestock husbandry. When generating power and heat from biomass in biogas plants, digestates with a dry matter content of 5 to 15 per cent arise – this is similar to slurry. On the one hand, enough storage space for digestates has to be available and on the other hand sufficient surface for spreading digestates is required. Above all in regions of intensive precision farming this can be a problem, since the existing surface is already required for spreading animal manure.
Optimised use of nutrients from biogas plants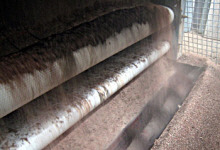 Up to now, rough solids are separated from the digestates by means of a press screw and dried. In this process, the dried quantity only corresponds to 10 to 15 per cent of the total quantity of digestates and the major share of the liquid phase still has to be spread separately.

Ludger Möllenbeck from Füchtorf in Nordrhein-Westfalen, Germany is also familiar with this problem. His biogas plant was connected to the network in 2002. The farmer deals with the subject of biogas already for 20 years. I wrote my first paper on biogas in 1984," he says.

Those who know Ludger Möllenbeck know that he is an expert in the field who has a lot of ideas and also knows how to put them into practice together with suitable partners. Due to the fact that digestates can not be as easily separated as slurry and that the liquid phase polluted with ammonia (NH3) still causes problems, a demo project was launched under scientific supervision of the University of Applied Sciences Münster, Germany, with the topic: "Optimised use of nutrients from biogas plants by ammonia stripping and digestate treatment". This project receives is subsidised by the Federal Ministry of Consumer Protection, Food and Agriculture.
What happens with the volatilizing ammonia?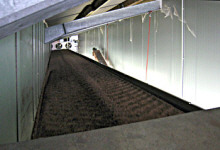 The aim is to dry digestates from biogas plants and thus to reach a more economical transport of the material. First of all, there was the question what should be done about the ammonia volatilizing in to the drying process.

In connection with the company Biogas Nord GmbH and the University of Applied Sciences Münster under the direction of Prof. Dr. Christof Wetter, a method has been developed to withdraw ammonia (NH3) from the digestates through the use of a vacuum. This so-called NH3-stripping is supposed to lead to a significantly higher separation rate of NH3 than with all other generally applied procedures. The resulting highly concentrated ammonia water can be excellently used as agricultural fertilizer.
Drying digestates by means of waste heat from combined heat and power plants
The considerations that followed revolved around how to dry the digestates free from ammonia. Ludger Möllenbeck had the idea to use a drying tunnel. Manure drying tunnels are not a novelty, up to now they are mainly used for drying poultry manure. Drying digestates from biogas plants however is a totally new field of application.

In cooperation with the company Big Dutchman, a drying tunnel of 25 m length and on 10 tiers was constructed. To be able to process the digestates with a dry matter content of approx. eight per cent, they are mixed with the already dried substrate before being spread over the dosing station on the upper tier of the tunnel. Uniform distribution and drying is ensured by two distributing augers. The digestates pass the entire tunnel on conveyor belts, leave it as a dry substance and is continuously refilled. Waste heat from the associated combined heat and power plants is used for heating by drawing warm air across the tunnel by means of fans and giving it the possibility to stream through all tiers by means of negative pressure. Perforated manure belts ensure that the warm air does not only pass over the digestates but permeates them.

The storage period in the tunnel of the material to be dried is one to two days. Afterwards, the material has a dry matter content of 85 to 90 per cent and can be used as valuable potash and phosphate fertilizer.
Conclusion
Drying digestates from biogas plants opens up new options above all in areas of intensive precision farming. The dried substrates can be transported cost-effectively and thus spread also on fields at larger distances.

Drying digestates is not only acceptable for the environment by processing biogenous waste material, but can also result in an increased profitability of biogas plants, since all water evaporates in the drying tunnel and a previous separation of digestates is not necessary.
June 2008
Sponsored Article
---
Our Partners
---