Eggs and Egg Products in the Netherlands
The Netherlands is a major producer of eggs and egg products, with the majority of production being exported, according to a new report Livestock, Meat and Eggs in the Netherlands 2010 published by the Product Boards for Livestock, Meat and Eggs (PVE).
IKB Quality Scheme
Dutch supermarkets sell only eggs produced according to the IKB quality regulations, as shown by the IKB logo on the packaging. This IKB scheme for total surveillance of animal production guarantees the quality and food safety of its products.

Under the IKB quality scheme, all eggs are stamped with a code identifying the farm where they were produced, so they can be traced back to the farm of origin. The code also indicates how the hens are housed. The code also indicates the country, farm and henhouse where the egg was produced.

The quality and food safety is constantly safeguarded in all the links in the chain through strict legislation, monitoring programmes and inspections. The Dutch poultry sector, civil society organisations and the supermarkets consult frequently about the policy. The Netherlands is a major producer of eggs and egg products. The majority of production – two-thirds – is exported.
Consumption
For the first time in three years, egg consumption grew again in 2009. In 2006, 2007 and 2008 egg consumption was 182 eggs per capita; in 2009 this figure rose to 184. This increase can mainly be attributed to greater use of eggs in processed products such as ice cream, cakes and pastas.
Proceeds, Production and Population
The laying hen population increased in 2009 by 800,000 hens to reach 32 million birds. The number of farms decreased in 2009 by 15 to 1,092. The higher number of hens was mainly accounted for by the growth in the number of hens being kept in alternative housing systems. Last year, the total laying hen population consisted of 43 per cent cage hens, 42 per cent deep litter hens, 13 per cent free-range hens and two per cent organic hens. Egg production in 2009 is calculated at 9.7 billion eggs, that is almost 200 million more than in 2008.

The operating results of the laying sector showed a great improvement in 2009. According to calculations of the Agricultural Economics Research Institute (LEI) the balance between cost and profits has more than doubled to reach €7 per per hen per year. This was chiefly caused by the higher prices for eggs, as a result of a sharp increase in the demand for eggs from Germany. As well as the far higher prices achieved for eggs, the lower feed prices also contributed to this considerably improved balance. On an annual basis, feed prices have dropped by 17 per cent.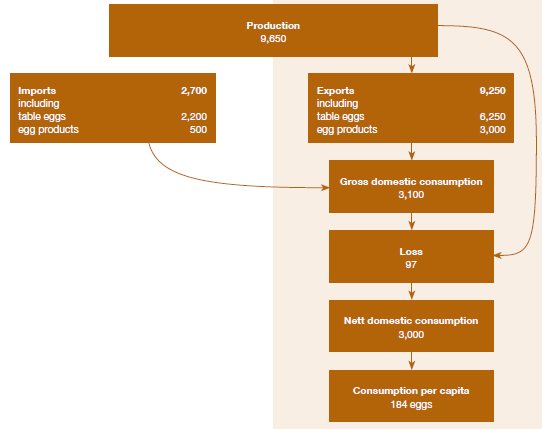 Sales structure of the egg sector in 2009 (in millions of eggs)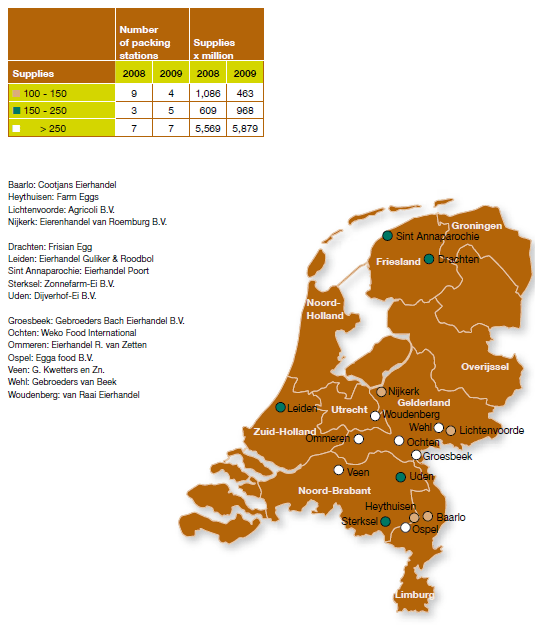 Eggs: packing stations/collectors in 2009
(handling supplies of > 100 million eggs a year)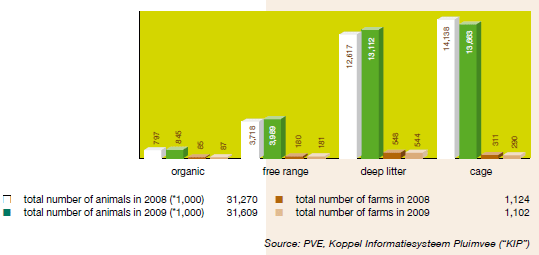 Number of laying hens and farms arranged according to housing system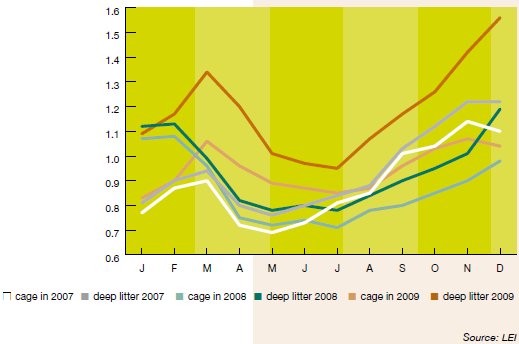 Producer prices of eggs in 2007-2009 (prices in €/kg including VAT)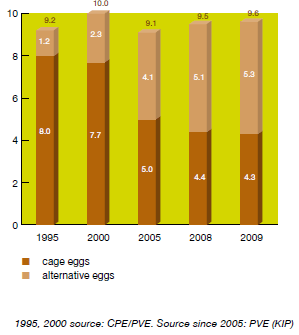 Production of eggs in 1995-2009 (× billion)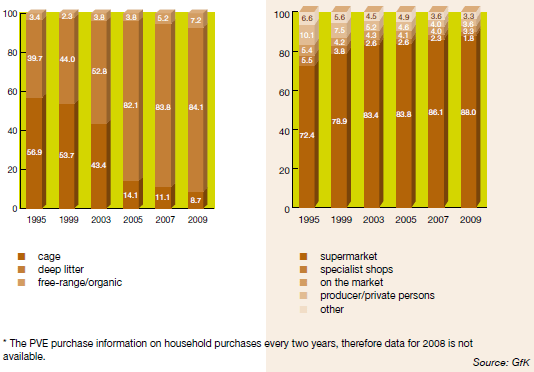 Household purchases in the Netherlands of cage, deep litter and organic eggs in 1995-2009* (volume %) and sales outlets of for household consumption in 1995-2009* (volume %)
Exports
Dutch exports of eggs and egg products (calculated as table eggs) increased in 2009 by two per cent to 9.3 billion eggs. The share accounted for by Germany in the total export of eggs for consumption grew by three per cent in 2009 to a good 76 per cent. This increase was mainly triggered by the switch to animal friendly layer housing systems in Germany, which should be realised in 2010. The demand for Dutch eggs from deep litter hens therefore rose sharply, with considerable price rises as a result.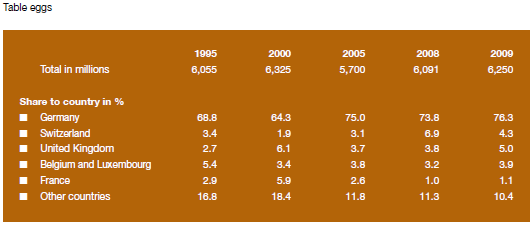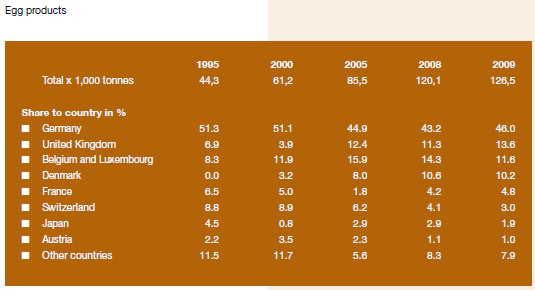 Destinations of egg exports and egg products in 1995-2009
Imports
Dutch imports of eggs and egg products (calculated as table eggs) increased in 2009 compared to 2008 by four per cent to 2.7 billion eggs. Imports of eggs for consumption fell slightly, mainly because imports from Germany and Belgium showed a decline. The imports of egg products on the other hand increased sharply, due to higher import volumes from Austria, Spain and Italy. This mainly concerned an increase in liquid/frozen egg products.
Further Reading
| | | |
| --- | --- | --- |
| | - | You can view our previous report on poultry meat in the Netherlands by clicking here. |
July 2010