Examination of Salmonella's Ability to Survive
The survival of Salmonella Typhimurium is aided by the stress that it endures, according to research at the University of Arkansas in the latest newsletter from the Food Safety Consortium.
If Salmonella Typhimurium is hurt, but not killed, by high temperatures when poultry is being cooked, the surviving pathogens might emerge strong enough to contribute to food-borne disease.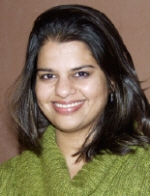 Sujata Sirsat
That scenario became apparent from studies led by Sujata Sirsat, a food safety researcher in the University of Arkansas (UA) Division of Agriculture who earned a doctoral degree in poultry science with major adviser, Steven C. Ricke, in December 2010 after investigating the issue.

Dr Sirsat, who worked on various research projects for the three-state Food Safety Consortium and the UA Center for Food Safety, found that using sub-lethal levels of heat on poultry affected particular genes in the bacterium.

She explained: "The results indicated a role of physiological stress in S. Typhimurium in promoting microbial virulence and host cell vulnerability to infection."

The pathogen's survival is aided by the stress that it endures, Dr Sirsat explained. The genes that are crucial to the bacterium's survival are induced so that they thrive and strengthen S. Typhimurium.
---
*
"Food processors would need to screen potential antimicrobials to determine their likelihood of enabling a pathogen to resist them."
---
Dr Sirsat's experiments included a combination of two antimicrobials, lactic acid and lauric arginate, to determine what impact they would have on S. Typhimurium in poultry. No significant effect was detected, likely because of a lack of synergy when they each induce or repress certain genes within the pathogen. The key lesson is that food processors would need to screen potential antimicrobials to determine their likelihood of enabling a pathogen to resist them. Dr Sirsat said future studies should be designed to explore the value of using other antimicrobials in combination with lactic acid and lauric arginate.

Dr Ricke stated that molecular assays such as microarrays offer a potentially intriguing tool for broad-spectrum screening to identify not only the best antimicrobial candidates for practical applications but perhaps how and when to apply them.

"A key to Sujata's research is that by using a microarray approach she could assess gene responses from the entire genome of Salmonella in a single step," Dr Ricke said. "Generating data in such a comprehensive manner will hopefully get us much closer to a better understanding of pathogens in food environments and in turn increase our ability to limit the impact of these pathogens in food systems."

March 2011