Global challenge to rebalance poultry production
The shift to at-home food consumption has had a dramatic impact on poultry because of its high dependence on the food service industry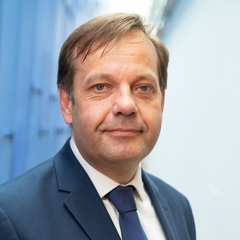 "Poultry is probably the most affected among the meat proteins because of its high dependence on the food service industry," said Nan-Dirk Mulder, senior analyst - Animal Protein with Rabobank. "If you look to most markets worldwide, somewhere between 25% to more than 50% of poultry that is sold is going into food service. That's the reason why the impact is so significant on poultry."

Looking at protein prices, levels are appropriate or more than average for beef and pork. Pork is supported by the African swine fever (ASF) outbreak which is creating a significant pork shortage still in Asia, more specifically China, Vietnam, Philippines.
"Companies who are in trade or selling poultry into international markets are more effective at this time," he said. "Today, poultry products are sold to retail are performing better than food service."

Pressure on exports
"Thai exporters, Brazilian exporters, but also US and Europe, are really are feeling the impact or at least the downward pressure on trade in the international markets," Mulder noted. "Almost all import markets in the world have reduced their use except those affected by ASF due to the ongoing shortage of pork."
China and Vietnam are two key markets that have increased protein imports. This is why Brazil has been shifting its attention to China. The US is also taking advantage of this opportunity by increasing Asian protein exports.
"China is saving, to some extent, a very difficult global market situation and creating a buffer. However, even with China's support, prices are very low which continues to be a big problem," he said. "The main global challenge is balancing production with the changing consumption trend and the pressure of consumption worldwide. Poultry could do quite well in this situation because of its short production cycle. They actually have the tool in their hands to rebalance quickly. But most regions are really struggling – they are too slow in rebalancing – which is why margins are under pressure."
Brazil's discipline benefits industry
The exception to margin pressure, so far, is Brazil. They have been facing tough domestic markets because of Covid-19 and the shift from food service to retail. Markets locally have been highly pressured, and the economic condition is weak. International trade has also been very difficult, but poultry placements are a bright spot.
"I think Brazil is as a pretty disciplined industry. What they have been doing is reducing poultry production in the last couple of months," Mulder said. "The latest figures I've seen from June indicated poultry production was down 3.8% which is definitely helping them. In Q1, production was up, but since then they have been able to shift or reduce production. This has directly resulted in improved pricing and practices in Brazil and is a real strength of the Brazilian poultry industry."
Looking at trade, Brazil has shifted poultry volumes from their traditional import markets – Europe and the Middle East – to China and are benefitting from relative strong demand in China due to ASF.
"This shift is definitely showing some trade improvements for Brazil," he noted. "However, looking at the long term, I think there is a risk because they are so dependent now on export to China, while the rest of the market is weak.
"At the moment, we see China pig production in recovery. That's a big concern because many - not only Brazil, but other countries as well – have been becoming very dependent on China exports. The moment that pork production recovers in China, there's a big risk of oversupply of protein sources which includes imports of chicken."
Regarding the rebuilding of the pork supply, pork production in China will still be down for the year by 50% to 70%. Rabobank is seeing massive investments in pig farming in China. Mulder said looking forward to the next six months, the rebuilding process will continue, and exports will remain strong. But in 2021, expect to see the impact of that rebuilding process in China already, he said.
"This year, chicken production in China is growing 15%; it's so much chicken that the prices are low. There is already a lot of supply and the market is food service driven as well," he explained. "However, we know that the Chinese people have a significant preference for pork. When it's available, they'll switch back."
Brazil needs to be flexible in terms of where they sell their products. When a country becomes too dependent on one market, especially one that is known to be in a recovery process, there's a risk. This could easily be an issue for the US as well since they are in a similar scenario along with Russia.
"Russian exports have been booming over the last couple of years," he noted. "Now 50% of their exports are to China, so all these countries have a significant risk."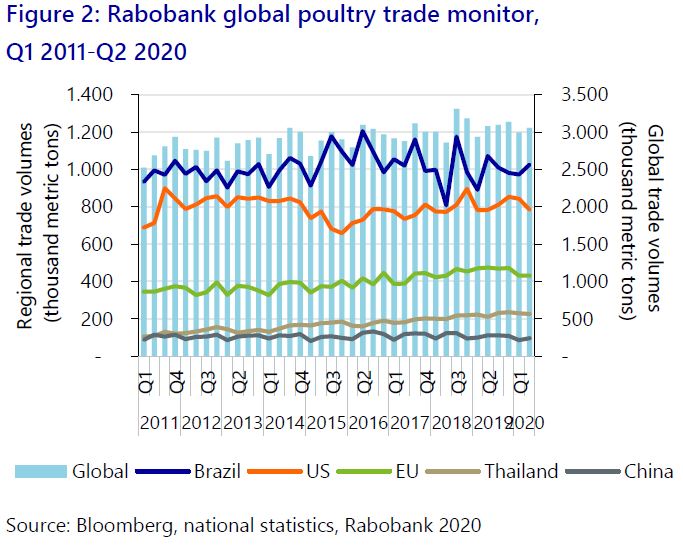 Europe needs to rebalance
European poultry markets, on the other hand, are dealing with weak import markets due to the pressure on food service where traditionally imported products are sold. Furthermore, Brazil – who is the main exporter to Europe- is still facing several plants being still banned from exporting because of the salmonella outbreak experienced earlier in the year. However, Europe maintains a strong foothold for frozen breast meat from a global perspective
At this time, the European food service market is over supplied.
"There are big volumes of cold storage in Europe for frozen chicken breast and more is coming from Poland and Eastern Europe," Mulder explained. "In Europe, about 25% of the market is food service. But in some countries, like the UK, it's as high as 45%."
Frozen chicken breast is a product that is used for processing and for producing products which are sold in food service throughout Europe.
"Europe is the only market worldwide which pays the high prices, usually, for breast meat. There is no other market or other alternative for Europe because other potential markets like the US or Australia don't buy or import breast meat. This creates a world dependency on the EU market and the UK," he said.
Europe is also seeing this shift from out-of-home to at-home consumption. Supermarkets have benefited heavily from this shift, with sales up 15% to 20% in most countries. There are some companies who are performing relatively well, for example, supermarkets and fresh meat producers in Europe. But most businesses are really in trouble because of oversupply and low prices.
"Consumption in Europe is down 3% to 5%, while poultry production is still flat. The challenge will be to reduce production in Europe and bring supply and demand back into balance," he explained. "If you look to chicken placements in Europe, it was very high until April - on average 3% to 4%, but it's up and down in subsequent months. That's the struggle, the European poultry industry needs to be very disciplined in the second half of the year and reduce placements to rebalance the market."
With a new wave of coronavirus cases hitting many countries, this will continue to create ups and downs in government containment measurements. Given this situation, it's going to be important to be relative restrictive in production. Too much production at this time will cause prices to fall to very low levels, Mulder said.
"The chicken sector has been growing all over the world for many years, so no one is used to this context where production needs go backward," he noted. "Poultry can do it easier than other proteins because of the short production cycle – a few fewer birds and you can easily reduce placements and prices turn stronger. But this is a mentality change, and the European industry will need to embrace it to bring balance back to their market."