Global Import Demand for Meat and Poultry Forecast Higher in 2009
Poultry imports are expected to expand by nearly 2 per cent - slower than the previous 2 years. Rising poultry trade is predicted with Mexico, Cuba and Venezuela, offsetting an expected fall in purchases by Russia. Published by the USDA Foreign Agricultural Service (FAS) in the series Livestock and Poultry: World Markets and Trade dated October 2008.
Red meat and poultry (broiler and turkey) imports are forecast to rise 1 percent to 21.0 million tons in 2009.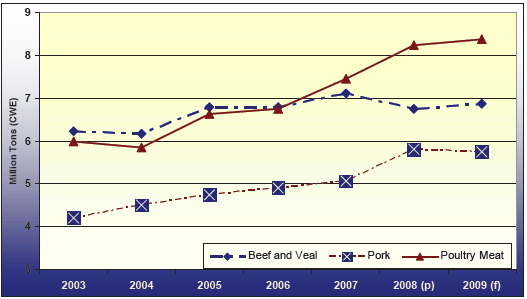 Both beef and poultry imports are expected to expand by nearly 2 percent. The rise in beef is a reversal of the previous year's expected decline. Poultry import growth slows compared to the previous 2 years. A one percent decline in pork imports is anticipated – the first decrease since 1997.

Growing import demand for beef is primarily driven by a forecast increase for the United States. Rising poultry trade is less concentrated in major markets and attributed to a number of countries such as Mexico, Cuba and Venezuela which more than offset an expected easing in purchases by Russia. Declining pork imports are largely due to China trimming back from its 2008 import surge, which is not anticipated to be counterbalanced by other markets.
Poultry: 2009 Forecast Overview

Broiler Meat
Slower Growth for Broiler Production
World production is forecast up 4 percent to 74 million tons. China and Brazil are forecast to have faster growth. Conversely, U.S. production is expected to decrease for the first time since 1973 due to relatively high levels of feed and energy costs. Production in China and Brazil are forecast up 8 and 5 percent, respectively. Chinese production has been accelerating since 2006 due mainly to a sharp decline in pork supplies. Brazil's production is expected to grow with increased foreign demand.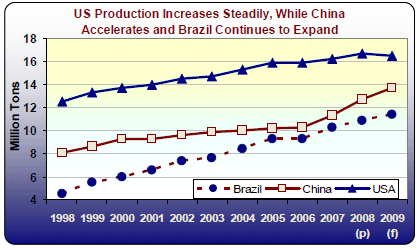 The EU-27 is expected to expand slightly despite declining output from the U.K.. Bird flu outbreaks in the U.K. have resulted in trade bans for its product which is causing producers to limit their production.
Broiler Exports Forecast Slightly Higher
Exports from Brazil and the United States, which account for nearly 80 percent of the world total, are expected to follow different directions. Brazil is forecast to hit another record as exports continue to accelerate mainly to Hong Kong, Japan, the United Arab Emirates, the EU-27, Saudi Arabia, and Venezuela. Alternatively, U.S. exports are expected to decline due to a drop in Russian import demand. However, exports are still expected to be relatively strong to other markets including China, Mexico, Canada, Cuba, and Ukraine.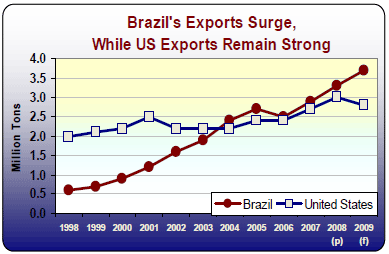 Broiler Imports Forecast to Grow, But Slower
Global broiler imports are forecast up slightly as rising demand mostly from the EU-27, Saudi Arabia, Mexico, and Venezuela are expected to more than compensate for a decline in Russia.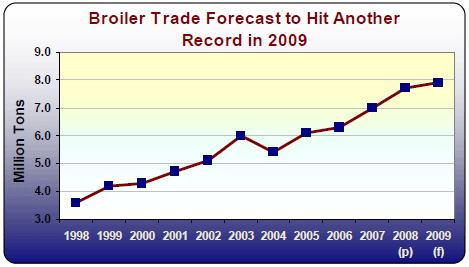 EU-27: Expanding import demand will make the EU-27 the second largest importer in the world. Domestic consumption is growing faster than production, causing imports to expand and exports to decline. The EU-27 will continue to import more from Brazil and Thailand as prices tend to be lower than domestic prices.

Saudi Arabia: Imports are forecast to continue to expand mainly from Brazil. Reportedly, buyers do not have any financial liquidity problems with purchasing poultry despite the recent drop in oil prices.

Mexico: Mexico is expected to import more especially from the United States due to rising demand in the processing industry.

Venezuela: Imports are expected to grow, but at a slower rate than the previous year. Poultry continues to be the meat of choice among consumers. This market is supplied mostly by Brazil which receives preferential treatment on tariffs and customs duties, whereas other countries face a 20 percent tariff plus a variable duty.

Russia: Imports are expected to ease with rising production of broilers, as feed costs have dropped on record harvests of wheat, barley, and corn.

Japan: Imports are expected to be flat as lower shipments from South Korea and China are to be compensated by rising shipments from Brazil and the United States.

China: Imports are expected to be flat as supplies from Brazil are shut out of the Chinese market due to problems with the Brazilian plants not being registered with the Chinese Inspection Service (AQSIQ). This void is expected to be compensated by other suppliers including the United States and Argentina.
Turkey Meat
Note: China turkey meat has been added to the PSD system starting in 1998.
Turkey Meat Production Flat
While the United States and the EU-27 are expected to decline slightly, Brazilian production continues to grow. The United States, the EU-27, and Brazil account for 95 percent of world production.

United States: Production is expected to be lower due to high feed and energy costs, rising stocks, and falling domestic demand.

EU-27: Production is expected to continue to fall in France and the U.K. because of bankruptcies and closures of major turkey companies.

Brazil: Higher domestic demand and stronger exports are major drivers of expanding production. Turkey consumption is slowly changing from a seasonal to a year round product, especially in processed products.
Turkey Meat Exports Forecast to Grow Slightly
The United States and Brazil are forecast to export more, while the EU-27 is expected to export less. U.S. exports have surged through August 2008 especially to Russia and China, which are the second and third largest markets for U.S. turkey exports. Brazil exports are expected to grow significantly mainly to the EU-27.
Turkey Meat Imports Are Forecast Higher
Mexico's imports are expected to expand as demand grows from supermarkets and deli type restaurants and consumers become more health conscious. EU-27 imports are expected to continue growing especially from Brazil. Imports by these two markets account for over 60 percent of total imports.

China is a rapidly expanding import market where consumption is outpacing production. Turkey meat is a non-traditional meat product, which is mainly consumed by foreigners, Chinese who lived abroad, and the younger generation which is influenced by Western traditions.
Further Reading
November 2008