GLOBAL POULTRY TRENDS 2012 - Chicken Meat Trade Rises in Africa, Steady in Oceania
Chicken meat trade in Oceania is small in global terms and almost all within the region, while African countries are becoming increasingly active participants, according to Terry Evans in his latest analysis of the global poultry industry.
Chicken Meat Trade Grows in Africa
Africa is growing in importance to the global trade in chicken meat. Back in 2000, imports amounted to around 260,000 tonnes, which represented approximately 3.8 per cent of the global trade in fresh/frozen chicken meat totalling some 6.9 million tonnes. By 2009, this region's imports had escalated by almost 12 per cent a year to reach 763,000 tonnes or some seven per cent of the world total of 10.7 million tonnes.

Furthermore, the available data for 2011 and 2012 point to this total climbing to around 1.3 million tonnes, which would represent about 11 per cent of world trade estimated at around 12 million tonnes. The importance of this area has been underlined by a USDA report indicating that in 2011, the sub-Saharan region - Africa excluding Algeria, Libya, Morocco, Sudan, Tunisia and Western Sahara - was the fourth most important market for US broiler and turkey exports, as this region's total imports had risen from 500,000 tonnes in 2001 to just over a million tonnes in 2011.
Two countries dominate this trade - Angola and South Africa. Back in 2009, these two represented nearly a half of all Africa's chicken meat imports (Table 1). Since then, according to USDA estimates, Angola's imports have jumped from 161,000 tonnes to a forecast for 2012 of 300,000 tonnes.

The same source anticipates imports into South Africa also hitting 300,000 tonnes in that year although this is a little less than the estimate for 2011 of 326,000 tonnes. However, the 2011 figure represented a near 36 per cent increase over the previous year reflecting, to a great extent, a significant rise in the value of the Rand, as South Africa's imports are primarily exchange-rate driven.

Imports of poultry meat currently represent some 20 per cent of market supplies in South Africa. Chicken accounts for some 93 per cent of all this country's poultry imports. During 2011, receipts of frozen mechanically deboned meat amounted to 123,000 tonnes (+52 per cent on the year), frozen bone-in portions 126,000 tonnes (+81 per cent), frozen boneless portions 25,000 tonnes (+38 per cent), frozen fowl offal 26,000 tonnes (+62 per cent), and frozen whole/half birds 25,000 tonnes (+29 per cent). In 2011, almost 39 per cent of chicken imports comprised frozen bone-in portions but 49 per cent in value terms. However, in the first quarter of 2012, purchases rose by eight per cent to almost 99,000 tonnes. While receipts of frozen boneless portions actually fell by 42 per cent to less than 5,000 tonnes, imports of frozen bone-in portions and frozen mechanically deboned meat went up by 24 per cent and 21 per cent, respectively, to 41,000 tonnes and 38,000 tonnes.
Brazil is the main supplier of poultry meat to South Africa. In 2011, almost 200,000 tonnes (57 per cent of the total of 350,000 tonnes) came from this source, which was 38 per cent more than in 2010. In second place was the Netherlands with almost 31,000 tonnes (nine per cent), followed by Argentina with nearly 29,000 tonnes (eight per cent).

Some 12 years ago, South Africa imposed anti-dumping duties on certain US chicken products and this year anti-dumping measures were introduced on Brazilian whole birds and boneless cuts. Both the US and Brazil dispute South Africa's position on these duties and are looking to the World Trade Organization (WTO) to help resolve the issues. That South Africa's first quarter 2012 imports were 36 per cent higher than in the same period a year ago puts a question-mark against the USDA's lower forecast for this year (Table 2). Almost 55 per cent came from Brazil, 15 per cent from the Netherlands, seven per cent from the UK, six per cent from Germany and nearly five per cent from Argentina.

Although the annual volumes are not large when compared with the leading buyers (Table 2), purchases by virtually every other African country have expanded significantly since 2000 (Table 1).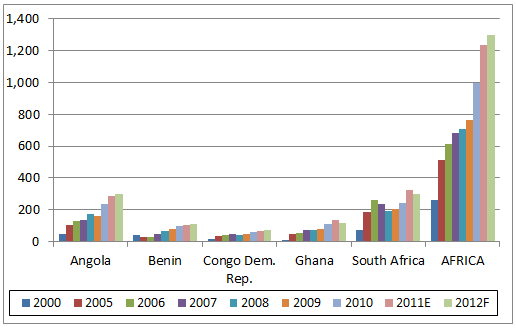 Figure 1. Leading chicken meat importers in Africa ('000 tonnes)
Although the quantities of chicken meat exported have risen since 2000, the annual total for Africa is tiny, amounting to less than 20,000 tonnes in 2009. South Africa accounted for more than 60 per cent of this total. The year 2010 saw this country's exports rise to almost 16,000 tonnes, shooting up to 38,500 tonnes in 2011. In 2011, Namibia was the main destination for South African exports taking 74 per cent, with 16 per cent going to Mozambique and eight per cent to Zimbabwe. However, the period January to March 2012 witnessed a sharp cut-back in sales to around 5,000 tonnes.
Little Trade to or from Oceania
Imports of chicken meat into Oceania have increased over the past decade or so though the volumes involved have been relatively small amounting to less than 43,000 tonnes in 2009 (Table 4). Leading importers were French Polynesia, New Caledonia and Papua New Guinea.
The trade in exports, like imports, is small, totalling less than 34,000 tonnes in 2009 (Table 5). Indeed, that they have doubled since 2000 was almost entirely due to increased shipments from Australia.

In broad terms, Australia exports about four per cent of production. A forecast by the USDA points to total chicken sales for 2012 of 35,000 tonnes compared with less than 30,000 tonnes in 2009, when 75 per cent were purchased by Hong Kong, South Africa, the Philippines and Papua New Guinea. Projections to 2016/17 indicate that Australia's poultry meat exports will rise to around 48,000 tonnes, of which possibly 4,000 to 6,000 tonnes will be turkey meat.
October 2012