GLOBAL POULTRY TRENDS - Asia: The Major Chicken Meat Importer
More than one-third of the chicken meat traded globally is imported into Asian countries, according to seasoned industry watcher, Terry Evans. Only two countries in the region – Thailand and China – export significant amounts of broiler meat.
Asia is the major chicken meat-importing region purchasing around 4.7 million tonnes of a global total of between 11 and 12 million tonnes. This latter figures not only includes trade between European Union member countries, exports of paws and also the application of factors to convert the tonnages of further-processed and canned chicken to whole bird equivalents.

Exports from this region, although small at about 1.3 million tonnes, are growing steadily.

Global trading in poultry meat is expanding and will continue to do so for the foreseeable future. Trying to unravel the data is a nightmare as no series of figures are identical, further underlining the point that, as with the figures on production, it is best to put greater emphasis on the trends than on the absolute values quoted.

Looking at the data presented in table 1, it must be appreciated that, in the world total figures the trade between European Union member countries is not included, while purchases of chicken paws have also been excluded from the import data. A further complication, which can lead to double counting, occurs when shipments from one country are re-exported to another. Again, a balance may not be struck between exports and imports in a period of time because of the time lag during transportation.
Indeed, if account is taken of all these factors the quantity of chicken meat traded currently is at least 11 million tonnes. It is clear from this USDA series that the global trade in chicken meat has grown substantially since 2000 as the world total has risen by 84 per cent from 4.9 million tonnes to almost nine million tonnes. Forecast growth for 2011, however, is a mere 1.4 per cent and at least one projection to 2020 points to further only moderate increases at a similar rate as the global total on this basis climbs towards 10 million tonnes.

For the Asian countries reviewed in table 1, combined total imports represent approximately 31 per cent of the global trade as purchases in 2011 are expected to exceed 2.7 million tonnes, which would be almost 850,000 tonnes (44 per cent) higher than 10 years ago. It should be noted that a significant proportion of the imports into Hong Kong are eventually re-exported to China. If chicken paws were included in the figures, then in 2010, these countries would account for almost 35 per cent of the business.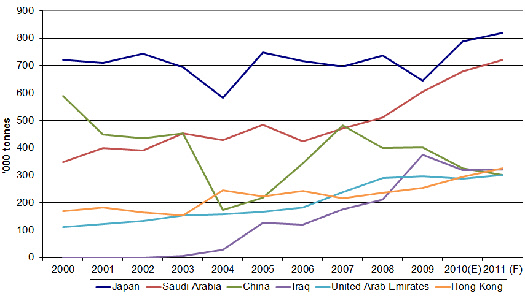 Leading chicken meat importers in Asia ('000 tonnes)
Japan is the leading importer though the provisional figure for the annual total in 2010 was little changed from the quantity purchased back in 2000, and is at a similar level to that anticipated for the next decade. However, the forecast for the current year has been revised upwards to around 820,000 tonnes, reflecting the impact of the earthquake and tsunami on production in the short term. Roughly half of Japan's imports are prepared (cooked or semi-cooked) chicken mainly from Thailand and China. On the frozen side of the trade, the bulk of supplies mainly destined for the food service sector, is purchased from Brazil. In 2010, the total imported in this category was around 420,000 tonnes, of which, almost 380,000 tonnes were purchased from Brazil and a little over 34,000 tonnes from the USA.

A growing import market is Saudi Arabia. In the period 2000 to 2006, receipts were below 500,000 tonnes a year. Since then, they have risen annually to an estimated near 680,000 tonnes last year, while a forecast for 2010 points to more than 700,000 tonnes being bought. Also, predictions for the next decade foresee imports rising to above 800,000 tonnes and again to more than 900,000 tonnes by 2025. To date, Brazil has been the major supplier.

Chicken imports into China reached a record high in 2008 at just over one million tonnes, nearly 645,000 tonnes of which were chicken paws. Purchases declined in 2009 and again in 2010 to 832,000 tonnes in total with paws accounting for 546,000 tonnes. In 2011, a further 10 per cent decline in purchases to around 750,000 tonnes is anticipated, with paws accounting for around 500,000 tonnes as the result of duties being imposed on US chicken meat. Hence, broiler meat imports (excluding paws) are expected to slump a further 20 per cent to around 230,000 tonnes. Before 2010, the US was the leading supplier of both broiler meat and paws to this market, followed by Brazil and Argentina. However, the latter two have taken on increasingly important roles as America's shipments slumped in 2010.

Rising consumer incomes, and an improved business environment have been reflected in a growing demand for imported chicken in Iraq, the annual total rising from virtually nothing in the early 2000s to an estimated 374,000 tonnes in 2009. The leading suppliers to this market were the US with chicken parts, Brazil with whole birds and Turkey. It is believed that some US poultry exports to Turkey are re-exported to Iraq.

Brazil is again the major supplier to the growing market in the United Arab Emirates.

Considerable quantities of the exports to Hong Kong are re-routed to China.
Only Two Exporters
Asia is not a major exporting region with total shipments currently amounting to around one million tonnes a year. There are only two significant exporters – Thailand and China. The prospects are good for a further expansion in sales from these two countries. It is possible that both Indonesia and Viet Nam will play more important roles in the future, while both India and Turkey could also feature in this business.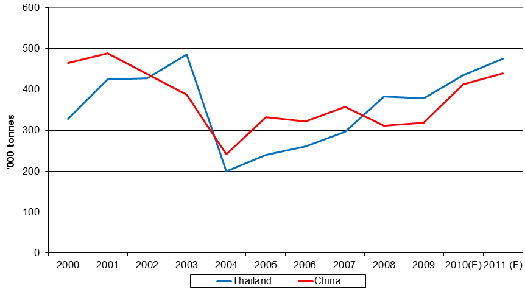 Leading chicken meat exporters in Asia ('000 tonnes)
<
Exports from Thailand have recovered well since several importing countries imposed bans on shipments of Thai frozen products. Having switched to the production of cooked or semi-cooked products, Thai exports have escalated to around 475,000 tonnes a year. No other chicken industry is as highly dependent on the export market. In 2010, shipments totalled 435,000 tonnes, of which 418,000 tonnes were further processed, while just 17,000 tonnes were uncooked. Japan was the main single destination accounting for 44 per cent of sales, with the European Union taking almost 46 per cent. A further sizeable expansion in sales is envisaged for 2011, pushing the total to some 475,000 tonnes, with increased trade within Asia, in particular to Japan, ASEAN countries, Hong Kong and South Korea. According to a recent USDA Gain report, it is believed that several importing countries are likely to lift a ban on Thai uncooked frozen chicken meat. Countries that have already removed a ban include Hong Kong, South Africa, Bahrain and Russia. While the Russian authorities have approved several Thai processing plants for exports, no sales have taken place to date.

China has become more active in export markets in recent years though the total quantities involved are still below those recorded in 2000/01 (table 1). The main markets are Japan and also Hong Kong where consumers are starting to transfer their purchases from live broilers to fresh/chilled portions. Of the 412,000 tonnes exported in 2010, more than 90 per cent went to three markets, with nearly 204,000 tonnes (49.5 per cent) being bought by Japan, 145,000 tonnes (35 per cent) by Hong Kong and 23,000 tonnes (six per cent) by Malaysia.

The most recent trade data for every country is given in tables 2 and 3. Although the figures are for 2008, they give a good indication of the volumes traded by the smaller players.

October 2011