GLOBAL POULTRY TRENDS - Chicken Consumption Rising in Africa and Oceania
Concluding the Global Poultry Trends series on the global chicken meat situation for ThePoultrySite, industry watcher, Terry Evans highlights the trends in chicken consumption in Africa and Oceania. In both regions, uptake has risen over recent years but Africa lags well behind the world average, reflecting the generally poor economic situation there.
It is good news for the world economy that the World Bank has recently announced that the East Asia/Pacific region has not only recovered from the global financial crisis but that many of the economies there have emerged stronger and that rapid growth will be possible in the near future.

Last year, for the first time, Africa's human population exceeded one billion, though sadly, most will consider meat a luxury and this is reflected in the figures for average poultry meat uptake in the majority of the countries.

The contrast between the situation in Africa and Oceania could hardly be more marked (Figure 1). Although the estimated average uptake of poultry meat per person in Africa edged up by around 13 per cent from 4.0kg to 4.5kg between 2000 and 2007, it failed to match the global average, which rose by 16 per cent from a little under 11kg to some 12.6kg. The corresponding figures for Oceania reveal a massive 23 per cent gain in the quantity eaten from 30kg to more than 37kg per person.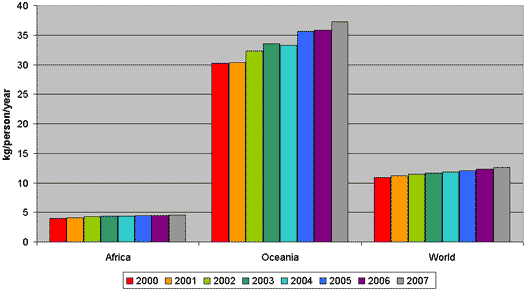 Figure 1. Poultry meat consumption in Africa and Oceania compared to the world average
Last year witnessed negative growth in the world economy for the first time since the 1940s. Falling incomes are bad for meat consumption. However, that living standards are likely to recover this year and next should stimulate the demand for meat. While there are signs that feed costs will rise, sales of poultry meat could benefit from this among the middle income group, as chickens convert feed to food more efficiently than competitors.

It cannot be said too often that care needs to be taken when trying to interpret food consumption data which are effectively estimates of production adjusted for trade, stocks and certain and losses, divided by estimates of the human population. It is immediately apparent that a high degree of estimation is involved, which will impact on the assessed figures. Indeed, even the estimates of production can be over-or under-stated by as little as five per cent or as much as 20 per cent, depending on the country.
Underlining how these estimates can vary depending on source whereas the FAO's assessment of per-capita poultry meat consumption in South Africa in 2007 was 25kg, the Southern African Poultry Association (SAPA) calculates that the uptake in that year averaged 31kg. SAPA considers that average consumption in 2009 was 31.8kg, of which broiler meat accounted for 30.8kg. Broiler uptake for this year is expected to increase to around 31.7kg per person.
As an example from Oceania, the FAO estimated that per-capita poultry uptake in Australia in 2007 was 39.8kg, which is higher that the ABARE figure of 37.8kg. For 2009-2010, the Bureau considers that the quantity eaten will have risen to 38kg, while its forecast for 2014-2015 currently stands at 41.7kg. So, beware of taking consumption figures too literally!

Although the quantities of poultry consumed in New Zealand declined from 36.5kg in 2006 to 32.5kg in 2009, as part of a general seven per cent cut-back in meat-eating, poultry still accounts for the highest percentage of meat consumed. In the year ending June 2009, New Zealanders ate about 140,000 tonnes of poultry, which represents 36 per cent of total meat consumption.
Further Reading
| | | |
| --- | --- | --- |
| | - | You can view other articles in our series Global Poultry Trends by clicking here. |
Global Poultry Trends will return soon with a series of articles on the production, trade and consumption of turkey, duck and goose meat.

September 2010