GLOBAL POULTRY TRENDS - European Chicken Meat Production
Our third series of articles in the series Global Poultry Trends covers the chicken meat sector in Europe. Writing exclusively for ThePoultrySite, industry watcher, Terry Evans, focuses on production trends in the region. With an average increase of just over three per cent annually between 2000 and 2008, output is growing more slowly in Europe than other regions, and most of the increase is achieved in just one country, Russia.
Between 2000 and 2008, the annual growth rate for global chicken meat production averaged around 3.8 per cent. At regional levels, the increases ranged from as low as 2.7 per cent a year in Africa to a little over 4.1 per cent in Asia.

After Africa, Europe showed the next slowest increase at 3.2 per cent per year, as production went up from 9.4 million tonnes to 12.1 million tonnes. However, this overall figure for Europe disguises two very different within-region growth rates. The combined output of the 27 countries of the European Union (EU) recorded an annual expansion of less than one per cent per year, as output rose from 8.2 million tonnes in 2000 to almost 8.9 million tonnes in 2008. Indeed, the negative impact of the global financial crisis is expected to hold EU chicken output growth to less than one per cent this year.

However, outside the EU, the annual production increase over the years 2000 to 2008 was a massive 13 per cent as the total climbed by more than two million tonnes from 1.21 million tonnes to 3.3 million tonnes. But, a closer look at these figures reveals that more than half – 1.24 million tonnes – of this gain occurred in just one country – Russia. Indeed, current and future developments in Russia's chicken industry will be the major impact on both production and trade in Europe.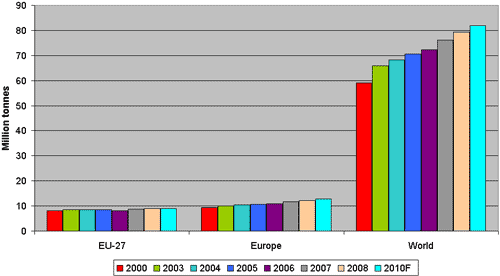 Figure 1. Chicken meat production in the EU-27 and Europe compared to global output
During the first eight years of the current decade, Europe's share of global chicken meat output contracted from almost 16 per cent to 15.3 per cent. However, primarily because of the anticipated rapid expansion in Russia, it is possible that, in the current year, Europe's share will stabilise or even recover slightly. Large modern poultry enterprises dominate in Russia and in 2008, these accounted for more than 86 per cent of poultry production.

This concentrated structure has allowed the industry to adapt quickly to government programmes and investment opportunities in recent years. Included among the measures taken to encourage increased domestic production has been the subsidising of new and existing projects for primary poultry processing establishments and the drawing up of a list of poultry farms to receive government-subsidised loans. Such subsidies have helped finance the construction of more than 250 new dairy, meat and poultry facilities in 2009. The construction and renovation of 124 meat and poultry farms was expected to add 646,000 tonnes (liveweight) to 2010 production capacity. By 2012, it is envisaged that farms built or renovated since 2006 will produce 62 per cent of Russia's poultry meat, with total output in the region of 3.1 million tonnes. Broiler production is Russia's most economically successful livestock industry and accounts for some 97 per cent of all poultry meat.
A glance at the production data (tables 1 and 2) highlights the importance of Russia in the European scene. For the current year, forecasts of poultry meat output in Russia range from a little over two million tonnes to 2.7 million tonnes. With this 700,000 tonnes variation in the estimates, clearly the eventual outcome will have a significant impact on the regional (and possibly the global) totals. We have kept our world chicken meat output estimate for 2010 at a little under 82 million tonnes but should chicken production in Russia reach the more optimistic expectation of some 2.5 million tonnes, then it is possible that our global figure may have to be revised upwards.
Earlier this year, the Russian President signed a 'Food Security Doctrine' which stated that Russia should aim to reach 85 per cent self-sufficiency in all meats by 2020. However, for poultry, the Ministry of Agriculture has brought forward this target to the year 2015, while the Russian Poultry Union believes it can be achieved before this date.

The latest production ranking (table 2) emphasises the point that eight of the top 10 producing nations in Europe are members of the European Union. The 'Top Ten' look likely to have a combined output of some 10.4 million tonnes or more than 80 per cent of the estimated European total of 12.7 million tonnes. However, the two non-members – Russia and the Ukraine – have shown the most dramatic rises in output since 2000 (see chart), taking the first and sixth positions respectively in the ranking league.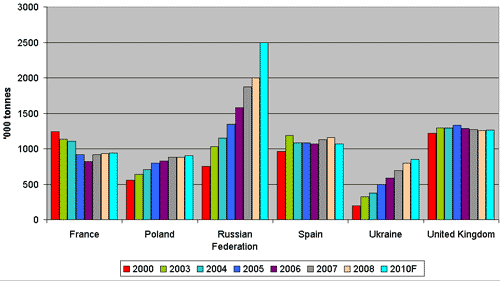 Figure 2. Chicken meat production in selected European countries
Of the EU member states in this leading ten, Poland showed the most rapid gain over the review period with production escalating by some 58 per cent from 560,000 tonnes to 882,000 tonnes.

The EU has had its successes and disappointments in the review period but, for the most part, production in the western region of the Community has shown stagnant to little growth. A sharp cutback of 25 per cent in France to 932,000 tonnes has been countered by a 61 per cent increase in German production to 747,000 tonnes. In the eastern area, the country recording the most dramatic cutback is Hungary as output has contracted to less than 200,000 tonnes, which contrasts sharply with the rapid growth that has occurred in Poland where production reached 882,000 tonnes in 2008.

Although the UK and Spain are the second and third largest producers in the EU, production in both countries looks no more than steady and seems likely to remain so for the remainder of this decade.

Looking ahead to 2019, America's Food and Agricultural Policy Research Institute (FAPRI) sees little growth in the current EU broiler output, the total rising to around 9.1 million tonnes from their estimate for this year of 8.7 million tonnes. It should be noted that our estimate of around 9.0 million tonnes for 2010 is for all chicken meat, i.e. meat birds and culled layers.

An Organisation for Economic Co-operation and Development (OECD) and Food and Agriculture Organisation of the United Nations (FAO) report forecasts that total poultry meat production in the EU will grow at only 0.7 per cent per year from now until 2019 by which time, output is expected to have reached 11.8 million tonnes from their 2010 forecast of 11.1 million tonnes.
Further Reading
| | | |
| --- | --- | --- |
| | - | You can view other articles in our series Global Poultry Trends by clicking here. |
August 2010