GLOBAL POULTRY TRENDS - Europe's Growth Dependent upon the Ukraine and Russia
Russia and Ukraine are the two European countries most likely to increase egg output in the coming years, according to industry watcher, Terry Evans, in this first part of a new series of Global Poultry Trends reports on egg production in Europe, exclusively on ThePoultrySite.
Although egg production in Europe has expanded during the current decade, the annual average rate of growth has been less than one per cent, while over the past three years, output has been virtually static at around 10.1 million tonnes. While our forecast for last year points to a possible increase in output of some three per cent to around 10.4 million tonnes European production will likely decline in the next 18 months as the result of the European Union's ban on conventional cages coming into effect on 1 January 2012. When Germany introduced a ban on conventional cages from 1 January 2010, domestic egg production fell by more than 11 per cent and, not surprisingly, imports increased and exports declined, according to Professor Hans-Wilhelm Windhorst, the International Egg Commission's statistical analyst.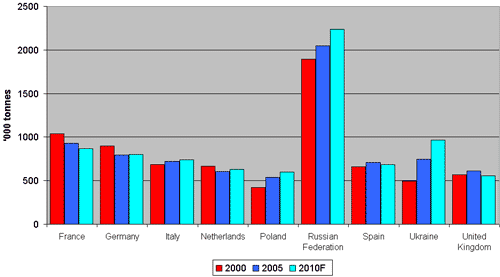 Egg production in selected European countries compared to the world average
As our estimate of global growth is in excess of two per cent a year with production of around 63.7 million tones in 2010, so Europe's share of the world total has actually declined from 18.5 per cent in 2000 to an estimated 16.4 per cent this year (table 1). It should be noted that the data on production varies greatly according to source, and that this forecast for 2010 is not necessarily comparable with the FAO figures for 2000 to 2009, some of which include hatching eggs.
Although a number of the smaller egg industries in Europe have recorded growth, the main reason why total production in Europe has expanded since 2000 is down to just two countries – the Ukraine and Russia.

The rise in production in the Ukraine has been truly dramatic the annual average increase being of the order of seven per cent. As a result, output has virtually doubled from less than 500,000 tonnes to almost one million tonnes a year last year.

In percentage terms, the growth in Russia has been a much more moderate 1.7 per cent but, because the volumes involved are so much bigger than in any other European country, the increase in output to 2009 has been a significant 300,000 tonnes and currently, we estimate that annual production could be around 2.24 million tonnes.

The production ranking shown in table 2, based on our estimates for this year, reveal that just one quarter of all the countries in Europe account for 8.4 million tonnes of eggs a year, or some 81 per cent of the regional total of 10.4 million tonnes.
Production in the European Union this year could rise to around 6.7 million tonnes, but, as mentioned earlier, looking to the next couple of years it seems likely that output will likely decline in several EU member states and particularly in France, Spain and Italy as producers switch to less intensive systems. However, a major problem facing the EU administrators is that it looks as though possibly 30 per cent of all the layers – that is more than 100 million birds – in the Community will still be housed in conventional cages by 1 January 2012!

As supplies contract, so consumer prices will increase which, although eggs are generally considered to be a price-inelastic commodity with price changes having little effect on the quantity purchased, could impact adversely on demand among the less affluent in some EU countries.

At present, table egg imports from outside the EU are only permitted from Norway, Switzerland and Croatia, as these are the only third-countries to comply with the EU's Salmonella regulations. While table eggs can be imported for processing, currently the price difference is not large enough to meet the extra costs of transport and levies. But, as EU prices increase, imports could resume especially if the prices for shell eggs outside the EU were to decline.

It remains to be seen whether countries outside the Community will continue to expand production and also whether they will be allowed to export to the EU, bearing in mind that, in many instances, the eggs will have been produced under less welfare-friendly conditions.
Slow Rise in Egg Consumption
While year-to-year changes in the data on egg consumption should not be taken too literally, over time, the figures give a reasonable indication of the trend.

As can be seen from table 3, the apparent uptake of eggs/person has risen, but the gain in Europe appears to have been a little greater than the global rise. However, the European increase has taken place outside of the European Union since the average consumption in the Community hardly moved from around 12.5kg per person throughout 2000 -2007, while the average for Europe as a whole went up from 12.1kg to 12.8kg.
Of particular note has been a decline in consumption in France from 16.0kg per person in 2000, although in the latter part of the review period it appears to have stabilised somewhat.

Uptake in Hungary has mirrored the slump in production falling by almost 1kg per person from the peak of around 16.7kg in 2002.

On the bright side, the Russians and Ukrainians are eating many more eggs, as between 2000 and 2007, the average uptake/person rose by 1.6kg in Russia and by an almost unbelievable 5kg in the Ukraine.

In line with other developed economies around the world, future growth in egg consumption in the more affluent European countries will greatly rely on an expansion in the number of eggs eaten in product form, particularly in the catering sector of the market, rather than from an increase in household purchases of eggs in shell. In other countries however, future consumption gains will be mainly dependent upon a continued improvement in the living standards among the poorer sections of the community.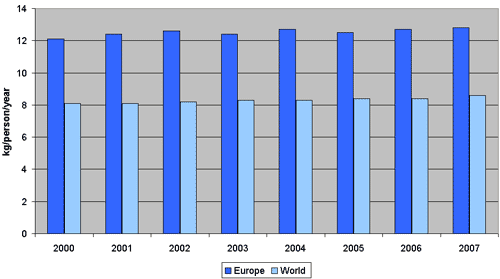 Egg consumption in Europe compared to the world average
| | | |
| --- | --- | --- |
| | - | You can view other articles in our series Global Poultry Trends by clicking here. |
March 2011