GLOBAL POULTRY TRENDS - Growth in Americas Boosts World Egg Total
Rising egg production in the Americas is helping to push up the world egg output, writes industry watcher, Terry Evans in the first part of a new series of special articles for ThePoultrySite on egg production on the American continent.
A likely sizeable increase of almost four per cent in egg output in 2010 in the Americas has caused us to raise our estimate of world production from 63.7 million tonnes to 64.3 million tonnes pointing to an annual average rate of growth to 2.3 per cent for the decade (table 1).

It should be noted that these figures include the production of all hatching eggs including those for the broiler industry. Because of this. the picture of expansion in the table egg business can be distorted to a greater or lesser extent. The most obvious example here is the USA. In 2009, the number of eggs produced in the US totalled 7,534 million dozen (about 5.4 million tonnes), of which, 955 million dozen or 12.7 per cent were hatching eggs. Hence, the number of eggs produced for human consumption – after allowing for stock changes and exports/imports – was around 6,347 million dozen or around 4.6 million tonnes.
During the past 10 years, egg industry growth in the Americas has just about matched that for the global total, hence this region has managed to maintained its share of the world total at 20 per cent. However, while the rates of growth show wide variation between the countries in this region, the common factor with the previous regional reviews of Asia and Europe, is that just a handful of countries account for the bulk of production. Of the nearly 50 countries comprising the Americas just six – Argentina, Brazil, Canada, Columbia, Mexico and the US – will have accounted for some 11.4 million tonnes in 2010 or around 88 per cent of our estimated total for the region of almost 13.0 million tonnes. Indeed, the three largest producers, the US, Mexico and Brazil, will have accounted for 9.8 million tonnes or more than three-quarters of all the eggs produced in the region.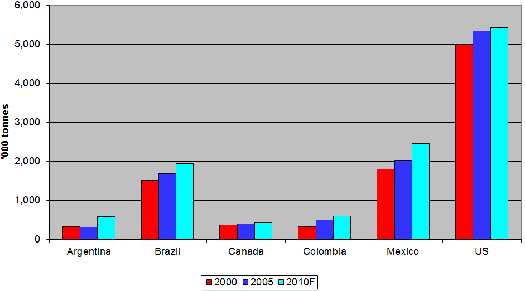 Egg production in selected countries of the Americas
Egg production in the US has expanded by less than one per cent a year since 2000 and it looks as though this slow rate of growth will persist at least until 2019 when total output is expected to be around 8,250 million dozen (approximately 5.9 million tonnes) of which some 6,951 million dozen (5.0 million tonnes) will be available for consumption after allowing for hatching egg use and a small quantity of exports.

Last year was disappointing in the USA as an outbreak of Salmonella enteritidis resulted in the recall of some half a billion eggs over a period of four months. Initially, this pushed up egg prices but the gain was quickly reversed as a considerable amount of adverse publicity dampened consumer demand. Also, investment in new facilities was hampered because of industry uncertainty about possible future housing legislation, which will impact on the types of laying systems that will be acceptable in certain states.

Leading shell egg producers include Cal-Maine Foods (with more than 29 million layers), Rose Acres, Moark/LOL, Wabash Valley, Sparboe, producers Michael Foods, Rembrandt Foods, Sonstegard and food-service marketer, Cargill Kitchens (Sunnyfresh). The US table egg sector continues to consolidate. There are currently almost 60 companies owning a million or more birds, the combined total amounting to almost 260 million, out of the commercial flock put at around 280 million.

Second-largest producing country in this region is Mexico, which recorded an annual growth rate of more than three per cent to 2008 which, if maintained, will have pushed total output to almost 2.5 million tonnes in 2010. However, while Mexican shell egg producers received good prices in 2010, the increase in the cost of importing feed has taken its toll on profits. Nevertheless, some companies continue to expand. The commercial flock is put at between 100 and 136 million, of which an estimated 48 per cent are found in the Jalisco region, 19 per cent in Puebla, seven per cent in La Laguna and in Sonora, with no other zone or state accounting for more than five per cent.

Major producers of shell eggs include Proan, Bachocho, El Calvario, Empresas Guadalupa and Avícola Tehuacán.

While the expansion in Brazil has not been as rapid, production in 2010 looks likely to have come close to 2.0 million tonnes, though like the USA, a significant quantity will be hatching eggs for the broiler sector.

Of the 'Big Six' in this region, Colombia is the country recording the most rapid increase in output, with an apparent expansion of almost seven per cent per year since 2000, pushing annual production towards 600,000 tonnes.

Contesting the fourth spot in the production rankings (table 2) with a similar level of output to Colombia is Argentina.

While Canada is a significant producer, the annual expansion in output has averaged less than 1.5 per cent and total table egg production is unlikely to change greatly in the foreseeable future.
| | | |
| --- | --- | --- |
| | - | You can view other articles in our series Global Poultry Trends by clicking here. |
April 2011