GLOBAL POULTRY TRENDS - Just Five Countries Produce 80 Per Cent of World's Turkeys
Most of the world's turkey meat is produced in just five countries: US, Brazil, Germany, France and Italy. Starting the new series of Global Poultry Trends, industry expert, Terry Evans, outlines future production trends exclusively for ThePoultrySite.
Turkeys are grown in just 65 of the 240 or so countries of the world. Indeed, only 23 produce more than 10,000 tonnes of turkey meat a year. Ten of these are in Europe, six in the Americas, four in Africa, two in Asia and one in Oceania.

While the industry has expanded in some countries, it has contracted in others and as a result, the global total output increased by just one per cent a year between 2000 and 2008. It then suffered a set-back with production falling by five per cent, primarily as a result of a cut-back in the US. While this year is not expected to witness much change, a recovery of possibly two per cent is on the cards for 2011 as output climbs back to 5.43 million tonnes, though this will still fail to match the 2008 record of almost 5.6 million tonnes.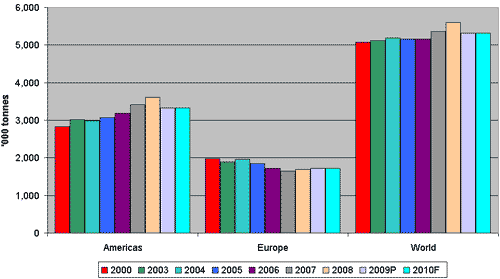 Figure 1. Turkey production in the world and the two main turkey-producing regions
Regarding forecasts, because turkey production forms only a small part of the poultry meat sector in most countries, significant percentage changes, both up and down, can occur from one year to the next.

With about 80 per cent of world production coming from just five countries – the US, Brazil, Germany, France and Italy – clearly developments in these countries are critical to the global total. Hence, what happens in any country outside these 'Big Five' has little impact on the total figure.

In Africa, from the data provided by the Food and Agriculture Organisation of the United Nations (FAO) in Rome, it is surprising to see such a rapid expansion in Morocco (table 1), a rate which surely cannot be sustained for long!

In the Americas, production by the world's leading producer, the US reached a record 2.83 million tonnes in 2008. It then nose-dived by more than nine per cent in 2009, and a further decline of some two per cent is envisaged for this year to 2.52 million tonnes. The good news is that a near two per cent recovery is anticipated for 2011 when production might reach 2.56 million tonnes. Looking ahead to 2019 forecasts put US output in the region of 2.9 to 3.0 million tonnes.
Although one-fifth of the size of the US industry, turkey production in Brazil rocketed by 220 per cent between 2000 and 2008. Without a doubt, this has been the most dynamic industry in the current decade with output likely to come close to 500,000 tonnes this year making this country the second largest producer in the world.

Although Canada is a significant producer the potential for future growth is limited.

A growing interest in turkeys in Chile has seen output almost double in the current decade to around the 100,000-tonnes mark.

Turkey production in Asia has declined primarily as a result of a significant cut-back since 2000 in Israel, which accounts for around three-quarters of the region's total. However, with regard to Turkey, in contrast to the FAO data shown in the table, a domestic statistical source has indicated that output climbed from around 13,000 tonnes in 1999 to peak at almost 46,000 tonnes in 2006 but has since slipped back to around 33,000 tonnes.

Production in Europe is pretty well restricted to European Union member countries where, with the exceptions of only Germany and Poland, production has either been virtually static or has declined over the current decade.

Germany's industry expanded by almost 50 per cent between 2000 and 2009 while, in sharp contrast, production in France and the UK slumped by 42 per cent and 38 per cent, respectively.

The FAO data on Poland presents an enigma. The figures are FAO estimates but at 60,000 tonnes in 2007 the production was actually less than the volumes exported, though Poland did import nearly 17,000 tonnes that year! However, it is generally agreed that production has boomed there with current estimates range quite widely around 250,000 tonnes. Some observers consider these to be too high. However, should they prove to be more realistic, then our estimates for the European Union and Europe should be increased by some 180,000 tonnes, pushing the world total for 2010 to more than 5.5 million tonnes.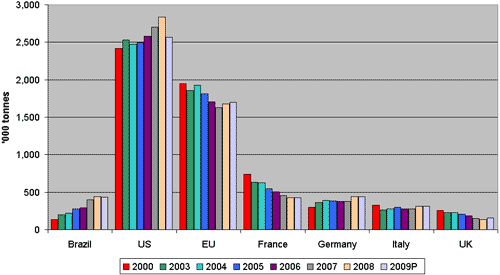 Figure 2. Turkey production in selected countries
Further Reading
| | | |
| --- | --- | --- |
| | - | You can view other articles in our series Global Poultry Trends by clicking here. |
October 2010