GLOBAL POULTRY TRENDS - Rising Incomes are Key to Increased Egg Demand
Starting the final series of exclusive articles on the global egg industry, respected industry watcher, Terry Evans, turns his attention to Africa and Oceania. Rising incomes are key to raising egg production and demand in most of the countries of these continents.
In keeping with the other regions that have been analysed in the past few months, relatively few countries account for the bulk of egg production in both Africa and Oceania.

In Africa, five countries – Algeria, Egypt, Morocco, Nigeria and South Africa – account for 1.8 million tonnes or almost 70 per cent of the total for the whole of Africa estimated at nearly 2.6 million tonnes in 2010.

Production is even more concentrated in Oceania where Australia and New Zealand account for about 95 per cent of the regional total of some 335,000 tonnes.

Africa's output represents four per cent of the world total of some 64.5 million tonnes, while Oceania accounts for about 0.5 per cent.
Africa
Although only representing a small percentage of global production, Africa is the most difficult region to evaluate, as it is almost impossible to obtain data on production levels in the five countries that dominate this region. This is evident from the accompanying FAO data (table 1), which shows little change in the annual output for most of these countries during the past four years. Forecasting is challenging with such a lack of reliable data, and in some instances, contradictory views on the state of the industry.
Nigeria serves as an example here as the FAO data on layers and egg output has not changed since 2007, having risen from 400,000 tonnes to almost 553,000 tonnes between 2000 and 2007. But, on the basis of reports, it looks as though production in Nigeria has increased by some 50 per cent over the decade towards the 600,000 tonnes a year level in 2010. With consumption estimated at 3.5kg per person per year and the human population set to expand from around 160 million to 176 million between now and 2015, there would appear to be good scope for egg industry growth. However, it has to be appreciated that eggs are a luxury for a large section of the population and it is only if real incomes improve generally, and specifically for this group, that this will be reflected in a growth in egg uptake per person.

Second largest egg producer in the region is South Africa. In 2009 production contracted by four to five per cent but the latest reports point to a recovery in 2010. Again it must be stressed that this includes all eggs, including those from hatchery supply flocks. The volume of table eggs consumed this year will likely be approaching 400,000 tonnes.

Third in the production league (table 2) is Egypt. This country was hit badly by H5N1 avian influenza in 2006, the disease having since become endemic in the country. Some producers consider that efforts to prevent the spread of the disease could make it difficult for them to stay in business. Producers are also facing the difficulties associated with rising feed costs. To try and counter this, Egypt is looking to invest in land in neighbouring countries focussing its attention on establishing land lease deals in Sudan, Ethiopia and Uganda.

Tourism is important to the development of Egyptian food markets hence anything which impacts negatively on the tourist trade will damage the demand for eggs. However, observers on the ground are confident that the commercial egg sector will show continued growth to 2014, resulting from increased demand from a rise in the human population and a sizeable expansion in GDP per person.

Morocco would appear to be fourth largest producer though the data for recent years are FAO estimates and not official figures.

The final country in the 'Big Five' is Algeria but official data is again lacking.

It is clear that the developments of the egg industry in these five countries will determine the rate of growth for Africa as a whole for the foreseeable future.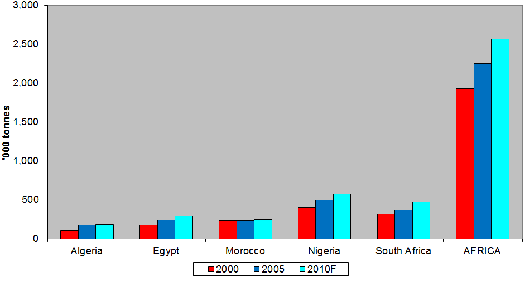 Figure 1. Egg production in selected African countries
Oceania
Egg production in Oceania, according to the FAO, expanded by just 31,500 tonnes or about 16 per cent since 2000 coming close to 231,000 tonnes in 2009.
There appears to be a large discrepancy between the figures put out by the FAO and those released by egg industry sources in Australia. Thus, while the FAO estimates for production in Australia in 2007, 2008 and 2009 were around 160,000 tonnes, according to the Australian Egg Corporation Ltd (AECL), output in 2007 was around 220,000 tonnes while the AECL figure for 2009 stands at 256,000 tonnes.

In 2008, the FAO recorded the Australian national flock to be around 14 million, which compared with the AECL figure of 14.2 million but the FAO figure for eggs produced stands at 2,807 million (which equates to an output of some 160,000 tonnes at an average egg weight of 57g), but this puts the average yield at just over 200 eggs per bird. In contrast, the AECL calculates that some 3841 million eggs were produced (or 238,000 tonnes) at close to 271 eggs per bird. Indeed. The AECL 2009 output figure corresponds to some 283 eggs per bird, which is in line with what could be expected.

A similar picture emerges when looking at data for New Zealand where, according to the FAO annual output of all hen eggs is around 47,000 to 50,000 tonnes, while in the view of the Egg Producers Federation of New Zealand Inc, production of table eggs is around 62,000 tonnes a year, which is the figure used for 2010 in table 1.

On the assumption that the revised figures for Australia and New Zealand are realistic, then the total for Oceania will have risen to around 335,000 tonnes or some 100,000 tonnes more than that shown by the FAO statistics and as a result, the estimate for global output rises to 64.5 million tonnes. As it seems likely that the FAO data for previous years are understated, the apparent increase in volume and percentage growth could be overstated.

The quantity of eggs converted into egg products in both Australia and New Zealand is considered to be around 15 per cent of total production, while the total processed throughout Oceania is unlikely to represent much more than 0.5 per cent of global egg product output estimated at 4.8 million tonnes as shell egg equivalent.
| | | |
| --- | --- | --- |
| | - | You can view other articles in our series Global Poultry Trends by clicking here. |
May 2011