GLOBAL POULTRY TRENDS - Strong Growth in Egg Products Trade in the Americas
The Americas form an important region for the export trade in egg products, particularly dried eggs, according to industry watcher, Terry Evans. Continuing his series analysing the egg industries of North and South America exclusively for ThePoultrySite, he also highlights the great variation in per-capita egg consumption in this region.
Trade
The Americas is not an important trading region for shell eggs with total exports and imports representing only around seven per cent and five per cent, respectively, of the global figures (tables 1 and 2).

The total traded worldwide grew by 66 per cent from just under one million tonnes in 2001 to a little over 1.6 million tonnes in 2008. During the same period shell egg exports from countries in the Americas rose by some 25 per cent from 92,000 tonnes to 114,000 tonnes.
The US clearly dominates the export business from this region accounting for 68 per cent of the total traded in 2008. In 2008 and 2009, Canada was the leading recipient of US shell eggs closely followed by Hong Kong, while sizeable quantities were shipped to the United Arab Emirates (UAE), China, Mexico and the Bahamas. During the first half of 2010, Hong Kong was the main buyer taking 12.3 million dozen, followed by Canada with 7.0 million dozen, the UAE 4.9 million dozen and China and the Bahamas, each purchasing around one million dozen eggs. Overall, shell egg exports at 31.6 million dozen were two per cent up on 2009. Shell egg exports continue to go to Hong Kong and the Middle East but increased competition from shell egg producers in China and India has lessened the demand for US shell eggs.

While Brazil has, in recent years, been the second biggest exporter accounting for 13 to 14 per cent of the regional total in 2006 and 2007, in 2008, its exports contracted sharply to less than 10,000 tonnes. The main customers appear to be Angola, Venezuela and the UAE. Because of its success in exporting chickens, the Brazilians are keen to become more involved in trading eggs internationally. One could question whether this aim will more likely be achieved via exporting egg products rather than shell eggs.

In 2008, shipments from Colombia suddenly shot up to more than 15,000 tonnes. It remains to be seen whether this was a one-off, or that Colombia has sustained the number two spot in this business. Regarding imports, the quantities purchased by the countries in this region have shown little movement around an annual average of some 70,000 tonnes. Canada is easily the main buyer, accounting for one-third of the total.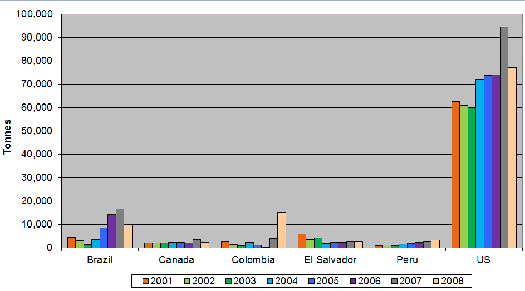 Figure 1. Leading shell egg exporters in the Americas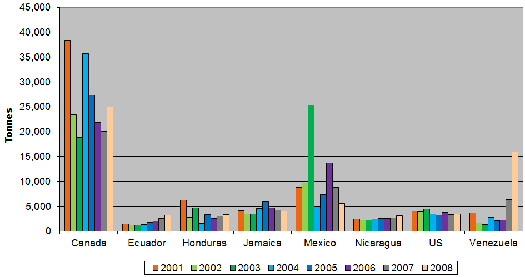 Figure 2. Leading importers of shell eggs in the Americas
Processed egg trade
In contrast to the shell business, the Americas are extremely important in the export trade of dried eggs accounting for around 31 per cent of the global total in 2008. The quantities sold doubled between 2001 and 2008 when they reached almost 18,000 tonnes. The main reason for this expansion was a massive rise in US shipments from less than 4,000 tonnes to almost 13,000 tonnes.

In 2007, the key destinations were Germany, Mexico, Japan, the UK and Canada. However, more recent data point to the 2008 figure being closer to 14,500 tonnes while further growth in this business in 2009 looks to have pushed the total to more than 17,000 tonnes and, in the first half of 2010, the boom continued mainly as a result of a strong demand for dried whole egg particularly from Germany, Japan, Denmark, Canada and Sweden.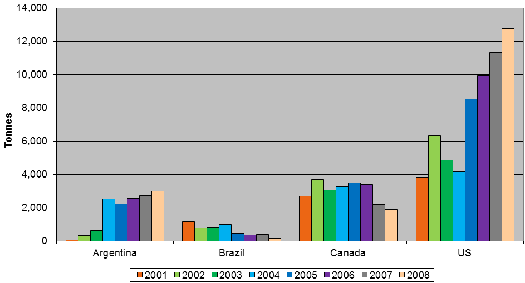 Figure 3. Leading exporters of dried egg in the Americas
Although relatively small in comparison to the US, Argentina expanded its dried egg exports from less than 100 tonnes back in 2001 to almost 3,000 tonnes in 2008, with Austria, the Russian Federation and Denmark among the major buyers.

Imports of dried egg into the region are small at around 4,000 tonnes a year, with Mexico and Canada the main customers.
Exports of liquid egg from the Americas have shown little movement around the 21,000 tonnes a year mark or roughly nine per cent of the world total. The US accounts for some 75 per cent of the business followed, a long way behind, by Canada and Brazil. The bulk of US sales go to Japan, though Canada, Hong Kong and Mexico are important customers. Between January and June 2010, when US exports of liquid and frozen egg rose by two per cent to 9,160 tonnes, the top five customers were, Japan, Canada, Hong Kong, the Netherlands and Mexico.

Imports of liquid egg products to the Americas have declined slightly so far in this decade to average around 9,000 tonnes a year in 2007 and 2008, with the US, Canada, and surprisingly in recent years, Venezuela, the biggest buyers.
Consumption
Bearing in mind that consumption figures are the most unreliable of all the industry data, it would appear that the average uptake per person in the Americas increasing from 10.4kg in 2000 to 11.2kg in 2007 has grown a little more rapidly than the global figure, which rose from 8.1kg to 8.6kg over the same period (table 7).
As in the other regions, there are large differences in consumption between the countries. Perhaps the most surprising aspect of these figures is that the people of Mexico are among the biggest consumers of eggs in the world with uptake averaging around 18.5kg in 2007, though the latest estimates for 2009 point to a further substantial increase in uptake to average more than 22kg per person. Many eggs continue to be sold in fresh markets by the piece but grocery stores are increasingly featuring eggs in cartons and over-wraps but still many are sold non-refrigerated on open displays in stores.

Average consumption in Paraguay looks to have risen sharply to around 19kg today but the actual total consumed is not large as the human population of Paraguay is only 6.5 million in contrast to Mexico's 110 million.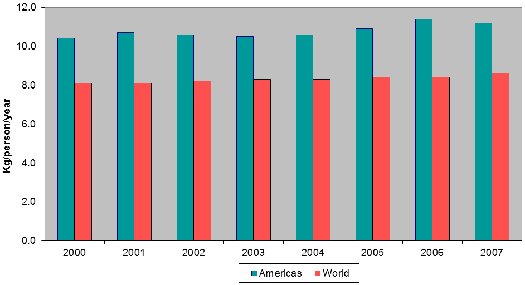 Figure 4. Per-capita egg consumption in the Americas compared to the world average
Throughout the decade, consumption in the US has shown some annual movement within a range of from 14.3kg to 14.8kg per person. Last year found US producers facing a major recall of shell eggs after Salmonella enteritidis was found in a large flock in Iowa that sold shell eggs to other producers who packed them under their brand name. Like previous recalls, the consumers were bombarded with negative articles about eggs but with the leadership of the American Egg Board, consumers learned the reality of the safety of most eggs and consumption quickly rebounded. Animal rights groups attempted to use the incident to spread their anti-egg information but, in general, failed to sway the public who use eggs in cooking and as an important ingredient for functional foods. Nevertheless, uptake per person might have slipped a little in 2010 because of the publicity given to the recall.

The latest estimates put out by the USDA point to an average consumption of 246.6 eggs per person in 2010 compared with 247.7 in 2009. It is hoped that the actions taken by producer and the organisations representing the egg industry will go some way to resolving the Salmonella problem and restore consumer confidence and consequently egg consumption in 2011. US shell egg producers continue to build consumer usage of eggs in a healthy diet and offer a wide range of alternatives.

The consolidation of production in many ways has lead to strong companies and yet competition continues for major accounts. Large buyers of eggs, such as Walmart and other major grocery stores have set some high standards for egg quality and freshness and US producers have risen to the task of meeting their demands. Grocers feature eggs in a wide range of packs from six-egg packs to 15-dozen packs in some warehouse markets.

With the large influence of Hispanic consumers, over-wrap 60-egg packs on filler flats have become popular size packs and have lead to large demand for eggs in major markets like Los Angeles, Dallas, Houston, San Diego, Phoenix, Denver and other growing Hispanic-populated areas.

After deducting hatching eggs for the broiler sector from the egg output, total uptake of table eggs in Brazil at around 1.4 million tonnes equates to a relatively low figure of around 7.5kg per person. Nevertheless, this is a significant improvement on the average of 7.0kg recorded in early 2000s and represents a massive volume of extra eggs when one considers that the human population will exceed 200 million by 2015.

Argentina has recorded a substantial increase in egg consumption from less than 8.0kg to around 10.5kg per person by 2006-07. However, the latest production figures indicate that currently the average uptake could be around 13.5kg per person.

A similar increase in consumption has occurred in Colombia, where the human population is approaching 50 million. More recent data point to uptake in 2009 being close to 13kg per person.

Population growth and more importantly, a continued improvement in real disposable incomes, will be the key factors contributing to an increase in the demand for eggs in many of the countries in this region.
| | | |
| --- | --- | --- |
| | - | You can view other articles in our series Global Poultry Trends by clicking here. |
April 2011