GLOBAL POULTRY TRENDS - World Trade in Turkey Meat is Flat
The volume of turkey meat traded across the world has hardly changed since year 2000, writes industry watcher, Terry Evans, in his latest insight into the global turkey industry exclusively for ThePoultrySite.
Global trading in turkey meat can best be described as 'flat'. Total exports hardly changed throughout the period 2000-2007 from around 900,000 tonnes (table 1). This figure includes trade between European Union member countries. If this business is excluded, then the total exported amounted to around 600,000 tonnes a year. The USDA estimate for 2009 indicated a fall in exports (excluding intra-EU trade) to 532,000 tonnes, while for the current year a small increase is projected to around 550,000 tonnes.
Exports
The leading exporter of turkey meat is the world's largest producer – the US. Shipments rose a little during the current decade to a 'high' of 307,000 tonnes in 2008 but then fell back in 2009 to 243,000 tonnes. Little change is anticipated for this year while the forecast for 2011 is around 250,000 tonnes. Most of the decline can be attributed to reduced sales to Taiwan and the trade restrictions that have been imposed by Russia. On the bright side, increased trade has been conducted with the Dominican Republic, though Mexico is by far and away America's leading customer, followed by China.
As production has grown, Brazil has become more active in the export market, shipments peaking at more than 204,000 tonnes in 2008, when sales to EU countries exceeded 121,000 tonnes. The Mercosur countries – Brazil, Paraguay, Uruguay and Argentina – are having discussions with the EU over a bilateral agreement that could result in increased poultry exports to the EU. Brazil's turkey meat exports contracted to 163,000 tonnes in 2009, but USDA forecasts suggest an increase this year to 175,000 tonnes. After the EU, South Africa, Benin and Angola were Brazil's most important clients in 2009.

Although not large, turkey meat exports from Saudi Arabia have increased reaching almost 12,000 tonnes in 2007, half of which was destined for the United Arab Emirates. Other key buyers were Bahrain, Iraq, Oman and Qatar.

France is the leading exporter in Europe though sales have slumped sharply from, 287,000 tonnes to 123,000 tonnes in 2007, broadly in line with the cutback in production. While trade is conducted with more than 70 countries, the leading customers in 2007, after EU countries that accounted for some 77,000 tonnes or 62 per cent of the total, were the Russian Federation taking abound 25,000 tonnes and Benin with nearly 12,000 tonnes.

Germany managed to double her exports to around 70,000 tonnes by 2007. However, some 70 per cent of this trade was within the EU, the leading third-country buyer being Russia with almost 10,000 tonnes.

The trading pattern for Italy is similar to the other EU exporters though here over 90 per cent of sales are to fellow member countries. Most startling development in the European export scene has been the way in which Poland has expanded the business from virtually nothing at the start of this decade to nearly 70,000 tonnes in 2007. However, like Italy, some 90 per cent of the trade has been with EU countries.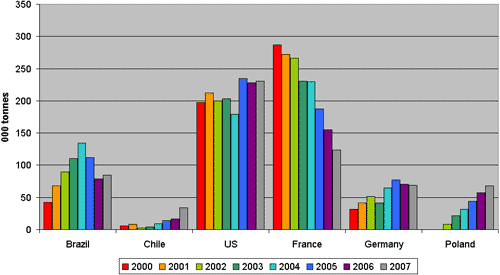 Figure 1. World's leading turkey meat exporting countries
Imports
Regarding imports, purchases by African countries grew over the review period with South Africa, Benin and Gabon the main customers (table 2).

In the Americas, Mexico is clearly the leading buyer the quantities bought having risen from 132,000 tonnes to more than 192,000 tonnes between 2000 and 2007, which is in line with the USDA's estimate of Mexico's likely purchases for this year. No other country in this region imports more than 7,000 tonnes a year.
Annual imports into Asia are erratic, the leading buyers being China, Saudi Arabia, Qatar and the United Arab Emirates.

Having peaked in 2005 imports into Europe have since declined which mainly reflects a reduction in purchases by the leading importer – the Russian Federation. From a peak of 165,000 tonnes in 2002, Russia's turkey meat purchases have fallen annually to around 45,000 tonnes last year, which is in line with the forecast for this year. Of the 73,000 tonnes bought by Russia in 2007, some 27,000 tonnes came from France, 13,000 tonnes from Belgium, 12,000 tonnes from the US, 10,000 tonnes from Germany and 6,500 tonnes from Brazil.

Imports into EU countries have averaged around 400,000 tonnes a year but receipts from outside the Community have contracted to around 120,000 tonnes.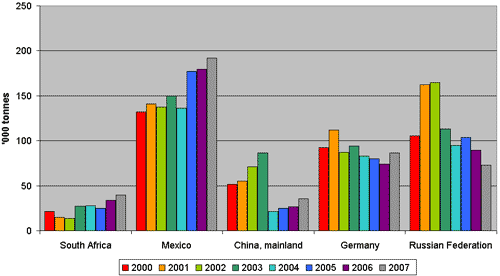 Figure 2. World's leading turkey meat importing countries
Further Reading
| | | |
| --- | --- | --- |
| | - | You can view other articles in our series Global Poultry Trends by clicking here. |
October 2010