From smart lighting to optical flow sensors, check out the latest evolution in broiler production
Known for its induction LED lighting, Greengage announced at IPPE 2019 its move into smart farming with a range of new sensors.
Speaking with The Poultry Site, Greengage's Steven Mitchell demonstrated the company's new range of smart farming technologies. Having made waves with its induction-powered LED lighting around five years ago, Greengage is strengthening its portfolio this year with a suite of integrated sensors, a web app and data analytics which aim to "make poultry farming more productive, smarter and greener," says Mr Mitchell.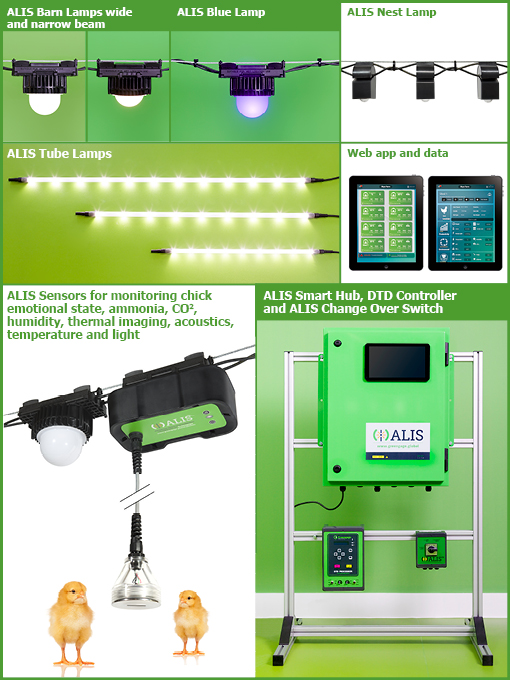 The poultry industry, including both meat and egg production, is ripe for new technology and recent years have seen an eggsplosion in poultry tech from sensors to software. Mr Mitchell explains that this is owing to producers seeing how technology can not only help them to farm more productively, but to improve welfare for their flocks and the sustainability of their operations.
After speaking with producers at trade shows, explains Mr Mitchell, it's clear that improving animal welfare and reducing the impact of production on the environment are important factors in the uptake of technology by producers.
But identifying a niche in the new but rapidly growing poultry tech sector is challenging, not only owing to the plethora of available technologies, but the amount of mind power required to produce something truly innovative.
That's why Greengage, with support from Innovate UK, partnered up with Newcastle University, University of Roehampton (London) and Campden BRI to both indentify that niche and create something truly innovative: the ALIS range of sensors.
"The ALIS Greenhouse Sensor is a three-in-one sensor (Ammonia, CO2 and humidity). The patented ALIS Chirpy Sensor monitors vocalisations and the emotional state of the flock. The ALIS Cluster captures the distribution or 'optical flow' of the birds and the ALIS Ambient Sensor monitors light and temperature," says Mr Mitchell. As part of the Innovate UK research project, Greengage tested these sensors with a farm trial at one of the largest producers in the UK and will have held another farm trial before the sensors are launched in 2019.

Transparency in food security and traceability

There are always challenges, however, when developing a new technology even (or especially!) when the idea is an innovative one. Mr Mitchell explains that when Greengage began the three-year research project "All we had were a set of assumptions and scientific papers. There is always a risk that academic research doesn't deliver a comercially viable product.
"Fortunately," he says, "the rigorous and talented animal scientists at Newcastle University, University of Roehampton and SRUC identified an opportunity for Greengage to manufacture a product that would add significant value to poultry farming."
The ALIS Sensors and the "Green Cloud" platform help the farmer to monitor their flock 24/7 while optimising productivity through helpful analytics and alerts which aid in task prioritisation, explains Mr Mitchell. "Data can be shared with customers to ensure transparency in food security and traceability.
"Also, the sensors can be moved easily around the barn as they use the same clip on and off technology as the ALIS lamps."
Improved environmental metrics for farmers
The ALIS lamps, with their reduced demand for electricity, contribute to lower energy costs for producers. Additionally, "The ALIS Greenhouse Gas sensor alerts farmers to adverse levels of Ammonia and CO2 in the barn in real-time, meaning that intervention is swift and thereby reduces the impact on the environment and the birds' health," explains Mr Mitchell.
Greengage is currently working to launch its ALIS Smart Hub (pictured above), which includes four channels to power up to four lengths of ALIS Bus cable (for the lights and sensors) at a maximum length of 250 meters per channel. Barns with less than 125m lengths could run up to eight lengths of cable using the option to U-turn the 250m max cable back down the shed. The ALIS Smart Hub combined with the DTD Controller gives the farmer the ability to create a multitude of lighting cycles to suit his barn layout, external environment and of course the flock.