Health Update on U.S. Table Egg Layer Flock
"The overall health of the national table egg layer flock is very good," reported Dr. Eric Gingerich, University of Pennsylvania, who spoke at the US Animal Health Association (USAHA) annual meeting in Reno in late October. His report was published in the National Institute for Animal Agriculture Publication: Poultry Health Report.
Dr. Gingerich attributed the overall health to numerous factors: the continued availability of high quality vaccines; flock supervision from professional, well trained flock supervisors; readily available veterinary technical assistance from primary breeder, vaccine company, diagnostic laboratory and consulting veterinarians; high quality nutrition provided by professional nutritionists; housing in environmentally controlled facilities in cages off litter; and the use of sound biosecurity practices.

The pathologist shared information regarding an Association of Veterinarians in Egg Production (AVEP) survey—of which 14 of 65 members responded—that identified diseases of concern occurring among U.S. layer flocks.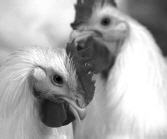 The poll showed that the No. 1 disease of concern among U.S. layer flocks is E. coli/peritonitis followed by coccidiosis/necrotic enteritis, Mycoplasma gallisepticum (MG) and calcium depletion/tetany, all tying for second highest concern. Respiratory viruses—primarily infectious bronchitis (IB)—and cannibalism were next on the disease of concern list, tying for the No. 5 position. Other diseases on the survey list that threaten the egg industry were avian influenza (AI) and Salmonella enteritidis (SE).

Dr. Gingerich pointed out that colibacillosis is a problem mainly of young flocks with mortality rates of 0.5 to 4 percent per week starting shortly after housing. This condition is believed to be most often secondary to upper respiratory challenges with Mg, Mycoplasma synoviae (MS), ammonia, IB, etc. It also may be a primary problem if water lines are contaminated with E. coli.

Data show that the overall incidence of early onset colibacillosis is down from recent years.

A post-molt colibacillosis syndrome is also seen in some flocks due to declining immune system function, resulting in an ascending infection of the reproductive tract, upper respiratory infections or elsewhere.

Dr. Gingerich reported that MG continues as an issue in multi-aged facilities and is successfully controlled in most cases through vaccination.

"Each complex must customize its vaccination program to control the strain on the farm," Dr. Gingerich stated. "Ts-11 and 6/85 live vaccines are used for controlling mild strains of Mg while F-strain live vaccine is being used to control more pathogenic strains. The live pox-vectored recombinant vaccine is being used in a variety of situations and appears to be useful in low challenge situations but still continues to be evaluated in high challenge facilities.

"Vaccine failures are somewhat common, and the unit must resort to medication programs using tylosin or tetracycline antibiotics."

Dr. Gingerich noted that coccidiosis and necrotic enteritis have been increasing in incidence in caged layers especially on the East Coast and in one strain of layer. Vaccination of pullets is being used successfully as a method of control.

In his discussion regarding calcium depletion, Dr. Gingerich explained that the depletion is normally associated with low intake of calcium, phosphorus and/or vitamin D3, particularly early in production with low feed intakes. Calcium tetany is seen when young flocks that are slow to mature are placed on calcium rich feeds too early. A post-molt problem with calcium tetany is also being found due to excessive calcium intake during the molt, resulting in a shutdown on normal hormonal action to pull calcium from the medullary bone.

Cannibalism continues to be seen, especially in high light intensity situations in both caged and cage-free systems. In these cases, the 10-day rule for beak trimming results in longer beaks than desired compared to a beak trim at 4 to 8 weeks and results in an increase in incidence and severity of cannibalism.

"Active and passive surveillance programs (for avian influenza) are increasing across the U.S. in response to the threat of highly pathogenic AI (HPAI) H5N1 from Asia," Dr. Gingerich stated. "There is great concern in the layer industry as to the effect of the response to an AI outbreak on movement of eggs and birds from negative flocks in or near the control zones."

Dr. Gingerich stressed that discussion and research regarding bird euthanasia methods and disposal from large cage layer houses and complexes continue.

He reported that the threat of low pathogenic AI (LPAI) for layer flocks on the East Coast is much reduced due to the efforts by New York and New Jersey Departments of Agriculture and USDA to reduce the number of the live bird markets positive for AI from 60 percent in 2004 to near zero in 2007.

The University of Pennsylvania pathologist said no significant AI isolations have been made in layer flocks in the US in the last year. Nevertheless, a majority of egg operations are complying with the National Poultry Improvement Plan (NPIP) low pathogenic AI (LPAI) program for commercial layers.

The discussion about Salmonella enteritidis focused on the shift since the FDA's September 22, 2004, announcement regarding a proposed "Prevention of SE in Shell Eggs During Production" program. Dr. Gingerich said SE was being addressed adequately by state and industry egg quality assurance programs until that announcement. Despite the fact the regulation promulgation process has continued since then, Dr. Gingerich said the FDA has not received funding to instate the plan.

Diseases under control and of low incidence, Dr. Gingerich said, include infectious laryngotracheitis (ILT), IB, fowl coryza and urolithiasis/gout. He explained that these diseases tend to be localized to a region or a farm.

Dr. Gingerich reported that, although the recombinant pox-vectored ILT vaccine has been determined not to be a suitable replacement for chick embryo origin (CEO) vaccines in high challenge areas, a good reduction of ILT losses in a region of high ILT incidence has been seen. He noted that the new HVT-vectored ILT vaccine is showing great promise and, if effective, should reduce the amount of CEO vaccine used in layer flocks that may spread to broilers.

Diseases that are very rarely a problem for table egg layers are pox, Marek's, Newcastle, infectious bursal disease, chick anemia virus and fowl cholera.
Autumn/Winter 2007