Heat treatment of hatching eggs during storage
The three steps for heart treatment during storage
The best hatch results and chick quality are achieved when eggs are set that have been correctly stored for three to five days. However, longer storage cannot always be avoided, and in fact is common practice in GPS hatcheries. Eggs that are stored for longer should be kept at a lower temperature and turned four to six times a day. An increasingly popular method for minimising the negative impact of prolonged egg storage is to apply one or more heat treatments during the storage period, especially if the eggs are stored for over seven days.
The procedure for heat treatment during egg storage involves three steps:
Pre-heating: The aim is to warm all eggs from storage room temperature to a uniform internal temperature of 25°C/77°F.
Heating: The aim is to reach and maintain an eggshell temperature of at least 32°C/90°F for 3.5–‍5 hours (but no longer than 6 hours).
Cooling: The aim is to cool the eggs to as close as possible to storage room temperature, and at least to below ‍27°C/‍81°F.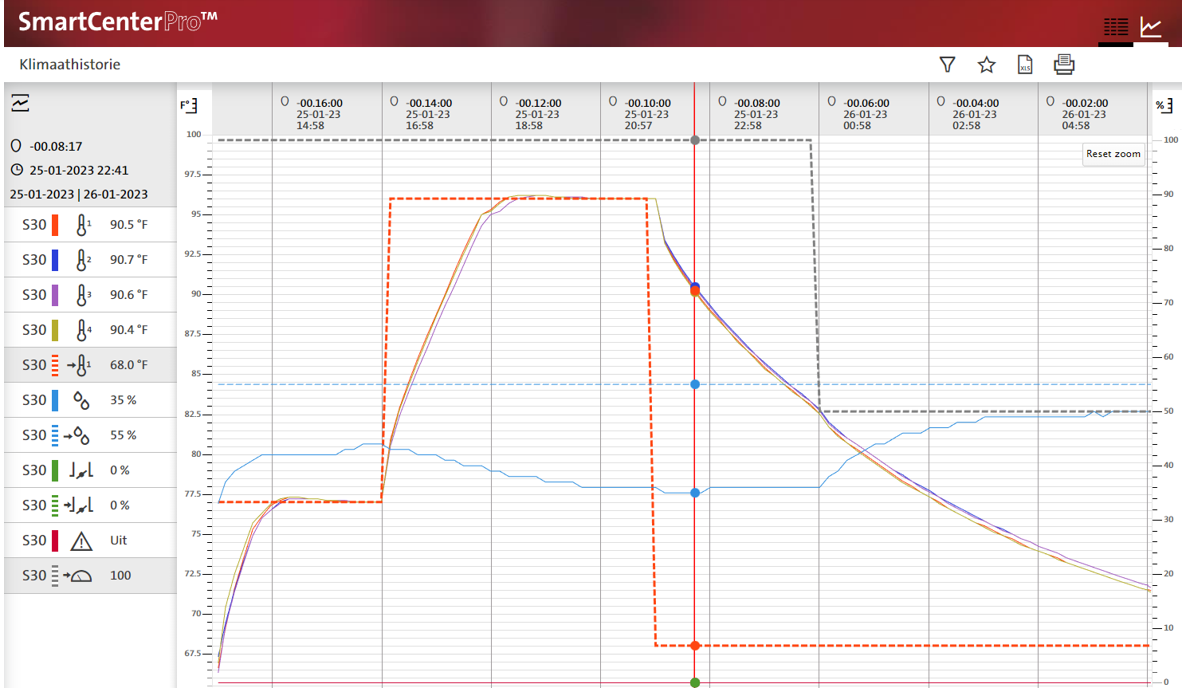 The first round of heat treatment, also called pre-storage incubation, is usually applied three to four days after oviposition. The advantage of this is that it can be done after the eggs arrive at the hatchery. The aim of this treatment is to bring the embryos of eggs that were cooled too quickly after oviposition to storage-resistant stage XII–‍XIII.
If the eggs were not cooled too quickly in the breeder house and the embryos are well advanced, the first step should either be skipped or the period that the eggshell temperature is maintained above 32°C/90°F should be kept short. Otherwise, the embryos may overdevelop and reach the 'point of no return', which is the start of gastrulation. Eggs that have reached this stage can not be stored any longer and the result is massive, very early mortality.
Subsequent rounds of heat treatment may be carried out every five to six days. The aim of this is to replace cells that have died and revitalise cells that have started to degenerate.
Some incubator manufacturers supply a special incubator with sufficient heating and cooling capacity for this treatment, which can be kept near the egg storage room. However, heat treatment can also be carried out in empty single-stage setters. Typical multistage setters have a limited heating and cooling capacity and are therefore unsuitable for this treatment, as both heating and cooling will take too long.
Advice
Apply heat treatment to eggs placed on setter trays and in setter trolleys.
Monitor the time that eggshell temperature is above 32°C/90°F using data loggers or the rule of thumb from incubator manufacturers based on measured air temperature.
Start with relatively short heat treatments that cause no harm, but perhaps too little benefit. If no harm is observed, extend the period of treatment the next time for greater benefit.
Open some eggs after treatment to check that it did not accidentally lead to the 'point of no return'.
Monitor the effect of heat treatment on hatch results; consider withdrawing a few setter trays from the batch for comparison.
Avoid returning warm eggs to the egg storage room; maintain a stable temperature in the egg storage room.
Understand that stored, heat-treated hatching eggs do not need extra incubation time.
Avoid the 'point of no return'; the typical doughnut shape is no longer visible as the translucent centre of the embryo is filled-up with migrating embryonic cells