Holistic breeding – balancing health, welfare, sustainability and performance
A holistic approach to poultry breeding offers a more sustainable approach to feed the planet.
How can we produce enough healthy protein to feed a projected 8.5 billion people by 2030 without overwhelming the planet? According to Santiago Avendaño, Director of Global Genetics for Aviagen, the answer lies in a holistic approach to poultry breeding. The following article is based on Santiago's interview with the University of Edinburgh in Scotland.
What is holistic breeding?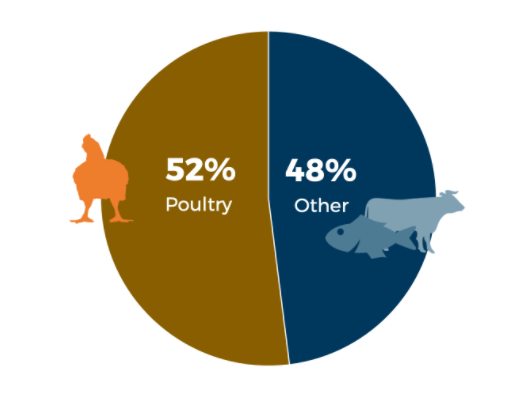 Global meat production is predicted to jump by about 14% to approximately 44 million tonnes by 2030 to meet a growing protein need. Poultry meat will be a primary driver of the meat sector growth, contributing over 50% of the additional production. Most of the greater meat demand and production will come from developing countries, and poultry breeds must be suitable to thrive in the most diverse environmental conditions.

Our challenge will be to increase production in a sustainable way that protects bird welfare and contributes to the preservation of our planet. Aviagen® tackles this challenge with a holistic breeding approach that we have had in place for decades. Holistic breeding balances traits that lead to steady performance improvement, with those that champion bird welfare and advance the economic, social and environmental pillars of sustainability.
What is Breeding Sustainability?
An Aviagen selection goal that is key to sustainable meat production is biological efficiency. Feed Conversion Ratio (FCR) is the ratio of feed to meat, and the aim is to require less feed per unit of live weight. FCR is a main driver of environmental and economic sustainability. Because of FCR gains since the 1970s, we have achieved a year-on-year improvement of 1.5 to 2 points. The sustainability benefits are twofold. First, growers understand that feed is the biggest cost in a poultry business. Thus, better FCR has a direct benefit to their bottom line, as well as their ability to feed a growing population. Next, feed efficiency is good for our planet. Less feed means that fewer hectares of land are needed to grow the feed. This land can be repurposed for other crops or used for natural preservation. And, when birds eat less, they excrete less waste as environmental pollutants. The end result is a 1% yearly reduction in the carbon footprint of poultry production, making chicken one of the world's most sustainable meats.
How does Aviagen balance performance and sustainability with bird health and welfare?
Aviagen takes a holistic, balanced approach to breeding, made possible by setting broad breeding goals that combine a wide range of traits related to biological performance, yield, reproductive fitness and welfare. In addition, we have a broad and diverse genetic pool. This enables us to satisfy today's requirements of markets all over the world. At the same time, we stay poised to adapt our birds and their genetic potential to ever-evolving needs, which is essential to the economic success of our customers.
In addition to selecting birds with excellent feed efficiency, we choose birds with strong performance traits at both the broiler and breeder levels. That means chick and egg output are high, and birds maintain a healthy growth rate, while meat yield is also favourable. These traits increase the economic sustainability of our customers, while supporting their ability to feed the world.
However, characteristics such as performance and welfare-related traits can be antagonistically correlated. We deal with these antagonisms by selecting birds that allow us to make progress in both type of traits at the same time. Thus, traits that are good for production are harmoniously balanced with bird health and welfare aspects. Our breeding goal includes over 50 traits covering all biological aspects of our birds. We choose only birds with excellent reproductive, cardiovascular and musculoskeletal fitness, and rely heavily on non-invasive technology for selection precision. Thus, the world's poultry producers are well equipped to meet a rapidly expanding need for affordable, nutritious and popular chicken meat in an array of markets in every corner of the world.