Why welfare must include both animals and the people rearing them
Discussions around holistic welfare and social sustainability often leave out one important issue: human trafficking.
The 2018 International Egg Commission Business Conference was held in London, and The Poultry Site attended to find out what the humble egg has been up to around the world. We were struck by one story about welfare but was an issue of human welfare rather than poultry.
During times of increasing transparency and consumer demand for high welfare food, the social side of sustainability often gets missed in discussions of animal and environmental protection.
Lisa Henning Beohm is in business development for the agricultural division of her family's construction business, Henning Companies. She is the fourth generation to take up leadership in this company, which is a general contractor with a specialisation in building layer houses, hatcheries and feed mills for the US and international egg industries.
Her family likewise partners in several egg farm partnerships in Iowa and Ohio which range in both size and scope from 1.17 to 16 million hens with a collective total of over 35 million hens.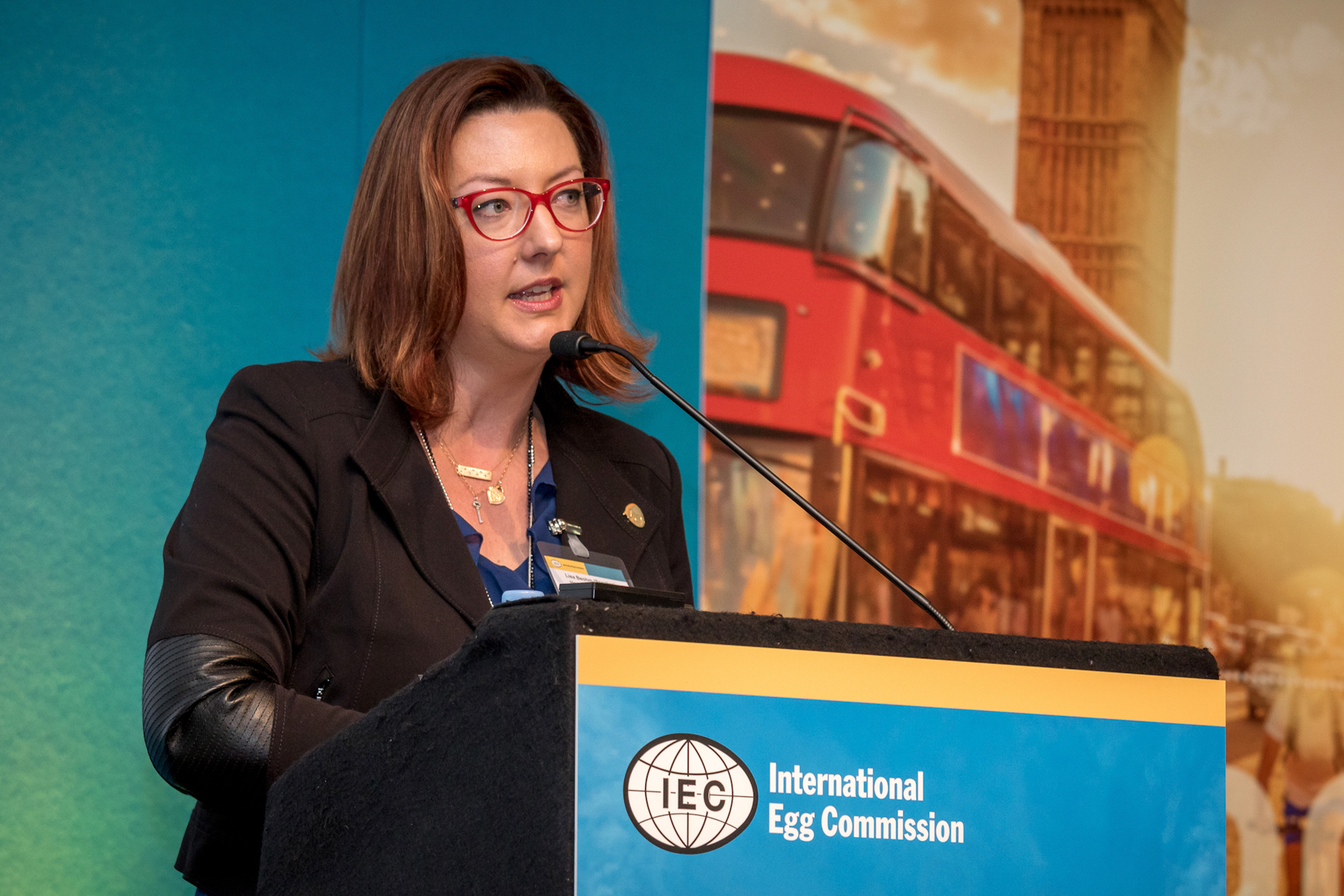 Could you share the human welfare incident your company was faced with?
As I was not present for the events, my information is limited, which I must make clear from the start. What I'm sharing is the recounting of what I, as a family member and partner in Versova, have learned of what occurred.
In December 2014, our farm in Ohio was served with a subpoena for records of employees residing at a trailer park. Although this was the first our team had heard of any issue, they were quick to respond. Later the same day, federal law enforcement officials from the FBI came to the farm's offices looking for a specific individual. That employee, they determined, was not a farm employee, and the assumption was made that if this person was present on the farm, he was likely a contract flock services worker. Our team swiftly took the FBI contacts to the location where our labour supplier had employees working.
While at the farm, law enforcement identified two other contract employees believed to be victims of human trafficking. With the farm's assistance, the three individuals were safely escorted without incident from the farm by FBI officials that day. This was a situation the management team took very seriously, and an internal investigation began. It was subsequently determined that our third-party contractor had misled us and clearly violated many terms of our contract, including the employment of unauthorised workers and compliance with national, state and local immigration laws.
"This case is a stark reminder that human trafficking hides in plain sight all around us. It underscores the need for all of us to be vigilant where we live and work. When something seems suspicious, we need to report it, not ignore it"

--
What did your company do to confront this incident?

It was clear our farm had to terminate this contractor. However, you can't just eliminate a flock services crew overnight without compromising hen care. But over the following weeks, we transitioned their services to internal crews and terminated their contract.
We now know that those indicted pled guilty in mid-2015 to the labour trafficking charges against them. Their crimes included hiring underage workers, falsely representing themselves to federal agencies, making promises of education that were not true, keeping them in substandard housing, and the list goes on.
While our farm was clearly misled time and again by this contractor, it was our obligation to take steps to prevent this from happening again. There is no question that for those of us who work in agriculture – and especially in egg production – there are many lessons to be learned from what we experienced.
What were the ultimate outcomes?
First, a number of measures were put in place, including the elimination of most contract labour on our farms. And since this situation occurred, we have expanded independent and regular auditing of our employment records, have updated our hiring and training protocols, and are requiring all contractors to sign in with proper identification at a central location.
We also looked for ways to learn more; we researched and found a partner who knew more about this than we ever could – the team at Polaris Project, based in Washington, DC. Polaris was different from some of the human trafficking activist groups – they understood business, they worked with many of our customers already, and they were positioned to give us extensive support, without judging us for what had happened. They had done some work in other areas of agriculture, and also had vast experience in other industries with high exposure to human traffickers.
Working with Polaris and their partner, Verite, we had them conduct audits at the farm to assure we had the proper labour protocols in place. We gave them broad access to our farms, our leadership and our records. It is important to understand that this is not a certification program – this is an education program – so their work was to shore up our internal processes, address any gaps, and provide recommendations of additional measures we should implement. I am proud to say we have done so.
We have provided human trafficking training, with the assistance of the Polaris team, to both senior staff and supervisors. We have an ongoing internal employee communications campaign that includes posters, continuing education and an anonymous hotline that rings right to Polaris, if anyone wants to report suspected trafficking. To date, no complaints have been received.
To your knowledge, how much of an issue is social sustainability/human welfare in the egg and poultry meat sectors?
The US Attorney working on prosecuting the contractor said it best, "This case is a stark reminder that human trafficking hides in plain sight all around us. It underscores the need for all of us to be vigilant where we live and work. When something seems suspicious, we need to report it, not ignore it."
We now know first-hand just how good traffickers are at hiding their crimes and have also learned that there are operations and services related to egg production that provide points of entry for human traffickers. Due to the serious labour shortages much of the agriculture sector is experiencing, and reliance on immigrant labour to fill those gaps – this becomes an area of risk and can be a point of entry for human trafficking.
What can producers do to ensure they are ensuring human welfare in their operations?
Our egg farm partnership has shared this story with media, with the US egg industry and with customers. And I shared it at the IEC London business conference for the same reason. The more we can educate those of us who work in egg production about what happened on our farm, the less likely the situation is to be repeated.
United Egg Producers invited Polaris to speak at last year's annual meeting to spread awareness about human trafficking and help egg producers better identify areas of risk and signs to look for. This presentation was made available to all members of UEP to use for their farm/company's employee education. I suggest producers work with a reputable company, like Polaris, to help educate management, employees/staff, ensure proper audits and protocols are in place, ongoing internal employee communications, as well as access to an anonymous hotline.
Increasingly, society wants to know more about where their food comes from. They want to know that if we're using animals in agriculture that they're being cared for humanely and that we care about the environment; they demand to know companies are doing more than just maximising their profits. This level of transparency and focus on social sustainability is not going to disappear.
As IEC Chairman Tim Lambert said, "companies have a responsibility within society to not only do the right thing for the right reasons but still be profitable. To be proactive about these things and understand where society is going will help us to lead with a vision of continuous improvement and elevate our industry."
Ms Beohm is involved with multiple organisations, including as a board member of the Ohio Poultry Foundation, Government Relations Committee of United Egg Producers, Iowa Poultry Association's Structure Committee for Emerging Leaders Program, Iowa Egg Council Public Relations & Key Influencers Committee, and as a second-year participant of the International Egg Commission's Young Egg Leader programme