How Eggs Can Win the Store Brand Challenge
At the recent IEC Conference in Canada, Dr Jan-Benedict Steenkamp, the world leading expert on branding and marketing, explained the 'Store Brand Challenge' and offered IEC members valuable advice on how to successfully brand staple categories such as eggs.
Setting out the Store Brand Challenge
"When strong national brands, such as Coca Cola, Heinz and Danone (Dannon) are facing fierce competition from store brands, and are fighting to maintain their market share, what can egg businesses do to prosper in this increasingly competitive market place?" asked Dr Steenkamp.

Large retailers have been offering lower cost alternatives to national brands since the early 1980s, however, during the past 20 years this offering has grown from what began as the private label, cheap alternative, into a full 'Store Brand Challenge'.

Retailers now offer their own complete brand range, totally encircling the national brands. Consumers can choose from lower priced own label alternatives, right through to more expensive products that are marketed as being more exclusive and more luxurious than the national brand.

Being, what Dr Steenkamp refers to as, a staple category item, egg producers have an even more difficult challenge to build strong brand awareness.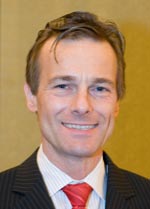 Dr Jan-Benedict Steenkamp
How to Become Brand Leader in a Staple Industry
"What does it take to be a brand leader in staple industries?" asked Dr Steenkamp.

He says the keys are: changing the consumers' mind-set; understanding why consumers value brands; and the development and implementation of a business model for staple brands.

A brand is more than just a label: it is a complete experience, the way people feel when they use the product, taste the product, and enjoy the product. Dr Steenkamp stressed "Strong brands don't just happen;, they are created."

Consumers value brands for a variety of reasons. A strong brand helps to simplify the buying process. Rather than comparing all the products available, consumers look for familiar trusted brands and choose from those. Brands also provide a quality assurance, and often, emotional satisfaction. Dr Steenkamp explained that once producers of eggs understand why consumers value brands, it is possible to create egg brands that consumers value.

According to Dr Steenkamp, "People taste with their brains and their eyes, as well as their tongues." A free-range egg may taste exactly the same as an egg from a caged hen but perception is key. If emotionally, the consumer values free-range eggs, he or she will taste the difference in their mind-set.
Twenty Seconds to Sell Your Advantage
---
*
"Manufacturers have just 20 seconds to persuade the customer to buy their product"
---
Advertising the added advantages of your product is crucial. People buying eggs will often make their purchase decision as they stand in front of the display unit in the shop. Dr Steenkamp believes that manufacturers have just 20 seconds to persuade the customer to buy their product.

Therefore, you need to provide clear reasons on the packaging, telling people why they should choose your brand. Some excellent examples of on-pack messages, used by companies within our industry include: High in Omega 3; Less fat content; Gold tasting; Free range; Organic.

Dr Steenkamp stressed to his audience that as an industry we must be realistic. "We are selling eggs, not iPhones!" he said.

Consumers will not feel the brand loyalty towards eggs that they have for their preferred beer. The challenge is therefore more difficult, but not impossible.
Category Promotion versus Brand Promotion
Dr Steenkamp discussed the advantages and disadvantages of promoting eggs as a generic category, as well a promoting individual brands.
Benefits of category promotions
Dr Steenkamp said that category promotions work best when there is a large number of smaller companies. Small companies benefit most from category promotions because the larger organisations in the group help to finance the campaign, and the smaller ones reap the benefits of an initiative they would not have been able to afford on their own.

Category promotion helps to stimulate overall demand for the products. They can also help to dispel general misconceptions about a category. This is particularly relevant to the egg industry because of the issues over cholesterol and health. Promoting the generic benefits of eating eggs – and removing the myth about eggs being associated with increased cholesterol levels – will benefit the entire category.
Benefits of brand promotions
Brand promotion works best in a concentrated market, according to Dr Steenkamp.

Furthermore, promoting individual brands primarily stimulates demand for a specific company's product over their competitors, and it is most effective when the consumer is already well informed about the category. It also helps to reinforce meaningful product differentiations.

In summary, category promotions build primary demand and favour all companies, while brand promotions help individual companies to gain a larger market share, Dr Steenkamp said.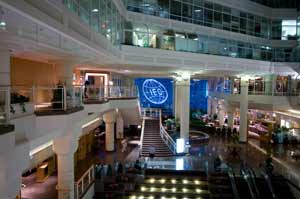 The IEC 2009 conference venue in Vancouver
Further Reading
| | | |
| --- | --- | --- |
| | - | You can see another report from this year's IEC conference by clicking here. |
November 2009