How Good Can Things Get for the Broiler Industry?
The US poultry industry is undergoing a number of changes but could be in for a successful year, according to industry expert, Mike Donohue. Jackie Linden, editor of ThePoultrySite, reports.
"We could have a heck of a good year for the US and the world," said Mike Donohue of Agri-Stats in the introduction to his presentation at the 2010 Poultry Market Intelligence Forum in Atlanta, US, earlier this year.

He began his presentation by explaining how things are changing for US broiler producers, with live production traits and yields continue to improve; feed ingredient prices remaining very volatile; rising feed ingredient costs; a wide range in live production costs across the industry and changing labour availability/cost.

Live performance characteristics are driving the profitability of the US broiler industry, he said, adding that economics drives the industry to improve welfare – and this is shown by increasing livability and falling condemnations over the last 20 years. At the same time, both the number of days to slaughter at 50 days and the calories required per live pound have fallen steadily over that period.

Mr Donohue attributed these improvements mainly to advances in genetics, which show no sign of turning around, as well as to housing and ventilation, which have led to a reduction in growth rate variability with the changing seasons.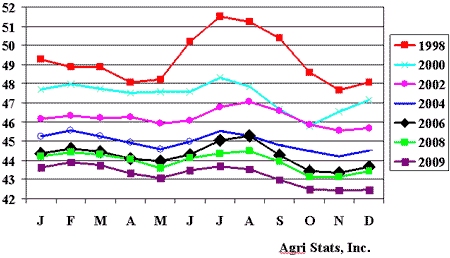 Broiler growth rates (days to 5 pounds) have improved since 1998, and are now less variable over the year.
According to AgriStats data, eviscerated yield as a percentage of live weight has increased from around 69 per cent in 1998 to almost 74 per cent in 2009.

Likewise, white meat yield has risen from 14.5 per cent to 20.5 per cent by around 2007. Although the best plants now achieve close to 26 per cent, the average has since levelled off, a change that Mr Donohue attributes to the falling numbers of trained immigrant workers, following the drive against illegal migrants in the US.

He continued by demonstrating the volatility of feed prices, particularly corn and soybean meal over the previous year, 2009. These costs have affected all the animal protein industries, he said.

Showing that the live cost and broiler feed ingredient costs have almost exactly matched between September 2006 and January 2010, Mr Donohue has calculated that the increase in broiler feed ingredient prices has cost the US industry a staggering $13 billion over that period. For turkey and egg producers, the extra costs amount to $2.8 billion and $2.5 billion, respectively.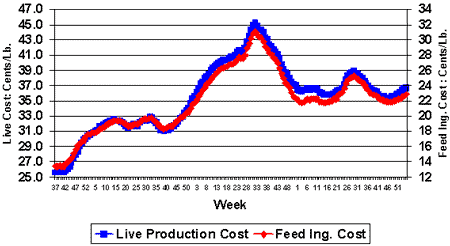 Live costs and feed ingredient costs have matched closely between September 2006 and January 2010
The range in live production cost across the industry is very variable, said Mr Donohue, and while the costs to both the most and least efficient have risen, the gap has been widening.

"With just two to three cents per live pound a typical profit, live performance is becoming even more critical – including the hatcheries," he said.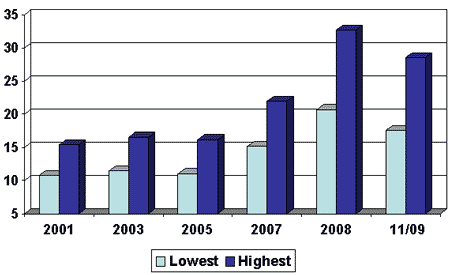 Increasing range in feed ingredient expenses (US cents per live pound)
Changes in the cost and availability of labour are also affecting the poultry industry, Mr Donohue said. Between 1995 and 2009, average wages (including benefits) have risen from under $10 to more than $14 per hour. Even without benefits, the average is now just under $11.50 per hour. At the same time, there has been a decline in the proportion of overtime as workers have become more efficient, and perhaps helped by rising unemployment in the population generally, turnover of staff is also showing a downward trend.

Mr Donohue concluded his presentation saying: "I'm cautiously less pessimistic about this industry than I usually am."
Further Reading
| | | |
| --- | --- | --- |
| | - | You can view our previous report from the 2010 Poultry Market Intelligence Forum by clicking here. |
April 2010