How to prepare for an audit at a poultry processing plant
In contrast to the legislative approach taken in Europe to regulate practices and standards specific to the food animal industry, animal welfare policies in the United States (US) have been driven primarily by consumers.
As the public interest in animal welfare increases, pressure on the retailer to source products from systems with specific management practices has increased over the last decade. This has resulted in a more comprehensive evaluation of the practices used to raise meat birds in the US and the development of internal assessments and external audits to verify compliance with industry standards. These programs not only verify compliance with established standards specific to animal care but also help demonstrate the value and commitment of the poultry industry to the health and welfare of the birds in its care.
Within the US poultry industry, there has been much focus and priority on ensuring good welfare at the processing plan by ensuring appropriate transportation, handling and stunning for birds destined for slaughter. This article will provide a brief overview of assessment and audits specific to processing facilities and utilize the National Chicken Council Animal Welfare Guidelines for Broilers Standards as an example.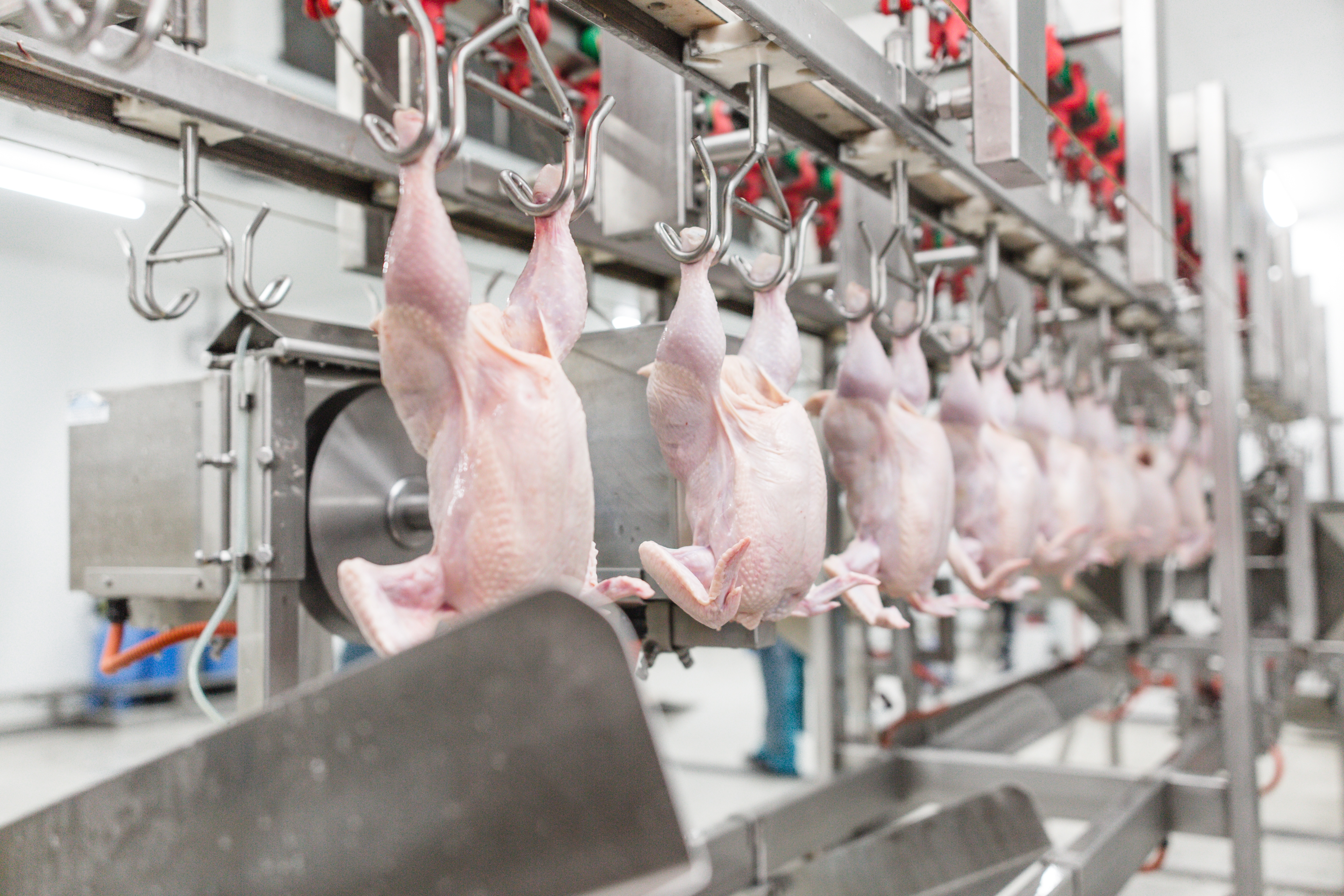 Internal assessments and external audits
Regardless of the program that you plan to implement, the majority of poultry assessment and audit standards are developed under the collective guidance of a scientific advisory council. These councils often include veterinarians, animal welfare scientists, producers and allied industry. Within this council, standards are developed based on science, industry expectations and values of the producers and customers. Standards can be evaluated though internal assessments or external audits. Internal assessments prioritize continual improvement through education by assessing key measurements and providing recommendations and action plans for improvement. These assessments are conducted internally and frequency of these evaluations are based on company policy. In contrast, external audits are conducted only by a third-party person and are designed to assess, score, and verify key plant measurements based on a given audit's specific standards and guidelines. Audits limit direct worker involvement and do not include an education component. The degree, to which animal welfare is specifically addressed, regardless of category or focal area, is based on the goals and mission of the audit organization and the demands and expectations of the population being targeted.
The guidelines
Now that we have a better understanding of the history and background of assessment and audits, let us delve into the NCC guidelines. From an animal welfare standpoint, measures that directly assess the condition and behavior of the bird at the plant are critical as they provide the most direct indication on how an animal is coping with its surrounding environment. We consider these measurements as animal-based or outcome-based measures and they are considered the true or direct indicator of an animal's welfare. In a poultry processing plant, the three main animal-based measures that will be assessed are 1) live handing; 2) shackling; and 3) stunning.
The auditor will likely begin the audit process by evaluating live bird handling off the truck and into the plant. Handling is important to assess as poor handling can result in fear, distress and injury to the bird and potentially affect meat quality and food safety. During the audit, the auditor will observe the unloading process, taking particular focus on any birds that have arrived dead to the plant and any birds that have not been properly unloaded. Within the NCC guidelines, the auditor must document the number of birds dead on arrival over a weekly basis and initiate a further investigation if this number averages over 0.5%. In addition, the auditor must observe a minimum of five cage modules being unloaded to ensure live birds are not trapped or remain in the cage after loading. Any live bird left before reloading is a major non-conformance and will result in an automatic audit failure of the plant.
After the unloading process, the auditor will work their way to the area of the processing plant where birds are shackled. Shackling is a critical area for evaluation as improper shackling can result in broken wings or leg injuries. The shackling area must be well designed and maintained to not only ensure good welfare for the birds but to minimize worker fatigue and inappropriate handling. To reduce wing flapping, adapting light levels, belt speeds and providing breast-rubs can all be helpful. An auditor must evaluate the shackling process for a minimum of 500 birds to observe for any gross mishandling or treatment. Any bird visibly injured during shackling is considered a major-nonconformance and will result in an automatic failure.
The stunning and slaughter process is the last major area in which the welfare of the bird is evaluated. Immediately prior stunning, birds will be assessed for wing injuries with an industry target of <3% of birds demonstrating wing injuries. Birds will also be evaluated to ensure a least 99% of all birds are effectively stunned with no live birds entering the scalder. This is perhaps one of the most critical areas from a welfare standpoint and is taken the most seriously by the auditor to ensure no bird is conscious as it continues down the line.
Internal assessment and external audits provide an invaluable tool to provide stakeholders with a consistent, reliable and verifiable system to assure bird welfare at the plant. Animal-based measures are key to assessing animal welfare and must be evaluated for their inherent value to bird welfare and to the industry as a whole. As we continue to ensure transparency to our customers, we must utilize assessment and audits to provide continual education and improvement within our systems.