Identifying Genes That Enable Birds to Perform Better
Helping to identify genes that enable a broiler to perform better in a commercial environment is just one of the exciting opportunities offered by genomics, Dr Mitch Abrahamsen, Vice President of Research and Development at Cobb tells Roger Ranson in the latest issue of Cobb Focus.
Roger Ransom (RR): Let's turn back to when you joined Cobb over a year ago. What attracted you to Cobb and why did you want to work in poultry breeding?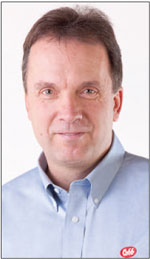 Dr Mitch Abrahamsen
Dr Mitch Abrahamsen (MA): If you're going to look for opportunities to apply DNA-based technologies in a commercial genetics and breeding programme, the poultry industry is a really exciting place to be based on the number of birds you can analyse as well as the short generation time. You can actually see the progress a lot faster than in some other agricultural species and for me translating basic research into something more applied, using technologies to address issues regarding providing an adequate and safe food supply, is an exciting place to be as a scientist.

RR: So what were your first impressions about the company and about the research they were doing?

MA: I never realised that growing chicken was so complicated! The amount of time and energy in thought and effort put into making sure that we are making genetic progress caught me off guard compared to what my expectations were coming in.

From that standpoint, it's clear that the investments that Cobb has made to have a state-of-the art biotechnology and R&D programme for breeding chickens are well justified, and the opportunities to make a difference in a relatively short period of time has really got me excited about this position.

RR: So what were your goals a year ago and how much progress have you made towards them?


MA:
Cobb had made a significant investment in genome technology and application of biotechnology to driving their business.
A lot of those initial investments were made to understand what opportunities DNA technologies afforded and to generate large enough data sets for a critical evaluation.
One of the things that's difficult to do as a scientist is to translate, and develop a plan to translate, all this basic biological knowledge into something that has value for the company. So my goal really was to come in and work with the R&D team to transition the focus from using genomics as an exploratory and investigatory tool, to developing an approach to incorporate genome technologies into our breeding programme to help drive the business.
RR: Of course, you need to have a good idea of where the product is going, what the customer is going to be wanting in five or 10 years' time. How clear an idea do you have of where the global market is heading at the moment?
MA:
A lot of the interest right now is around dealing with the economics of trying to feed agricultural species – the impact that we saw in the last two to three years related to feed costs and the political and social pressure on the growers to justify the environmental cost it takes to produce a bird. And so clearly issues around feed conversion and efficiency are high on everybody's list. At the same time, you have a lot of interest from the public around welfare and safety concerns regarding the food chain, not only making sure we have a safe product to feed ourselves and our children but making sure that people are happy with the way we are producing food.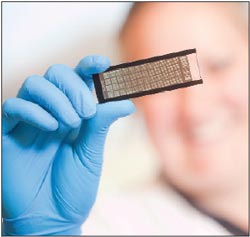 RR: You mentioned feed efficiency and the need to produce a bird that performs well. I remember that a year ago, John Hardiman spoke about this as being his prime goal for 20 years and in many ways people see feed efficiency as being the trade mark of Cobb. Do you still see that as your main focus today?

MA: Absolutely. Feed efficiency is clearly something that has made Cobb very attractive in the market place and we're not going to change our focus on the importance of being able to grow a bird very efficiently. But we do see the need to continue to focus efforts on issues that affect the welfare of the bird and that provide a bird that meets the needs of the grower. So we've not decreased our efforts on feed conversion, but we have clearly focused on some other traits in our selection programme that we believe are important to address the needs of the customers down the road.

RR: Now you mentioned along with that the increased emphasis you're placing on welfare and safety traits. Tell us a little more about this.

MA: There is a growing social interest in making sure we don't overuse antibiotics in the human food production chain. As antibiotic usage is reduced and or even eliminated, birds will be exposed to higher pathogen loads increasing the risk of developing health issues and exhibiting decreased broiler performance. In our R&D programme, we have several efforts focused on identifying DNA-based markers associated with increased pathogen resistance.

Not necessarily only resistance to specific pathogens, but also a generalised resistance to environmental challenges that birds will encounter in a commercial setting. In addition, there is a lot of public concern about how birds are grown and what a socially acceptable chicken looks like. These are areas we're trying to understand and incorporate into our R&D programme to ensure we are providing birds that meet the needs of our customer.

RR: Cobb is investing heavily in research in the US and there are plans for doubling the size of the European research farm in the Netherlands. Does this signify something of a change in direction in having an R&D base in Europe as well as North America?

MA: It really relates to what we talked about regarding the impact that different nutritional programmes have on the performance of a bird. By investing in our research farms in the Netherlands, we're able to expand and improve our selection programme to identify and produce birds that have maximum performance on the types of diets that are being fed in Europe.

RR: Turning to genomics, you have this five-year joint programme with Hendrix Genetics. What have we learned so far mid-way through this project?

MA: The data that we have generated and the open sharing between the two companies has convinced us that genomic technologies clearly provide the opportunity to improve the accuracy and speed of selection in both the breeder and layer industry. Working with Hendrix has given us a lot of opportunities to leverage the value of individual data sets, as well as accelerate and improve our ability to develop and use tools and approaches that are valuable to both companies. Things like infectious disease and welfare traits are important for both, so by putting our data together and our scientists together we are really able to move forward quicker on how we apply these technologies to make a real difference for our respective businesses.

RR: Have you been surprised by any of these findings?

MA: To me, it's been reassuring that the new genomic approaches have demonstrated that the breeding programmes within Hendrix and Cobb have been very effective in improving the genetic capabilities of these birds and the genomic tools have shown that Cobb has been doing the right thing for a long time.

But there are opportunities to identify and move forward on traits that are difficult to address using traditional breeding schemes. So for example, all our selection is done on pure lines in a pedigree environment, which is maintained with very strict biosecurity and environmental controls. However, our birds in the market place are a cross-bred bird that needs to perform in a very different type of environment and it's difficult to put birds under selection in a pedigree environment that is representative of the commercial environment.

So DNA technology does provide an opportunity to identify those birds in a commercial environment and explore what are the key genetic differences between birds that perform well in a commercial environment versus birds that don't perform so well there and to take that information back and use it in our pedigree selection programme.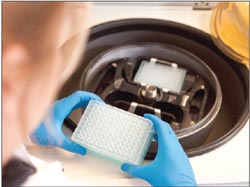 RR: And how far have you got then?

MA: One of the needs we identified is the ability to genotype lots of birds in a commercial environment. That was one of the motivating factors for building our new animal health and biotechnology laboratory facility here in Siloam Springs, to be able to handle the number of samples that we need to process to obtain that genetic information from the commercial environment that we can then transfer back into our pedigree selection programme.

RR: How much does cost come into this?

MA: The cost is always decreasing and that's important for the ability to analyse larger and larger number of animals, but the reality is that the cost is probably cheap enough today – it is small compared to the cost of actually phenotyping the animal. And so even though genotypes are becoming very cheap the major expenditures we have is in the traditional phenotypes, the performance traits that we continue to measure in our traditional breeding programme. And so, even with our expanded efforts, at this point the cost for the genotyping is significant but is not the major expenditure within our total research budget.

RR: We're talking here about high science, but how far have we gone away from the more traditional selection methods, which have been used very successfully you might think for 50 years or more?

MA: In the next five or 10 years, you're going to see more emphasis on DNA-based technology and a significant discussion of the advances that it has afforded breeding companies. However, it's hard to imagine a scientific scenario where this technology will exist independent of a traditional breeding programme.

There will always be a need to confirm and define what are the desired genotypes and the only way to do this it to directly measure the performance of the bird.

Ultimately, DNA-based technologies will be common place and part of what we do. We won't think about them being a different approach. It will be a part, one of the tools in our toolbox, of our traditional breeding programme.

RR: Finally, how have you found your first 12 months in the poultry industry?

MA: I think Cobb is a fantastic company to work for and the investments they are making in R&D give me a lot of confidence that my time here will be well spent helping Cobb maintain that leadership in the industry.

RR: Also, you've also been working with John Hardiman for the past 12 months, somebody who has played a major role in the breeding programme. Would you like to comment on his work and what he's doing at the moment?

MA: Clearly John has been at the heart of the success of Cobb for the past 25 years, and his expertise and experience in a traditional breeding programme continues to be invaluable for Cobb. In addition, John has played a key role in my transition to Cobb as well as for Dr Mark Cooper in his new role as Director of Genetics.

Now as Chief Scientific Officer, John continues to play a very crucial role by interfacing between the R&D organisation and our marketing and sales group as well as our customers to help understand what R&D needs to do in the next five to ten years. He's also helping to translate the progress we are making in R&D into the market place so people understand what Cobb is doing and so demonstrate the leadership of our products.
This article can also be read in ThePoultrySite Digital, our twice monthly Poultry Industry eBulletin.

Simply click the "Expand" button on the eBulletin below to read.
February 2011