In-Ovo Technology Grows in France
Free-range chicken producers in France are looking to extend the market for in-ovo vaccination thanks to more than a decade of proven success with the technology, according to a leading poultry vet, speaking at a technical poultry symposium held last month, supported by Pfizer Poultry Health.
Dr Brice Robineau of Chene Vert – the largest veterinary service provider in France – said 80 per cent of the country's free- range (label Rouge) chickens are vaccinated using the Inovoject device, from Pfizer Poultry Health.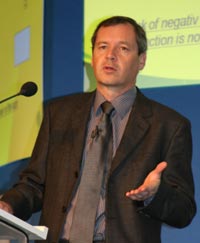 Dr Brice Robineau
He said: "After 15 years of experience we are totally convinced of this technology. This high value production has a very low mortality and condemnation rate, and vaccination has proven to be very efficient.

"The weekly production range is between 50,000 and 300,000 chickens per week, and there are presently nine hatcheries vaccinating in ovo against Marek's disease."

In ovo vaccination enables the delivery of biologicals and pharmaceuticals to chick embryos through the egg shell. The first Inovoject was introduced in France in 1994 and there are now nine hatcheries vaccinating for Marek's disease, and one in trials for Gumboro vaccination on broilers.

"There are significant possibilities to extend the market of in ovo vaccination through new vaccines," Dr Robineau said. "Experience with this technology has shown us that the issues we faced can be put down to on-farm factors such as hygiene, hatchery design and human mistakes.

"The majority of the problems we have faced came from an inadequate preparation of the hatchery to the introduction of the technology. From 1995 to 2000, having made the choice to move to in ovo vaccination, the hatcheries had to deeply reconsider their organisation including the facilities, employee training and hygiene practices."

That led to a change in site practices, such as vaccine preparation, bacteriological control, and staff training – including defining the role that the veterinarian played on site.

"According to the French regulation the sanitary veterinarian has to visit the hatchery once a month in order to certificate the hygiene practices. This is also an opportunity to check the site in addition to the visits of Pfizer technical team, which is in regular contact."

Dr Robineau said the industry is now looking to what the future may hold with regards to additional in ovo capabilities.

"The technology itself has proven very efficient and we now have procedures and rigorous quality control measures to ensure that the vaccination process is optimised. We now look forward to interesting developments on the horizon which we can look to integrate into our systems."
Further Reading
| | | |
| --- | --- | --- |
| | - | You can view the previous article from this symposium by clicking here. |
December 2010