Interview: Matthew Macdonald, Founder, New Macdonalds Farm
Matthew Macdonald and his wife, Lou – along with their three young sons – set up New Macdonalds Farm on 15 acres in Box, Wiltshire in 2009. Having built up a healthy customer base of farm shops and restaurants, they decided to start their journey to organic certification in 2017. Ellen Hardy finds out about their journey to organic certification.
Matthew is a carpenter by trade, but after a stint helping out on a dairy farm he became addicted to the agricultural life – so when he and Lou had the chance to buy some land, they jumped at it. After experimenting with Dexters for beef, the area's high TB prevalence convinced them to focus purely on pigs and poultry, and they now have around 500 layer hens, with organic turkeys to follow as their next undertaking.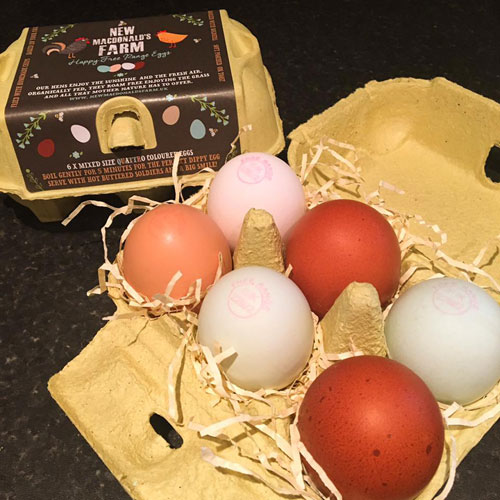 "We've been feeding organically since we started," he says – we're talking on the phone, and in the background there are the sounds of children playing and chickens being fed. How do he and Lou manage it all? He laughs. "That's where it becomes complicated," he says. "We've got twin boys, Archie and Noah – one's Asperger's and one's autistic, so they're quite challenging. They're seven. Then we've got little Hugo, who's 18 months. So it's balancing family and work life. We don't want it to get to a point where it has an effect on the family. But we also want to build something for the boys to take on." Investing in a responsible future for their young family is key to the Macdonalds' decisions – for them, the bigger picture is key. "I think organic farming has to be the future," says Matthew. "Have you read Farmageddon? It's kind of got to be."
The eggs from their free-roaming hens have an unusual USP – Lou and Matthew call it "Quattro coloured eggs" – meaning that shells of different hues are mixed together in the same box. "It was my wife's idea," Matthew explains. "I thought it was absolutely daft doing different colours; I said it was going to bomb. But I should have listened to her because since we started it we've not been able to keep up!" Lou's bright idea plays well with the farm shops, who like to display the pretty eggs in open trays. "We use Legbar, which produces a blue egg, we use a French Black Maran which has a dark chocolate egg, and then we use Leghorn for white, and some mixed breeds for the tan light brown eggs."
Their lucky guess has brought them significant success, but they're keen to keep the scale manageable. "We kind of pick who we want to work with! I don't think we want to get really big. Where we want to be is producing over the next five years probably up to 1,000 hens. It doesn't sound like a lot but we're doing it all by hand, and all the deliveries as well."
Their target market is very much the top end of the scale. "Our eggs aren't cheap," Matthew continues. "We sell them for £2.70 to £3 a box, and the trays for farm shops are £10. Any restaurants we take on – and they tend to get the less pretty eggs, but obviously the same quality – we charge them £9. So probably almost double what most commercial producers will charge." The high-welfare, locally-sourced, ethically-impeccable eggs are clearly a big hit with those businesses prepared to pay the extra. "A lot of farmers are realising there's money in it," grins Matthew. For the time being, the New Macdonalds label only reads "organic fed", but as of 2017 Matthew and Lou have contacted the Soil Association to begin the two-year process of official organic certification. Of the nine organisations qualified to certify organic status in the UK (you can find the full list on the Defra website), they chose the Soil Association thanks to positive word of mouth.
Organic wasn't a difficult decision for Matthew and Lou. "It makes sense for us. We might as well go the whole hog and be purely organic because we go by those principles anyway." Is enough being done to persuade farmers of the benefits of organic principles? "No, I don't think there is enough. I think there's a real appetite out there, people are becoming very aware of what we're eating now… It needs to be pushed a lot more. It's quite scary I think, when you really look at it, what we're really doing – we need to take stock." But costs are a big challenge, whatever the size of your farm. "Normal corn is about £300 a ton, organic corn is about £600 a ton – that's why a lot of organic farmers grow their own crops. We don't have the space to do that. And that's why the eggs are more expensive."
The costs of organic certification, which Matthew views as necessary for the associations that provide the administrative infrastructure, are another major challenge. "There could definitely be more done to help farmers," he says. "I think a lot of it is costs. We're a small farm, and for us to go organic is going to cost us £500 to £600 a year, maybe more. It goes by acreage obviously, so although we're small it's still a fair bit of money. We haven't had any funding whatsoever. It tends to be for the big boys, but for anyone smaller and more local you're on your own." All this factors in to the management of the farm longer term. "We're looking to increase – we want to buy another poultry house, and it's going to cost seven or eight grand to do it and are we willing to invest the money? It's a catch 22."
This article was originally published in the March 2017 edition of The Poultry Site Digital. For more, read other articles from the issue by clicking here.
April 2017