Investigating Losses from Smothering in Commercial Poultry Flocks
A recently published study offers an overview of the problem of smothering in laying flocks, which may account for a substantial proportion of overall mortality.
Smothering in poultry occurs when birds mass together, often on top of each other, resulting in death from suffocation, explained Dr Ashleigh Bright of FAI Farms Ltd in Oxford, UK. There are anecdotal reports of smothering as a major and unpredictable problem in the egg industry when hens are loose-housed.

Dr Ashleigh Bright
The unpredictability of smothering incidences makes it difficult for producers to implement management or husbandry changes to address the problem and there is little published information on the incidence, cause(s) or prevention of smothering, she added. Avian hysteria was described in the US in 1962, while a review in 1990 listed suffocation as an important economic and production consequence of panic and hysteria in domestic fowl and added that the causes had not been identified and it was difficult to reproduce experimentally.

Dr Bright and her co-author, Elizabeth Johnson, undertook a preliminary study into the incidence of smothering and the possible causal factors at two commercial free-range egg producers in the UK. Their paper was published recently in Veterinary Record.

"Smothering is particularly problematic because it is difficult to predict and even more difficult to control," explained Dr Bright.

The Oxford-based researchers initially visited 10 producers and one pullet rearer from Company X and one producer and technical manager from Company Y to discuss the incidence and possible causes of smothering. The visits were followed up with a study of the complete production and mortality records from 10 of Company Y's farms.

The authors found that incidences of smothering could be divided into one of three categories:
Panic smothering could occur at any time in the production cycle and were usually one-off events, often attributed to disturbances caused by predators, vermin, sudden noises or changes in light intensity. Large numbers of birds – often more than 20 – may be found grouped together at one end or side of the house.


Nest box smothering was most common when birds come into lay and resulted from one or more birds crowding into one recently used or vacated nest box. Mortalities ranged from one to 20 birds.


Creeping or recurring smothering appeared to be the most problematic type of this phenomenon as it was most common and could recur throughout the laying cycle once started, although fewer birds were involved at each event than with the categories of smother. The causal factor was not always clear but producers identified a number of possible triggers, including birds coming into lay or to peak lay, post-lay, seasonal temperature fluctuations and the availability of litter quantities of deep and friable litter for dust-bathing.
Examination of the production and mortality data from the 10 flocks of Company Y showed that smothering accounted for 40 per cent of all mortality and significant losses in egg production on the four worst-affected farms (Table 1).
Table 1. Smothering and production information for 10 free-range laying flocks of Company Y
Flock
Strain
Birds
placed
Eggs/
bird
Total
mortality
(%)
Flock
mortality
due to
smothers
(%)
Mortality
due to
smothering
(%)
No. of
smother
incidences
Eggs lost
due to
smothers
(est.; %)
A
Bovan Goldline
6,269
178
9.00
1.40
15.90
6
20.30
B
Lohmann Brown
5,932
210
13.35
0.37
2.70
4
1.96
C
Columbian Blacktail
2,000
218
19.70
10.50
53.50
12
61.80
D
Lohmann Brown
6,018
218
12.55
0.63
5.00
4
5.10
E
Columbian Blacktail
2,000
226
11.15
5.30
47.50
13
37.30
F
Bovan Goldline
6,000
228
12.30
2.10
17.65
10
18.00
G
Bovan Goldline
1,000
232
9.20
0.40
4.30
1
5.00
H
Columbian Blacktail
2,000
257
9.00
6.00
66.60
10
57.80
I
Columbian Blacktail
2,000
258
6.60
2.95
46.80
5
24.70
J
Lohmann Brown
5,760
322
15.40
1.50
6.60
5
8.60
* Calculated using the week of production of the smother and based on each hen laying six eggs per week from 21 weeks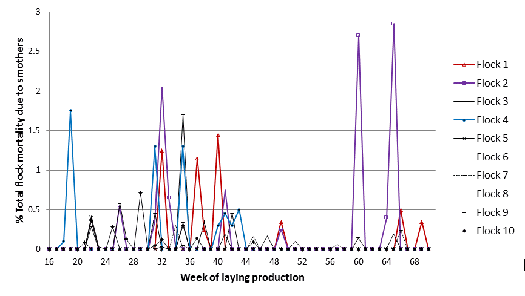 Figure 1. Percentage of total flock mortality due to smothering in 10 commercial free-range layer flocks of Company Y
Figure 1 confirms that creeping smothering tends to start early in lay and recurs within a flock throughout the production period – for example, in flocks 1, 2 and 4.

The researchers were unable to identify causes of smothering that began late in the laying cycle, and they added that this and further investigation of the possible causes of recurrent smothering would form part of their continuing work on the topic.

Dr Bright concluded: "Current research is investigating whether there are any behaviour changes in flocks leading up to a smother, and we are now carrying out a wider survey of farmers to look for possible correlations between smothering incidents, environmental and management factors."
Reference
Bright, A. and E.A. Johnson. 2011. Short Communication: Smothering in commercial free-range laying hens: a preliminary investigation. Veterinary Record, 168:512 Published Online First: 9 May 2011 doi:10.1136/vr.c7462.
Further Reading
November 2011