Killed Salmonella vaccines and their key role in reducing the prevalence of Salmonella
A study from Hipra including the importance of humoral immunity
When it comes to Salmonella prevention, it is essential to consider all the entry points where these bacteria can gain access to the farm, and to try to minimize or even exclude them one by one.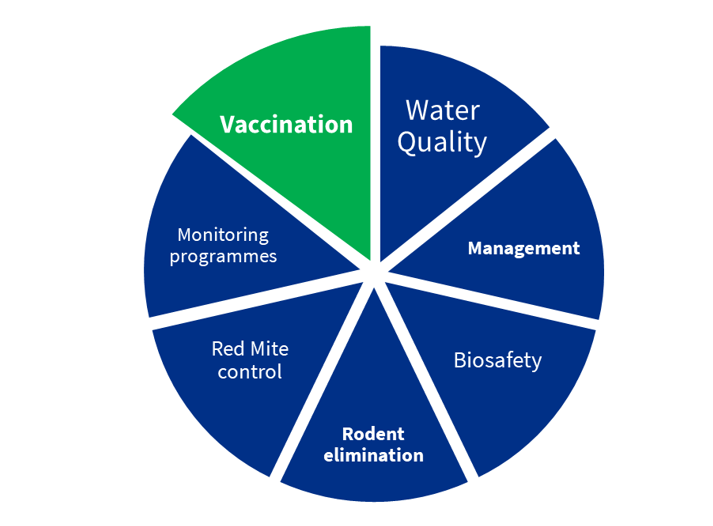 From an immunological perspective, Salmonella can be prevented using two main tools: live vaccines, that stimulate mainly local cellular immunity, and inactivated vaccines, that stimulate general humoral immunity. So that both types of vaccine are complementary, and technically, act synergistically with each other. In this article we are going to focus on inactivated vaccines and their importance in Salmonella control.
The gaps left uncovered by live Salmonella vaccines are covered by killed vaccines as this type of vaccine provides:
Full systemic protection, liver, spleen and oviduct.
Boosts the intestinal protection offered by live vaccines thanks to local Ig A.
The humoral immunity and the resulting antibodies are transferred to the progeny and table-eggs, helping to provide protection from any sort of challenge they may face from any of the field Salmonellas.
Humoral immunity is stored in memory cells, so that long-lasting protection is ensured.
Inactivated vaccines are applied individually, an important point in guaranteeing that each bird receives the correct dose.
What is the importance of humoral immunity?
Salmonella constantly threatens poultry facilities and these challenges can come from rodents, foreign birds, red mites, water quality failures, feed contamination, even humans can transmit Salmonella to the birds. For this reason in particular, poultry producers must provide the best and the most complete immunity to minimize the risk of Salmonella contamination. This immunity must first consist of a local barrier at the intestinal level, and a systemic defence of the whole organism thanks to the antibody mediated response.
Once Salmonella penetrates the intestinal cells and reaches inside of the organism, it has two routes of infection: one is the extracellular route, but it is also capable of penetrating macrophages using these cells for faster transportation, resulting in dissemination throughout the entire organism, including target organs such as the liver, spleen and oviduct, increasing the risk of vertical transmission.
Once the inactivated Salmonella vaccine containing SE and ST is inoculated into the bird's breast, the first cells to appear and recognize them are the antigen presenting cells (APC). These APC cells process the somatic antigens on the surface of Salmonella and expose it to the major histocompatibility complex (MHC II) in order to attract naive Th cells (Th0) and induce their differentiation into Th1 or Th2 cells. If the environment is rich in interleukins such as IL-4, the Th0 cell will develop into Th2 cells. These Th2 cells will induce the proliferation of B cells into antibody (Ig) producing cells, and memory cells against Salmonella Enteritidis (Serogroup D) and Salmonella Typhimurium (Serogroup B). Within the humoral immunity, wild Salmonella infections will be diminished as soon as the bacterium penetrates the organism, as the circulating antibodies will neutralize it. (L. Revolledo, A.J.P. Ferreira, Current perspectives in avian salmonellosis: Vaccines and immune mechanisms of protection, Journal of Applied Poultry Research, Volume 21. 2012)
An interesting point regarding commercial Inactivated vaccines incorporating Salmonella Enteritidis is the cross-protection against other serotypes belonging to the same serogroup (serogroup D), as the immune response is produced against the somatic antigens of each serogroup. Thanks to this fact, inoculation with a Salmonella Enteritidis vaccine, will also protect the birds against Salmonella Gallinarum and Pullorum (Serogroup D). The same can be said of Salmonella Typhimurium (Serogroup B) which shares the same somatic antigens with Salmonella Heidelberg (1,4,5,12).
In summary, it is essential to protect internal organs where Salmonella can replicate, providing a higher protection for the products (table eggs and DOC), and boosting the protection offered by live vaccines to ensure their efficacy and safety, all of this through the application of an inactivated Salmonella vaccine.
With more than 20 years' experience in reducing Salmonella prevalence in poultry facilities around the world, Hipra has performed several trials in order to show how the humoral immunity acts and its benefits for the poultry industry. Some of the most noteworthy studies are shown below:
a) Antibody transfer to the yolk and to the DOC
Serology results shown below relate to broiler breeders vaccinated with 2 doses of AVISAN® SECURE (Hipra's Inactivated SE/ST vaccine). Transfer of IgY to the yolk content and DOC is also demonstrated in this trial, providing potential early protection against field challenges.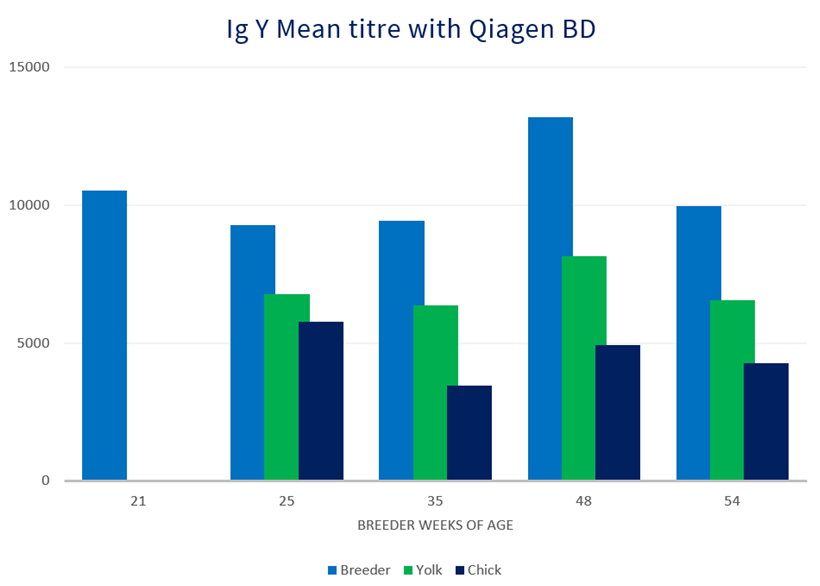 (Verges, S., Soares, L. M., Baratelli, M., & Fontanet, A. P. (2021). The 102nd Conference of Research Workers in Animal Diseases. In Serological survey of antibody immunity against Salmonella in a commercial breeder farm using inactivated vaccine.)
b) Eggs free from Salmonella after challenge with SE and ST
In order to demonstrate protection against SE and ST, birds vaccinated with 2 doses of AVISAN® SECURE, and a non-vaccinated group, were challenged with wild strains of SE and ST. Eggs were collected for bacterial isolation. No positive eggs were found in the group vaccinated with Avisan Secure, neither for SE nor for ST.

c) Reduced organ colonisation
In this trial, 3 groups were challenged with both SE and ST (Live vaccines, Live + AVISAN® SECURE, control group). After the challenge, samples of caecum, liver and spleen were collected and processed by bacterial isolation and CFU counts. A clearly faster reduction was found in the birds vaccinated with a mixed vaccination programme compared with birds vaccinated with only live vaccines.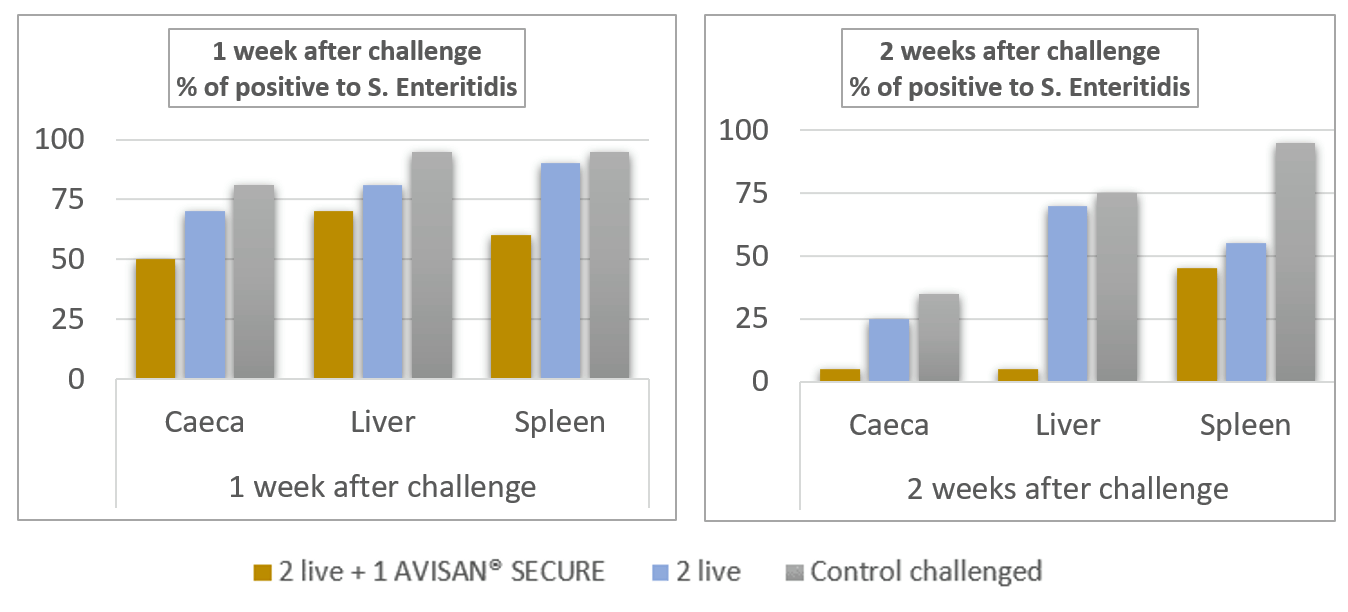 (Bentué López, M., Pagès Mante, A., Fathi, H. (2017). A Study of the Protection Conferred by a combined live-inactivated Salmonella vaccination program in commercial pullets. WVPC 2017)
Summary
Several preventive measures must be considered when establishing a strong Salmonella prevention programme.
Vaccines provide a vital support, and they need to be used wisely and make the most of the synergism between live and killed vaccines.
Only killed vaccines stimulate a high level of production of antibodies and their transfer to day-old chicks and table eggs.
Killed vaccines support the immunity provided by live vaccines at a local level and protect organs from internal colonisation.
Humoral immunity is essential for ensuring that our table eggs and day-old chicks will be protected against external Salmonella challenges.
SG can also be prevented by adding a SE inactivated vaccine into the vaccination schedule