Label Rouge: Pasture-Based Poultry Production in France - 2
Pasture-raised poultry is increasingly popular in the United States. American farmers and small companies can benefit from studying the French Label Rouge programme, write Anne Fanatico and Holly Born, NCAT Agriculture Specialists. Started as a grassroots movement, the programme now commands 33 per cent of the French poultry market and it has helped boost incomes for small farmers. This article explains the organisation of the system.
The key to the Label Rouge system is the supply chain. Grassroots pastured-poultry producers in the United States are largely independent and may be particularly interested in supply chain structure and the benefits coordination can offer.

Coordination of the supply chain offers a number of benefits, including coordination of the stages of production, lower costs, ability to reduce pathogens throughout and complete traceability.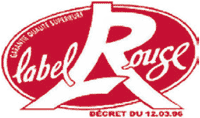 The Label Rouge programme focuses on superior quality and gourmet taste
Supply Chain Structure
Filiere is a French term for a supply chain that centres on a group of poultry producers with upstream affiliates (breeding company, hatchery, feed mill) and downstream affiliates (processor, distributor, retailer). It is a highly coordinated alliance but not necessarily vertically integrated. While some filieres do own the hatchery, the feed mill or the processing facilities, they differ from conventional large integrators.

The filiere is centred on a group of producers and associates called the quality group, which holds managerial responsibility for the filiere. This body – not the processor, input supplier or distributor – retails control of the brand and makes the pricing, marketing and advertising decisions. This allows for a balance of power among producers and other players in the supply chain. Farmers can earn more for each bird from Label Rouge production than they do from being a contract growers in the conventional poultry industry. However, conventional contract growers raise more birds per year. Since farmers are represented in the quality group, they have input into the returns they get on their birds and the number of flocks they raise.

Deciding on the margin that goes to the farmer is a crucial point for each supply chain. The filiere's quality group reviews the market prices – for both the production inputs and the final products – frequently and adjusts the farmers' margin and price to the consumer as needed. Risks and rewards are shared by all players in the chain.

Each sector incurs costs from being part of the supply chain, including costs associated with certification, such as time required to keep records. Each sector may also have to contribute to a check-off that finds the group's marketing and other activities. Thus each sector must have some incentive to participate and the rewards must outweigh the costs. There is on one model for filiere structure, and there is a lot of crossover within and among the filieres in the Label Rouge system. For example, a processing plant may serve more than one producer group; a breeding company may sell breeding stock to all the filieres.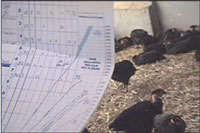 On-farm record-keeping is important, not only for charting performance but also for traceability
Photo: NCAT
Benefits of Coordination
A coordinated supply chain helps lower production costs by improving cost efficiencies (bulk purchases etc) and coordinating the stages of production. It also allows complete traceability of th final product. The Label Rouge traceback system is so detailed that batches of birds can be traced from the consumer to the grandparents' flock. A code on the package indicates the farm, the origin of the chicks, the processing plant and so on. Wing-banded birds can even be traced individually.

Coordination permits quality control throughout the supply chain. If there are broken wings in the picker, where did they come from – the picker of the farm? It helps cooperating growers produce a consistent product.

A coordinated supply chain also provides an excellent opportunity for addressing food safety. In Label Rouge production, a pathogen-reduction or HACCP-type programme is applied not only at the processing level (as required in the UnitednStates) but throughout the entire supply chain. For example, breeding flocks, hatcheries, feed mills, processing plants and transportation are all monitored for Salmonella and other pathogens. Label Rouge has an excellent food safety record – only three per cent of Label Rouge carcasses are contaminated with Salmonella (Westgren, 1999). Sales of Label Rouge products has risen in the wake of several bovine spongiform encephalopathy )BSE) of 'mad cow' food scares since consumers are assured that no animal by-products have been fed in programme.

Another benefit of coordination is that Label Rouge provides technical support and trouble-shooting assistance to producers, which is particularly helpful for health issues such as vaccination programmes and disease diagnosis.

There is not a lot of public production research on Label Rouge production. Companies do research on their own farm or farms of their producers but there is no mechanism to share this information.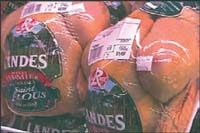 The Landes filiere markets poultry raised in pine forests along the Atlantic coast
Photo: NCAT
Marketing
The Label Rouge filieres sell branded products that are strongly tied to regional areas and have their own images. For examples, the Landes filiere markets the image of chickens ranging free in the pine forests along the Atlantic coast. There may be several regional brands competing in the supermarket.

In France, there is a concept of 'terroir' – the taste comes from the earth. Certain regions are associated with certain tastes. In fact,most of the Label Rouge brands are names of French cities or regions. Such an appellation system is already well known for wines (for example, champagne is from the Champagne region). Geographic restriction is important to prevent large-scale copying and brand ownership keeps brand names in the farmers' hands.

Most Label Rouge products are sold whole but the amount of cut-up is increasing. About 135 million birds are produced each year and 15 million are cut up. Label Rouge also offers an organic product.
Organisational Support
The Label Rouge system has strong organisational support both in the government and in the private sector. The French government is committed to strengthening rural development. Government agencies are responsible for setting and maintaining certification standards (CNLC or National des Labels et desCertifications Commission / National Commission of Labels and Certifications), accrediting the certifiers (COFRAC, Le Comité Français D-Acreditation / the French Committe of Accreditation) and protecting against label infringements (CERQUA, Centre de développement des certifications des qualities / Centre of Development of the Certification of Qualities). CERQUA protects Label Rouge from being copied by store brands or private labels.

To obtain a label, a filiere submits a 'cahier de charge' to the CNCL. This document is a very detailed business plan, or code of practice, that details the production processing and monitoring process. It can take several months to get approval.

Syndicat National des Labels Avicoles de France / National Labour Union of the Poultry Quality Labels of France (SYNALAF) is an industry organisation that collects a check-off from the sale of each bird to conduct national consumer education campaigns about the benefits of Label Rouge poultry. SYNALAF represents 38 filieres, which include 6,000 farmers – about half the poultry growers in France. Public education is key to high premiums paid for Label Rouge products (Westgren, 1999).

Strong consumer organisations are involved in the development of standards and certification. The results in standards that are responsive to consumer interests, such as a recent ban on the use of genetically modified organisms (GMOs).

The Label Rouge system is complex but has built good working relationships with producers, consumers and government that position family farmers to be economically sustainable. Label Rouge is farmer-created, consumer-driven and government-supported (Paybou, 2000).

Interest in labelling is growing in the United States, where certified organic is currently one of the best-know labels. Quality labels like Label Rouge provide information to consumers on product attributes such as taste, health benefits and nutrition, as well as on social issues such as the support of local farms. They can also provide information on ecologically sound production practices and other factors related to sustainability.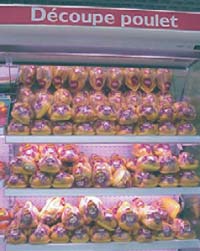 Label Rouge chicken is sold both whole and cut up in French supermarkets
Photo: NCAT
Label Rouge Work in the United States
The University of Illinois has a project to promote the production and marketing of gourmet chickens in Illinois. In 1999, graduate student Francois Paybou (2000), working under the direction of agricultural economics professor Randall Westgren, carried out technical and economic feasibility studies for adopting a Label Rouge system in Illinois. Paybou determined feasibility to be positive but considered the lack of economical supply of French genetics and air-chill processing plants in the United States to be problematic. Another student, Amy Heady (1999), did a market feasibility to analyse consumer demand. She found that adoption of a Label Rouge system was still premature and too expensive given the current retail market. Feasibility may be greater in the restaurant market, where Chicago chefs, at least, are willing to pay $1.50 to $2.00 per pound.

Entrepreneur David Wilson started a Label Rouge-type business venture in the early 1990s. He became interested in Label Rouge by talking to chefs who wanted a premium bird. He imported speciality genetics from France, calling them La Belle Rouge, and contracted with growers in Kentucky and North Carolina who had older chicken houses on their farms. He followed Label Rouges requirements for flock size and density; the total range space was usually a couple of acres around the house. The broiler operation was year-round but the birds did not go outdoors when the temperature dropped below 40° Fahrenheit, making a 90-day window in Kentucky in which the birds stayed indoors. During this time, stocking density was reduced and alfalfa was added to the feed. Grow-out was 12 weeks. Birds were shipped to an air-chill processing plant in Kentucky (no longer in operation). The meat was sold in Kentucky and North Carolina. According to Paybou (2000), the Wilson business failed because investors, rather than a farmer group were in control. They did not fully understand the system – the failure was due to problems with the product or the market.

More recently, th National Centre for Appropriate Technology (NCAT) was funded by the US Department of Agriculture Foreign Agricultural Sevice's Scientific Cooperation Research Program to travel to France to gather technical information about poultry produced under Label Rouge, to disseminate the information, to develop French contacts and to facilitate drafting of production standards. NCAT operates ATTRA, an information service for sustainable agriculture that reaches thousands of farmers, educators and other agricultural professionals every year.

Joyce Foods Inc is a US producer of poultry from the same slow growing genetics used in France's Label Rouge programme. Joyce Foods, located in North Carolina, follows similar standards in raising the slow growing broilers. Although the same genetic and standards are used. the organisation is similar to other US poultry companies in which the birds are raised by contract growers.
Other French Labelling Programmes
Label Rouge is only one of four major labelling programmes in France. The other programmes include Appelation d'Origine Controlee (AOC), Organic and Certificate of Conformity. All four complement each other well and this helps to reduce confusion between the programmes and the AOC is probably the best known. As mentioned earlier, this programme reserves brand names for a certain region – for example, champagne refers to sparkling wines produced in the Champagne region of France. Such labels are most often used for wines and cheese products but there is a poultry product called 'poulet de Bresse' that can only be raised in the Bresse region. These birds are known for being finished on milk. For more information, click here.

The European Union actually recognises to types of geographic protection of agricultural products: Protected Designation of Origin (PDO) and Protected Geographical Indication (PGI). The PDO refers to the AOC label. PGI is less strict and refers to the Label Rouge system. For the European Union web site on quality labels, click here.

The French organic standards for poultry production are based on the European Union requirements but are stricter. Grow-out is along 99 days. The organic market in France is not as well developed as in the United States because of competition from Label Rouge. Organic poultry products cost four times as much as conventional products, whereas Label Rouge products costs only twice as much.

The Certificate of Conformity programme is a quality-control label that is relatively industry-friendly. Medium-growth genetics are used. A fast-growing male is crossed with a slow growing Label Rouge female to obtain a five-pound bird in 56 days. Natural feeding is required but access to the outdoors is not. The programme certifies the process used but does not have taste tests.
Opportunities
Label Rouge-type poultry production is an opportunity well suited to the grassroots pastured-poultry movement in the United States, as well as small speciality poultry companies. However, raising slow growing broilers to 12 weeks of age costs more than fast growing broilers to eight weeks. Many grassroot pastured-poultry producers market directly to consumers on the farm or at farmers' markets and their customers may be willing to pay a higher price.

Small poultry companies or networks that serve larger markets or speciality markets may more readily find customers who are willing to pay extra for a pasture-raised gourmet-type bird. Coordinated networks could keep the products at an affordable price by means of fine-tuned production systems and cost efficiencies. In France, consumers from all economic levels buy speciality poultry , not just wealthy consumers. The future development of a certification programme will be important for consumer education, which will in turn help to build demand.

Large companies may find a certification programme similar to the Certificate of Conformity to be a more attractive opportunity than Label Rouge. In Label Rouge-type production, the flock size is limited to about 16,000 birds on one farm (in four small houses) and there are fewer flocks a year because of the long grow-out period. Label Rouge is designed for regional rather than national markets.

The outdoor production systems used in Label Rouge are more adapted to small diversified family farms than to large companies. Allan Nation (2001), editor of The Stockman Grass Farmer, and a US visionary in the field of sustainable agriculture, found during his European travels that it can be a marketing advantage to family farmers to produce something that is 'hard to produce'.
Further Reading
| | | |
| --- | --- | --- |
| | - | You can view the full report for references, further resources and information from ATTRA by clicking here. |
Further Reading
| | | |
| --- | --- | --- |
| | - | You can view the previous part of this publication, detailing the Label Rouge production system, by clicking here. |
February 2011