Lessons from HPAI
Summary of a report from FAO covering a technical stocktaking of outputs, outcomes, best practices and lessons learned from the fight against highly pathogenic avian influenza in Asia between 2005 and 2011. The lessons learned, which are covered in this article, include those relating to politics, coordination, surveillance, epidemiology, laboratory capacity, biosecurity, socio-economics and communication.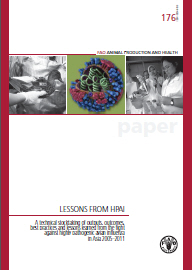 Policy:
Legislation that cannot be enforced is usually counter-productive
Unenforceable legislation which goes against the grain of age-old but economically sound trading practices is counterproductive: experience shows that communities and stakeholders will invariably continue with the status quo and will also resist health inspection as well as other assurances of disease-free status. Assessment of regulatory capacity should form part of the development of any policies that require explicit enforcement mechanisms.

One particular example of unenforceable legislation is the Nepalese law banning the direct import of poultry, eggs and other poultry products across the highly porous 800-km border between Nepal and India. The Nepalese law runs counter to economic good sense, as these products are significantly cheaper on the Indian side. Implementation of the law has resulted in effectively turning cross-border trade in the area into a clandestine activity; it has also succeeded in reducing opportunities for authorities to inspect poultry and poultry products imported into Nepal.
Coordination:
Understanding developmental issues is critical – even in an emergency response
By maintaining a development perspective while working in emergency modality, FAO has helped to transform the scope and perspective of disease control. Specifically, FAO has succeeded in widening the focus to include livelihoods and socio-economic factors as well as nutrition and other development aspects. This, in turn, has helped to foster a spirit of professional partnership and collaboration between FAO, donors and governments, based on an acknowledgment of comparative advantages.
Surveillance:
Targeted surveillance needs more work; passive surveillance is unreliable
While targeted surveillance can be useful for detecting the virus in healthy birds, systems for tracing the source of outbreaks are not yet reliable. More effort is required to understand how to monitor virus levels in the population in a way that either helps assess the impact of control measures or provides early warning of a possible upsurge in the level of virus activity.

Passive surveillance can be unreliable, especially when commercial operators conceal outbreaks because the compensation offered is not adequate to fully cover their economic losses. Proxy indicators of disease outbreaks, such as market prices, also need to be monitored so as to detect hidden problems.
Epidemiology:
It is important to isolate and characterise viruses regularly
The importance of regularly isolating and characterising viruses from field outbreaks has been well recognised in Indonesia. The early problem with poor vaccine efficacy in Indonesia was recently rectified by incorporating the virus strain compatible with viruses circulating in the field.

Monitoring and characterising field virus isolates for changes in behaviour may help signal vaccine failure, or the spread of disease, including new outbreaks. For example, the genetic subgroup of H5N1 clade 2.3.2.1 was able to break through the vaccine used in Viet Nam. The increased susceptibility of wild birds to this genetic subgroup is associated with the spread of the virus to Bangladesh, Bhutan, China, India, Japan, the Republic of Korea, Lao PDR, Myanmar and Nepal.
Laboratory Capacity:
The secret recipe for developing capacity is backstopping
Establishing technical working relationships with national laboratory staff and offering backstopping support has been an important feature of the FAO strategy for strengthening laboratory performance and developing viable and active laboratory networks. This has involved visiting laboratories, helping with on-site solutions to problems, liaising with regional organisations, developing standardized approaches for diagnosis, and conducting workshops.

OFFLU has had sustained technical engagement in the region, and this has helped to spread technical advances and strengthen linkages between national laboratories and the global network. The close linkages have also led to improvements in the number of virus samples submitted to international reference laboratories, which in turn has led to a deeper understanding of virus strains in circulation.

Laboratory experts must be made available when needed to help national staff set up equipment, establish diagnostic tests and prepare SOPs. On-site training was greatly facilitated by experts 'in residence' who helped to speedily introduce new technology into laboratory systems. In several countries, a national-level network that linked laboratory scientists to field epidemiologists helped improve the outcomes of diagnostic efforts.
Biosecurity:
Local solutions work better than imported ones
Given the level of complexity and variation within the commercial poultry industry throughout the region, solutions developed locally through direct engagement with stakeholders have been found to be more effective than those 'imported' from other regions.

In addition, it has been shown that the most effective training and capacity-building exercises in cleaning and disinfection (C&D) practices are those delivered by trainers with practical experience in adult learning methodologies as well as C&D. This has proved more effective than relying on trainers provided by an equipment vendor or other sources.
Socio-Economics:
Socio-economics must be integrated into any disease control project in order for it to be effective
Disease control fails, and leads to non-compliance, if it does not take socio-economic factors into account. Stakeholders' reasons for non-compliance should be understood, and economic data should be collected in real time in an integrated way as part of any disease control measures. Interventions should be linked to, or integrated with, the needs of disease control authorities in order to make outputs useful to decision-makers and those who formulate policies.
Response should be proportionate to the risk
Disease control interventions should be assessed for likely animal and public health benefits as well as for potential negative socio-economic impacts. The response adopted should be proportionate to the outcome of the risk-benefit assessment. Overreaching or overreaction may result in distancing stakeholders and building barriers that can take a long time to break down. For example, global concerns about H5N1's pandemic potential were seen as exaggerated by producers whose livelihoods depended on the output from small flocks; this, in turn, led to distrust of communication on this issue.
Compensation should reflect the economic value of poultry
Where culling is used for disease control purposes, compensation for slaughter must reflect the market value of the relevant class of poultry. However, financial resources for compensation schemes are difficult to obtain, and without control practices and the cooperation of stakeholders, compensation alone may not improve control. Incentives for compliance do not always deliver the expected outcomes.

Financial incentives, coupled with financial risk minimisation, are key drivers for change. Interventions that deliver such benefits should communicate them effectively and credibly to those who are expected to comply with proposed changes.
Communication:
Awareness alone does not change behaviours or practices
In general, awareness campaigns have not succeeded in producing behavioural change in communities or traders, who have tended to remain unconvinced about disease-associated risks and have been primarily influenced by economic factors.

For example, in Nepal, a country where HPAI communication largely failed to bring about behavioural change, messages lost their credibility through over-emphasising the threat of human deaths. In addition, the initial emphasis on the negative aspects of HPAI, rather than on the benefits of adopting hygiene-based measures such as cooking at high temperatures, served to alienate commercial producers, who perceived their livelihoods as being threatened by the messages being communicated to target audiences.

The motivations of communities and producers to adopt safe production practices are still not well understood, due to limited analysis of socio-economic and cultural realities. Communication specialists should compile their knowledge of target audiences through diverse tools including predictive modelling, socio-economic research, supply chain and market chain analyses, cross-border studies, KAP studies and participatory research. Communication campaigns that are based on such a rich understanding are less likely to alienate audiences who are at risk of exposure to highly pathogenic and emerging diseases.
Participatory approaches work better
Participatory approaches, such as those used in the FETPV and PDSR programme in Indonesia, have demonstrated that outcomes improve when relationships are established with communities.

Field veterinarians have participated in surveillance and outbreak control activities but they need to be trained in basic epidemiology and the proper collection, storage and submission of samples. In the case of the PDSR programme, there was an increase in passive surveillance and self-reporting in locations where communities were involved in a participatory process.
Establish cross-sectoral collaboration at an early stage
Coherent messages across sectors reinforce these messages within the community. It is important to establish a cross-sectoral approach at the beginning of a project, as it is more difficult to do this once the affected sectors have become set in their thinking and in their operational modalities.
Building government capacity is key
The lack of communication capacity within ministries of agriculture and government livestock services departments to respond effectively to HPAI at the beginning of a crisis creates significant imbalance in efforts to control the disease and engage communities. Communication capacity needs to be enhanced at these levels.

From a disease control and prevention perspective, different government departments should be equally competent in communication, with open access to intersectoral communication maintained at all times.

In addition, building commercial poultry health competency within local government veterinary services is essential in order to ensure improved communication and trust between local government officials and commercial poultry farmers.
You can view the full report by clicking here.
You can visit the Avian Flu page by clicking here.
February 2013