Livestock and Poultry: World Markets and Trade - April 2009
By USDA Foreign Agricultural Service - This article provides an overview of global poultry trade predictions for 2009. Global imports of broiler meat for the year are expected to be down because of the impact of the cut in Russian import quota.
World Meat Demand to Fall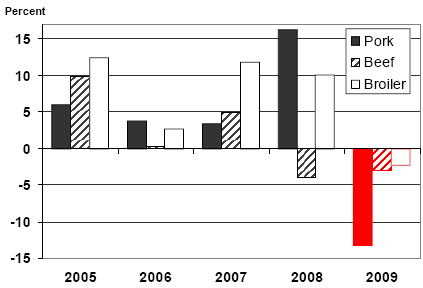 Year-to-Year Changes for 2005 to 2009
For the first time in over a decade, global imports of pork, beef and broiler meats are all forecast to decline in a single year. Deterioration in the global economic situation, restrictive trade policies, the stronger US dollar and changing market conditions, are among the reasons for falling demand in some major importing countries.

The drop in global pork imports can mostly be attributed to a combination of cost prohibitive Russian out-of-quota tariffs, Ukraine's worsening economic conditions and currency devaluation, and greater Chinese pork production. These three countries account for over 20 per cent of world demand, but nearly 80 per cent of the year-to-year drop.

Weaker beef demand by many principal importers such as Russia, Mexico and South Korea will more than offset growth in the United States and the EU, two of the world's largest importers.

Global imports of broiler meat are down mainly because of Russia, which accounts for 15 per cent of world imports in 2008. Russia's restrictive import quotas and cost prohibitive out-of-quota tariffs constrain trade, while production is expanding with newer facilities as the government is committed to becoming a net exporter in the near future.
Broiler Meat: 2009 Revised Forecast Overview
World broiler meat production expected virtually unchanged from 2008
Over-supply, falling prices and shrinking imports due to the global economic slow-down, are expected to cause production to stagnate in 2009. Over the previous three years production had expanded by 13 per cent. Production in the United States, Brazil and China accounts for 55 per cent of world output. Faced with large supplies and falling prices the Brazilian broiler industry is expected to drastically lower their rate of growth although production is still forecast to expand by three per cent over last year. US production is expected to decline due to rapid increases in feed and energy costs.

Over the longer term, continued adverse economic conditions coupled with lower prices and reduced domestic consumption are expected to dampen expansion. China's production growth is expected to slow down as the industry is experiencing losses due to avian influenza outbreaks, causing slaughterhouses to close. Russian and Ukrainian production continues to expand, aided by government subsidised credits and import restricting policies.
Global consumption forecast up slightly but below past growth rates
Higher production in the EU and Brazil will support expanding consumption in those countries. For the EU, despite rising domestic poultry prices, consumption continues to grow. US consumption is expected to decline due to the unsettled economic conditions as incomes are reduced. Chinese consumption growth is expected to slow as consumers shift to pork, their more favoured meat, and unemployment rates of migrant workers rise – a major segment of the population that consumes poultry.
Global imports are expected to ease slightly
Imports are now forecast to decline slightly in 2009, after imports had surged nearly 30 per cent over the three previous years. Imports are expected to be constrained by restrictive import policies, high tariffs and weaker currencies in Russia and Ukraine, and over-supply in the case of Japan. Alternatively, Chinese, Mexican and EU imports are revised upwards as more broiler meat is expected to be consumed in these markets.
World exports decline
Lower exports from Brazil, the United States and the EU, which together account for 90 per cent of global trade, reflects restrictive Russian import policies and intensified competition. Despite falling prices, Brazilian exports are estimated to have much slower growth as exports are forecast only slightly higher than in 2008, largely due to reduced imports by Japan. EU exports face more competition from lower-cost countries like Brazil and the United States. Declining US exports reflect tighter domestic supplies and overstocked markets, among other factors.
Further Reading
April 2009