Local chicken breeds and domestic feed - a sustainable production approach?
Interdisciplinary research team examines the value chain from forage production to marketing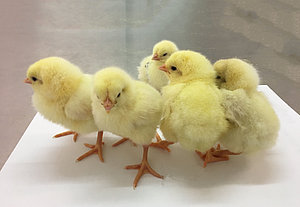 In the three-year project, two local breeds and parent animals from commercial poultry breeding and their crossings were characterized in terms of fattening and laying performance.

"The aim was not just to look at an isolated aspect, but to analyze the entire value chain from the suitability of the breeds and forage plants to animal health and product quality to consumer expectations," said Prof.Dr. Henner Simianer from the Department of Animal Breeding and Pet Genetics at the University of Göttingen, who coordinated the project. In the project, feed was used whose protein component consisted primarily of domestic broad beans instead of imported soy meal. Contrary to earlier reports, the anti-nutritional substances contained in the broad bean proved to be unproblematic in the animals examined here and did not have any adverse effects on animal health or product quality. Antinutritive substances are substances in feed which, regardless of the nutrient and vitamin content, could have negative effects on the animal.
Some of the chicken crosses tested, in particular the combination of Bresse Gaulloise and White Rock, showed a satisfactory laying performance of the hens, while the fattening performance of the roosters lagged behind commercial broiler lines. However, it was also possible to produce special product qualities, such as eggs or chickens that are rich in yolk, which develop an extremely large pectoral muscle less one-sided and are therefore suitable for special types of preparation. In the accompanying consumer analysis, however, it emerged that consumers are still not including enough information about the breeds and production systems used in their purchase decisions.
"Using local breeds in agricultural production not only expands the product range for the consumer, but also contributes significantly to the protection of breed diversity in domestic chickens", says Prof. Dr. Steffen Weigend from the Institute for Farm Animal Genetics at the Friedrich Loeffler Institute. The crossbred animals of the old breeds were not only scientifically examined, but also tested by various practical poultry farmers. They valued not only the higher number of eggs of the crossbred animals compared to the old breeds, but also the peaceful behavior of the animals. It was also positively emphasized that the use of the crossbreed offspring supports the preservation of the local breeds.
A presentation and a film of the project "Potentials of the use of regional breeds and indigenous protein feed in poultry production", funded by the Lower Saxony Ministry of Food, Agriculture and Consumer Protection, are available on the University of Göttingen's YouTube channel:
Presentation: "Field bean and regional chicken breed"
film : "Field beans and regional chicken breeds: an alternative to extensive poultry production?"