Meals and snacks for a chicken: Two unusual, low - cost chicken feed options for some of the world's poorest entrepreneurs
In rural parts of Odisha, India, backyard chickens scavenging on farms and eating kitchen scraps are a familiar sight. Scrawny birds patrol gardens freely, snatching up worms and insects, but they often fall prey to larger animals. And since they don't live in a coop, free-range chickens succumb to diseases that could easily be prevented with proper care and health services. However these chickens are an economic asset hiding in plain sight.
Article taken from Heifer International; read more and or support their causes at Heifer.org
Nibedita Tudu learned to earn an income for her family by producing chickens using low-cost yet nutritious chicken feeds that are easy to grow. "I am not spending anything extra on the birds," she explained. "Most of it is coming from the kitchen, or I am able to cultivate it in my backyard itself like Azolla and termites."
A diet if protein-rich foods, like Azolla and termites along with broken rice helps chickens gain healthy weight.
© Prenab K. Aich/Heifer Internationsl
Nibetida Tudu and her family have built this chicken coop to protect her investment in her chickens. She's able to manage her flock, ensure their diet is free of pathogens and keep them safe from predators.
© Prenab K. Aich/Heifer Internationsl
Azolla is an aquatic floating fern that's easy to grow in small ponds and makes a protein-, vitamin- and calcium-rich supplement to her flock's diet. Tudu saw an increase in the weight of her flock and the number of eggs laid as soon as she started supplementing their diet with nutritious foods. The small pond where she grows the bright green leaves was easy to set up and only occasionally requires a top-up of water and a small amount of cow dung. Azolla, along with moringa leaves and the right proportion of kitchen scraps like broken rice, helps improve the health and weight of birds.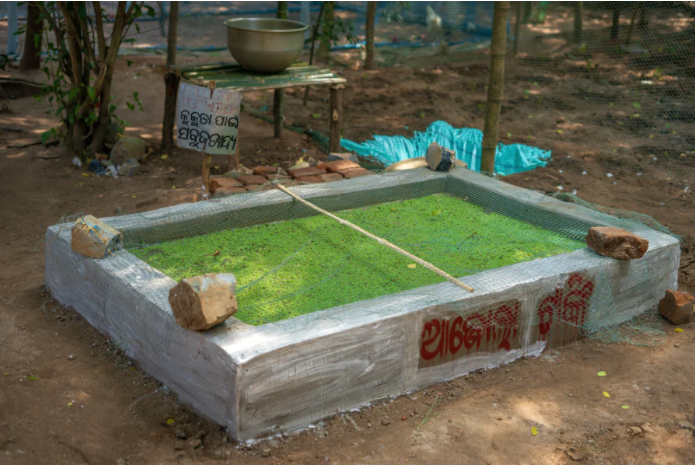 Tudu has another chicken feed growing in clay pots at the fringes of her garden – termites. The crunchy little insects are a local pest, but they're the favorite snack of Tudu's chickens.
Sushmita Parai, Heifer International's senior program manager, notes that termite cultivation for feed animals has been a traditional practice in India and in some African countries. "Termites are a nutritious food source for chickens, but we remain mindful that these insects are pests and could pose a threat to structures and wooden buildings like the chicken coops" she said. "However, our pilot project shows great promise. Termites are protein-rich, easy to grow and chickens love them."
At 23 years old, Sumi Marndi is a young entrepreneur. She's excited to share the process for growing termites using a piece of a termitary (a termite mound found locally) in a clay pot along with rotting organic matter like straw, wood, cow dung and jute bags. Since the termites she feeds her chickens are free, she's able to invest more of her income into her business or support her family with the proceeds.
Heifer International and Cargill have partnered to help entrepreneurs like Tudu and Marndi become business-minded. So far, 27,300 households have been trained on the benefits of attending to the health and well-being of their chickens, including building chicken coops and nutritious low-cost chicken feed options, and the importance of biosafety and vaccinations against the most common diseases that would be devastating to the birds. Heifer India's preliminary data also suggests that families involved in the project who previously lacked access to good and diverse nutrition now consume 22% more eggs and 67% more chicken.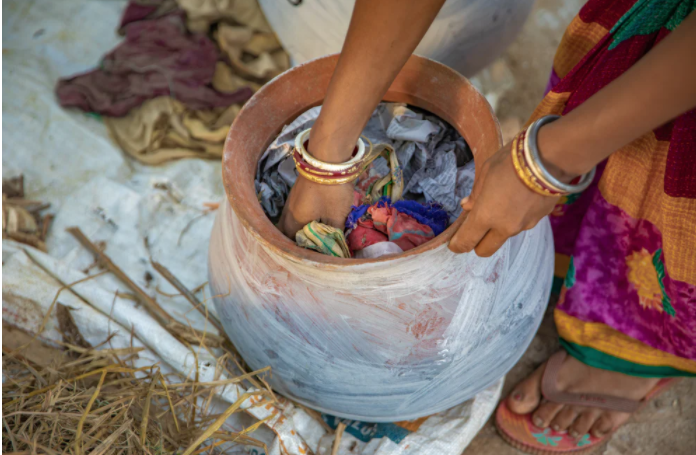 Chicken production has become a vital income-earning asset able to lift families out of poverty in this region of India. Their income-generating activities are an important contribution toward reaching a living income, which in Odisha, India is about $1.16 per day. Many families have been severely impacted by the COVID-19 pandemic lockdowns that caused a slump in income and significant hardship for these already impoverished communities.
Families facing these hardships have been reliant on their chickens as a food source.
Nibedita Tudu explains that she's earned 7,000-8,000 rupees (about $110) in the last year from poultry production. However, that discounts the hens and eggs her family of seven has consumed. "Till last month, I had 89 birds, but I sold 15 for some urgent requirement of money," she said. With a young son of 7 years old, Tudu is grateful for the ability to keep him fed despite the pandemic. "In last few months, mainly since the lockdown started, we have eaten 12 birds," she explained.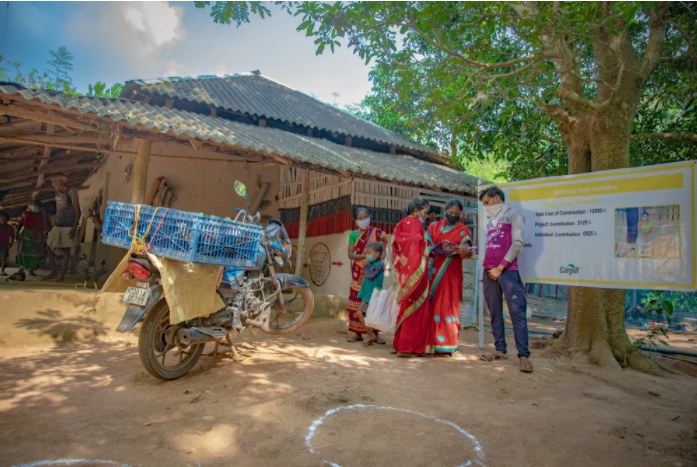 These supplementary chicken feed innovations are small, but they're proving to have a big impact on communities that are working hard to be more resilient in the face of significant challenges.
Sponsored Article
---
Our Partners
---