Measuring Waddles in Ducks
Walking ability has an important impact on chicken health and welfare, and ducks are no different. A study published by Maja Makagon and colleagues in August's issue of Poultry Science evaluated a system for measuring waddles in Pekin ducks.
Measuring the mobility of poultry is economically important, as it can lead to changes in productivity such as mortality levels. It is also ethically important, for ensuring a high level of poultry health and welfare.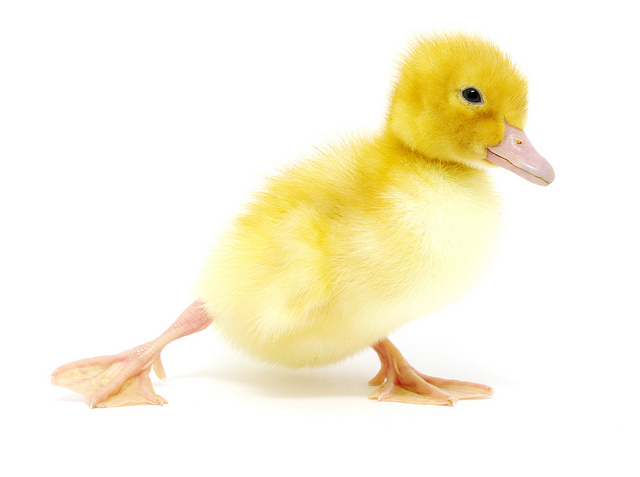 Because impaired walking ability is considered likely to be painful for ducks, ducks with moderate to severe waddle problems are often culled, which is a product loss to the farmer.
Previous studies used measures of walking ability modified from those used in broiler chickens to assess how many ducks have moderate to severe walking impairments. The system, known as the 3-point gait score system, suggested that 14.2 per cent of 23 day old, and 20.6 per cent of 41 day old ducks fitted into this category.
But just how relevant is the 3-point gait score system for assessing lameness in ducks? The study asked whether the measurements were as applicable to ducks as to broiler chickens, given the differences seen in gait between birds.
Scoring the waddles
To answer this question, the researchers checked whether ducks placed into different gait category definitions had corresponding and consistent differences in other measures, such as distance travelled or pressure placed on the feet. The researchers said that an effective gait measurement system should correspond to gait structure in birds and should be easily applied by different people.
The ducks' gait were assessed at four ages, up to day 31 when they were sent for processing. The scientists video recorded the ducks waddling down a runway as they scored gait using the 3-point gait score system, and the ducks also passed over a gait analysis pad at the same time.
The ducks were given a score of 0 when they waddled without obvious impediments. Ducks with a laboured walk or slight limp were assigned a score of 1, and those reluctant to walk scored a 2.
The researchers then compared these scores with the gait analysis measures from the pad, as well as the distance travelled by the birds and their body weights.
How reliable are the waddle scores?
They found that gait structure correlated well with the gait scores given, and that different scorers agreed with each other relatively well on the score for the birds. This is good news as it means the measurements would be comparable when used in different flocks by different people.
However, the scoring outcomes were affected by the age of the birds, as there were differences in the gait parameters associated with 0, 1 or 2 scores depending on age. There was not much difference in distance travelled at each score, apart from at 21 days, and few birds with a score of 1 were not detected very often apart from in the older age categories.
This suggests that it was difficult to differentiate ducks with slight or severe walking difficulties until they were older, and that the birds with a score of 2 tended to have progressed from an earlier, less severe impairment.
The study authors concluded that their research provided evidence for the usefulness of the 3-point gait score system for measuring waddles in ducks over 21 days of age. They suggest that a 5-point system could be worth looking at for improved reliability, which may help duck health and welfare further.
Further Reading
You can read the full study and author list by clicking here.
September 2015