Meat and poultry production to sow despite 2022's robust profits
Era of profitability will likely come to an end in 2023
Despite tectonic shifts in consumer eating habits, record high feed costs, labor shortages, and supply chain logjams, most US animal protein industry segments have posted phenomenal financial performance over the past three years. However, this broad-based era of profitability will likely come to an end in 2023.
On the supply side, the high costs of feed, labor and construction support the prevailing cautionary mood toward expanding production. On the demand side, consumers are reeling from rapidly declining real wages – a trend likely to continue well into 2023. Add in climate uncertainties, ESG pressures, and increasing labor and energy costs and it's likely that 2023 will be a year when major market participants pause, reflect and guard balance sheets.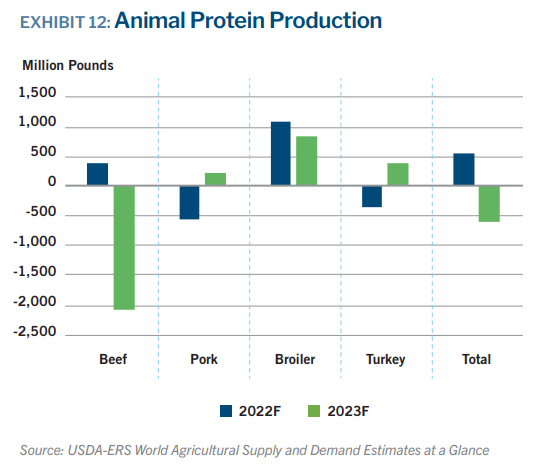 Consumer red meat and poultry demand has remained steadfast over the past two years despite the highest inflation in over four decades. Aggregate food service sales have gained back most of the COVID era losses, but that came with outsized gains in the quick serve and fast casual segments while higher-cost sit down options are still well below 2019 levels. Retail grocery sales continue to rise, but not as fast as inflation – meaning unit volume sales have been declining in recent months, finally giving way to the realities of declining real incomes and savings accounts.
This trend is expected to accelerate into the first half of 2023 as the Fed's escalating interest rates take their intended toll on the U.S. economy. After reaching an all time high of more than 226 pounds per capita (projected) in 2022, we expect U.S. meat and poultry consumption to be flat at best in 2023, with marginal gains in chicken and pork offsetting a decline in beef.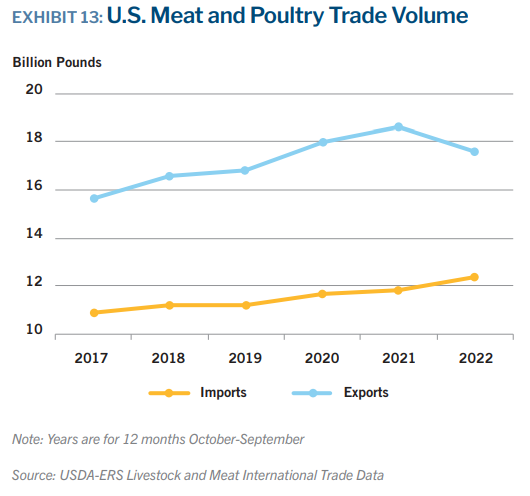 Following eight years of growth, red meat production – and specifically beef production – is set for a rather substantial contraction during 2023, down 2 billion pounds annually YoY, as a result of shrinking cattle supplies. The decline reflects an estimated 5% annual reduction in total beef cow inventory and comes at a time when beef still has a tailwind of support from consumers. As a result, prices will remain historically strong, in both live cattle and beef markets.
While pork production is set for a moderate rebound in 2023, the hog breeding herd is at a five-year low, down 6.5% from the peak in 2020 suggesting minimal potential for supply growth. In order to partially offset the gap in red meat production, the U.S. may rely more on imports in the upcoming year. The domestic pork supply has benefitted from a 13% reduction in exports and a 32% rise in imports for the 12 months ended in September; global economic headwinds and an elevated dollar suggest this trend will continue.
Chicken consumption seems well suited for growth, but it will require the major integrators to actively boost chick placements and bird weights. We saw an incremental rise in production late in 2022 which hints at the direction to start 2023.
Most chicken items were trading at historically high levels to start 2022, but saw significant declines as surplus surfaced amid weaker domestic and export offtake. While we do not expect broiler prices to revert to pre-pandemic low levels, the record highs of 2022 will not return either.
This article, written by Brian Earnest, is part of a series of 2023 outlook articles from CoBank. Read more by clicking here.