Minnesota turkeys, Liberty and Bell, pardoned by President Biden at White House
National Turkey Federation celebrates the 76-year presidential tradition of the National Thanksgiving Turkey Presentation
National Turkey Federation (NTF) Chairman Steve Lykken presented the National Thanksgiving Turkey named "Liberty" and alternate "Bell" to President Joseph R. Biden, Jr. on Monday during the National Thanksgiving Turkey Presentation at the White House.

Liberty and Bell received a formal pardon from the holiday table and will now reside at the University of Minnesota's College of Food, Agricultural and Natural Resource Sciences in St. Paul, Minnesota. This year's presentation marked the 76th year of this time-honored American tradition dating back to 1947.
"We appreciate President Biden for warmly welcoming the National Turkey Federation, and my esteemed colleagues and associates from the Jennie-O Team to the White House earlier today," said Lykken. "This is a busy time of year for our industry and we're grateful for the turkey producers and farmers that deliver food to our tables this holiday and every day."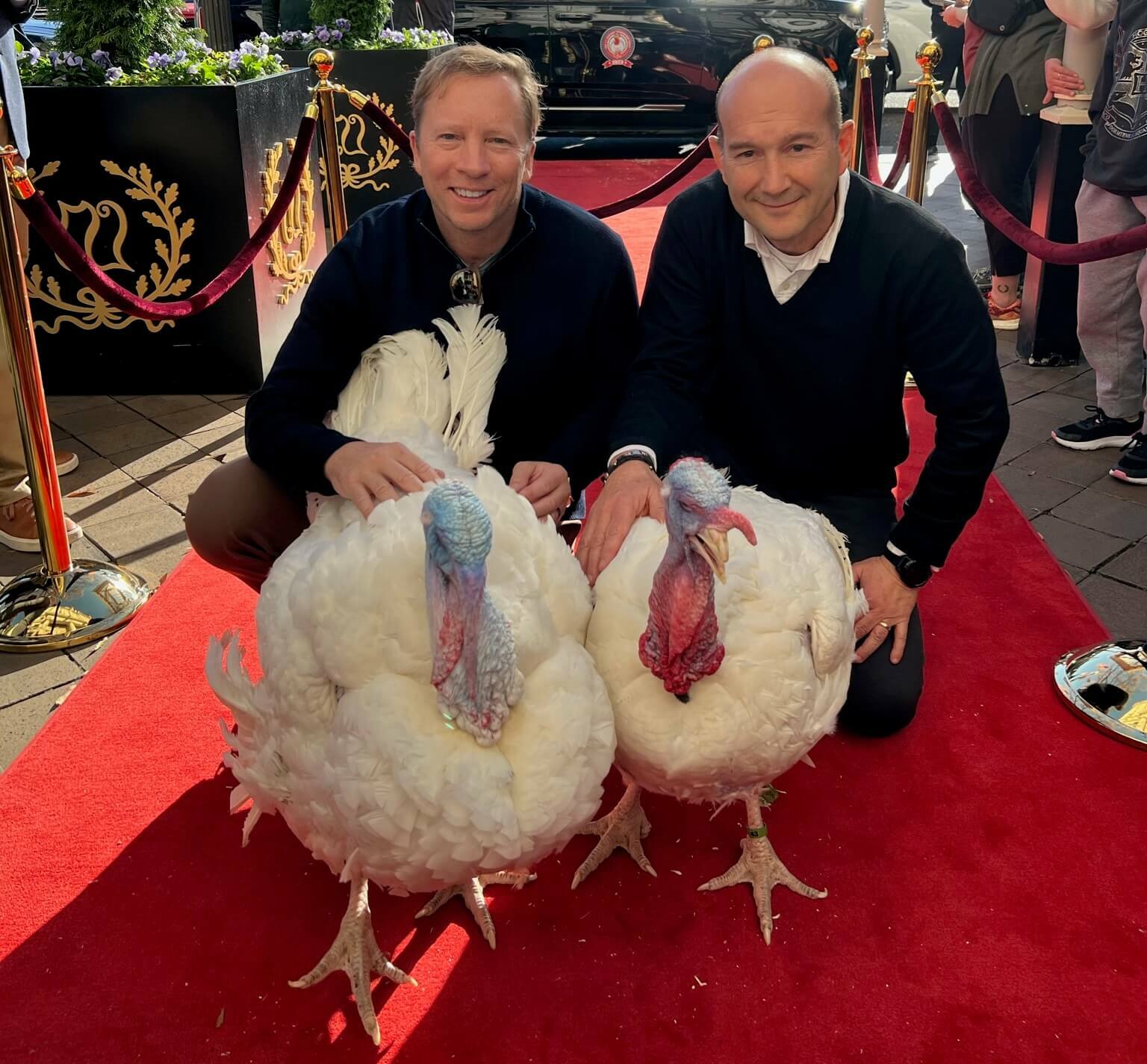 The 2023 National Thanksgiving Turkeys were raised in Willmar, Minnesota, under the direction of National Turkey Federation chairman Steve Lykken. Lykken is a 31-year veteran in the turkey industry and currently serves as President of Jennie-O Turkey Stores. Lykken was joined in presenting the National Thanksgiving Turkey by Jose Rojas, assistant vice president of live production at Jennie-O Turkey Store.
While in Washington, D.C., Liberty and Bell stayed at the historic Willard InterContinental. Following their visit to the White House, the turkeys will retire to the University of Minnesota's College of Food, Agricultural and Natural Resource Sciences in St. Paul where they will receive housing, daily care, and access to veterinary services under the experienced care of veterinarians, faculty and poultry science students. Minnesota raises 40.5 million turkeys annually.
NTF's participation in the National Thanksgiving Turkey Presentation began in 1947 with President Harry Truman. It has continued for 76 years across 14 successive administrations.
President Biden's comments
In his remarks, President Biden offered thanks to all of the families across America who feed and fuel our nation and the world. He said the national turkey presentation and pardon marks the unofficial start of the holiday season in Washington D.C. — a time to share joy and gratitude and have a little bit of fun.

He joked with the crowd about his age, noting that despite this being the 76th anniversary of the event, he wasn't at the first one.

After he pardoned Liberty and Bell he said, "Let me conclude on a serious note about why we have Thanksgiving in the first place: to remind ourselves — and we sometimes forget this — how we have so much to be thankful for as a nation. This week, we'll gather with the people we love and the traditions that each of us have built up in our own families. We'll also think about the loved ones we've lost — including just yesterday when we lost former First Lady Rosalynn Carter, who walked her own path, inspiring a nation and the world along the way. And let us remind ourselves that we are blessed to live in the greatest nation on this face of the Earth."
Watch the video of the President Biden's comments and his pardoning of Liberty and Bell.
History

According to White House historians, the tradition of "pardoning" White House turkeys has been traced to President Abraham Lincoln's 1863 clemency to a turkey recorded in an 1865 dispatch by White House reporter Noah Brooks, who noted, "a live turkey had been brought home for the Christmas dinner, but [Lincoln's son Tad] interceded in behalf of its life. . . . [Tad's] plea was admitted and the turkey's life spared."

More recently White House mythmakers have claimed that President Harry S. Truman began this holiday tradition. However, Truman, when he received the turkeys, and subsequent presidents did not "pardon" their birds. The formalities of pardoning a turkey gelled by 1989, when President George H.W. Bush remarked, "Reprieve," "keep him going," or "pardon": it's all the same for the turkey, as long as he doesn't end up on the president's holiday table.
The White House Presentation signals the beginning of the holiday season of national thanks, historically representing agriculture's bountiful harvest. The presentation also highlights the contributions of America's turkey growers as well as the important role of agriculture in modern America.

Images courtesy of The White House and the National Turkey Federation